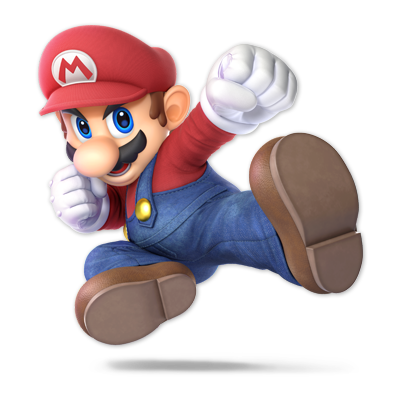 Mario
Middleweight
Super Mario
Damage Table for Mario
Smash Attacks
Neutral
---
Neutral: 2.2% (Hit 1)
Neutral SS: 1.7% (Hit 2)
Neutral WS: 4% (Hit 3)
Up
---
Up: 14%
Up SS: N/A
Up WS: N/A
Down
---
Down: 10% (Front)
Down SS: 12% (Back)
Down WS: N/A
Side
---
Side: 14.7% (Arm)
Side SS: 17.8% (Fire)
Side WS: N/A
Special Attacks
Neutral
---
Neutral: 5%
Neutral SS: N/A
Neutral WS: 4%
Up
---
Up: 5% (Hit 1)
Up SS: 0.6% (Hits 2-6)
Up WS: 3% (Hit 7)
Down
---
Down: 0%
Down SS: (See Below)
Down WS: N/A
Side
---
Side: 7%
Side SS: 1.5x Reflection
Side WS: N/A
Air Attacks
Neutral
---
Neutral: 8%
Neutral SS: N/A
Neutral WS: 5%
Up
---
Up: 7%
Up SS: N/A
Up WS: N/A
Down
---
Down: 1.4% (Hits 1-5)
Down SS: 5.5% (Hit 6)
Down WS: 2% (Landing)
Forward
---
Forward: 12%
Forward SS: 14%
Forward WS: 10%
Back
---
Back: 10.5%
Back SS: N/A
Back WS: 7%
Tilt Attacks
Up
---
Up: 5.5%
Up SS: N/A
Up WS: N/A
Down
---
Down: 5% (Foot)
Down SS: 7% (Leg)
Down WS: N/A
Side
---
Side: 7%
Side SS: N/A
Side WS: N/A
Other Attacks
Grabs
Pummel: 1.3%
Up: 7%
Down: 5%
Forward: 8%
Back: 11% (8% Collateral)
Air Grab
Air Grab: N/A
Air Grab SS: N/A
Air Grab WS: N/A
Dash Attack
Dash: 8%
Dash SS: N/A
Dash WS: 6%
Floor & Edge
Floor Forward: 7%
Floor Back: 7%
Floor Trip: 5%
Edge: 9%
Move Breakdown
Neutral
---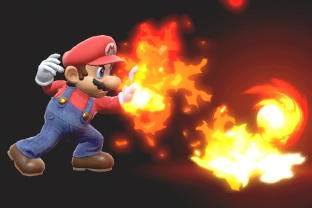 Fireball
Throws a fireball that bounces along the ground.
Considerable amount of end lag for its strength. Can be used to stop an opponent's approach, to start a combo, or to assist or to cover recoveries.
Side
---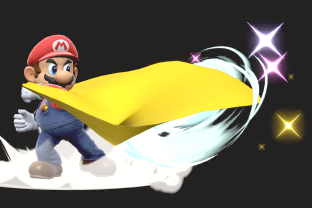 Cape
Whips out a cape to spin opponents around and reflect projectiles.
An integral part of Mario's kit with the obvious use being the reflective capabilities. However, it can also be used to stall while falling providing timing mix-ups, and to gimp opponent's recovery options.
Up
---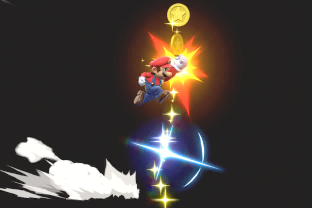 Super Jump Punch
Hits repeatedly with a rising punch.
Mario's only true recovery move. The rapid startup with intangibility frames make it a useful out-of-shield option. Can KO at high percent near the upper blast lines.
Down
---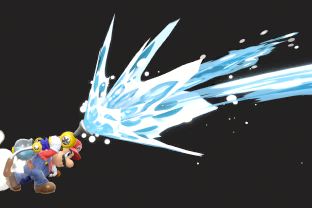 F.L.U.D.D.
Blasts opponents with water. Can charge and aim at an angle.
Does not do damage but pushes opponents, which can be used for spacing, to edge-guard, or to gimp. Charges quickly, and can be canceled and stored.