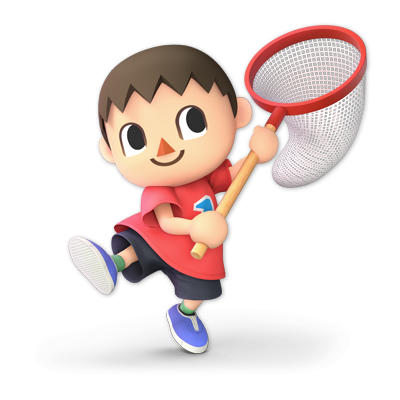 Villager
Middleweight
Animal Crossing
Damage Table for Villager
Smash Attacks
Neutral
---
Neutral: 1% (Loop)
Neutral SS: 2% (Last)
Neutral WS: N/A
Up
---
Up: 3% (Hit 1)
Up SS: 1% (Hits 2-5)
Up WS: 4% (Hit 6)
Down
---
Down: 6%
Down SS: N/A
Down WS: 3%
Side
---
Side: 17%
Side SS: N/A
Side WS: 15%
Special Attacks
Neutral
---
Neutral: 1.9x Reflection
Neutral SS: N/A
Neutral WS: N/A
Up
---
Up: N/A
Up SS: N/A
Up WS: N/A
Down
---
Down: 13-18% (Grow)
Down SS: 15-25% (Fall)
Down WS: 3%|14% (Woodchip|Axe)
Side
---
Side: 11-15.4% (Riding)
Side SS: 5-7% (Not Riding)
Side WS: 12-18% (Explosion)
Air Attacks
Neutral
---
Neutral: 9%
Neutral SS: N/A
Neutral WS: 5%
Up
---
Up: 10%|5% (Two: Clean|Late)
Up SS: 13%|6% (Three: Clean|Late)
Up WS: 8%|4% (One: Clean|Late)
Down
---
Down: 10%|5% (Two: Clean|Late)
Down SS: 13%|6% (Three: Clean|Late)
Down WS: 8%|4% (One: Clean|Late)
Forward
---
Forward: 4%
Forward SS: 7%
Forward WS: 2.5%
Back
---
Back: 5%
Back SS: 9%
Back WS: 3%
Tilt Attacks
Up
---
Up: 5% (Hit 1)
Up SS: 6% (Hit 2)
Up WS: N/A
Down
---
Down: 12% (Weed)
Down SS: N/A
Down WS: 10% (Shockwave)
Side
---
Side: 9%
Side SS: N/A
Side WS: N/A
Other Attacks
Grabs
Pummel: 1.2%
Up: 10%
Down: 6%
Forward: 9%
Back: 11%
Air Grab
Air Grab: N/A
Air Grab SS: N/A
Air Grab WS: N/A
Dash Attack
Dash: 10%
Dash SS: N/A
Dash WS: 6%
Floor & Edge
Floor Forward: 7%
Floor Back: 7%
Floor Trip: 5%
Edge: 9%
Move Breakdown
Neutral
---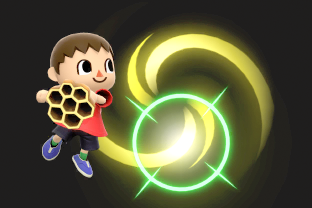 Pocket
Pockets an item or projectile to use later. A second button press takes it back out.
Side
---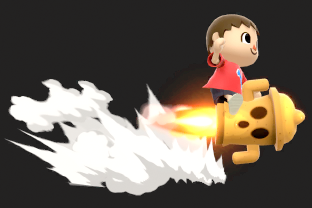 Lloid Rocket
Fires Lloid forward like a rocket. Lloid can be ridden if the button is held.
Up
---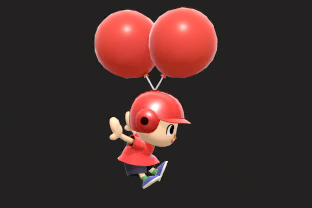 Balloon Trip
Dons a balloon hat and flies around. Great maneuverability, but the balloons can be popped.
Down
---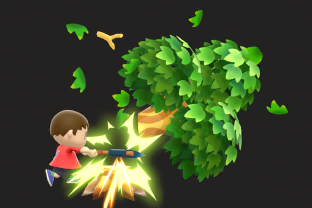 Timber
Plants a seed, waters it, and chops the tree down. Each step has a different effect on foes.