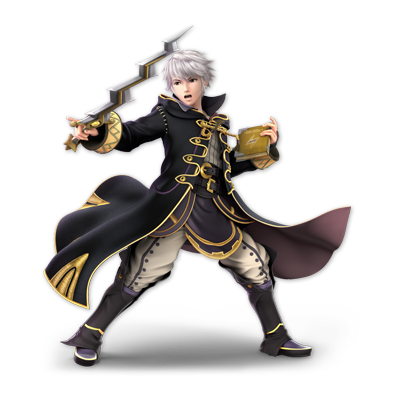 Robin
Middleweight
Fire Emblem
Damage Table for Robin
Smash Attacks
Neutral
---
Neutral: 2%|1.5% (Hits: 1|2)
Neutral SS: 5% (Arcfire)
Neutral WS: 0.7%|2% (Loop|Last)
Up
---
Up: 10% (Levin: Early/Late)
Up SS: 15% (Levin: Clean)
Up WS: 9% (Bronze)
Down
---
Down: 12% (Levin: Late)
Down SS: 15% (Levin: Early)
Down WS: 8% (Bronze)
Side
---
Side: 9.6% (Bronze)
Side SS: 16% (Levin)
Side WS: N/A
Special Attacks
Neutral
---
Neutral: 5.5%|11% (Thunder|Elthunder)
Neutral SS: 23.6% (Arcthunder)
Neutral WS: 15.6-18.2% (Thoron)
Up
---
Up: 5% (Hit 1)
Up SS: 7% (Hit 2)
Up WS: N/A
Down
---
Down: 2% (Loop)
Down SS: (Heals)
Down WS: N/A
Side
---
Side: 2% (Hit 1)
Side SS: 1.2% (Hits 2-8)
Side WS: 4% (Hit 9)
Air Attacks
Neutral
---
Neutral: 6.9% (Bronze)
Neutral SS: 11.5% (Levin)
Neutral WS: N/A
Up
---
Up: 7.8% (Bronze)
Up SS: 13% (Levin: Clean)
Up WS: 5% (Levin: Late)
Down
---
Down: 8% (Levin: Late)
Down SS: 11% (Levin: Clean)
Down WS: 7.8% (Bronze)
Forward
---
Forward: 7.5% (Bronze)
Forward SS: 12.5% (Levin: Clean)
Forward WS: 5% (Levin: Late)
Back
---
Back: 9% (Bronze)
Back SS: 15% (Levin: Clean)
Back WS: 5% (Levin: Late)
Tilt Attacks
Up
---
Up: 6%
Up SS: N/A
Up WS: N/A
Down
---
Down: 6%
Down SS: N/A
Down WS: N/A
Side
---
Side: 7.5%
Side SS: N/A
Side WS: N/A
Other Attacks
Grabs
Pummel: 1.5%
Up: 9%
Down: 6%
Forward: 8%
Back: 11%
Air Grab
Air Grab: N/A
Air Grab SS: N/A
Air Grab WS: N/A
Dash Attack
Dash: 10%
Dash SS: N/A
Dash WS: 6%
Floor & Edge
Floor Forward: 7%
Floor Back: 7%
Floor Trip: 5%
Edge: 9%
Move Breakdown
Neutral
---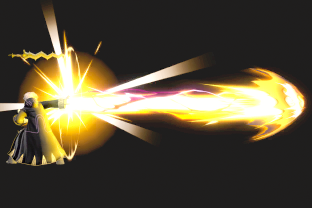 Thunder
Unleashes lightning magic that can be charged to cast Elthunder, Arcthunder, and Thoron.
Side
---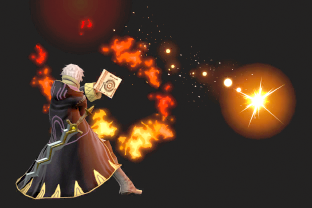 Arcfire
Casts a spell to throw a ball of fire. When it hits, it triggers a pillar of flame.
Up
---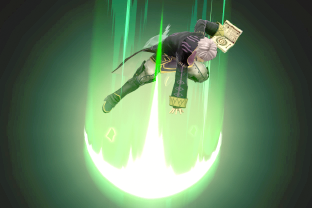 Elwind
Casts wind magic downward, dealing damage and boosting into the air twice.
Down
---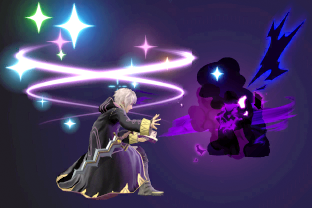 Nosferatu
Conjures a dark curse that steals the life force of enemies.