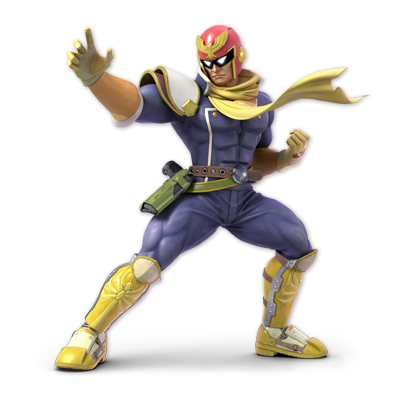 Captain Falcon
Heavyweight
F-Zero
Damage Table for Captain Falcon
Smash Attacks
Neutral
---
Neutral: 1.5% (Hits 1-2)
Neutral SS: 5% (Hit 3)
Neutral WS: 0.6%|3% (Loop, Last)
Up
---
Up: 7%|13% (Low Leg)
Up SS: 12%|14% (High Leg)
Up WS: N/A
Down
---
Down: 14% (Hit 1)
Down SS: 18% (Hit 2)
Down WS: N/A
Side
---
Side: 19%
Side SS: 20% (Angled)
Side WS: N/A
Special Attacks
Neutral
---
Neutral: 25% (Ground / Air Reverse)
Neutral SS: 28% (Ground, Reverse)
Neutral WS: 22% (Air)
Up
---
Up: 5% (Hit 1)
Up SS: 13% (Throw)
Up WS: N/A
Down
---
Down: 15%|11%|7%
Down SS: 15%|12%|9% (Air)
Down WS: 9% (Landing)
Side
---
Side: 10%
Side SS: N/A
Side WS: N/A
Air Attacks
Neutral
---
Neutral: 4% (Hit 1)
Neutral SS: 6% (Hit 2)
Neutral WS: N/A
Up
---
Up: 10% | 9%
Up SS: N/A
Up WS: 9% | 8%
Down
---
Down: 14%
Down SS: N/A
Down WS: N/A
Forward
---
Forward: 6% (Clean WS)
Forward SS: 22%
Forward WS: 3% (Late)
Back
---
Back: 13%
Back SS: N/A
Back WS: 8%
Tilt Attacks
Up
---
Up: 11%
Up SS: N/A
Up WS: N/A
Down
---
Down: 10%
Down SS: N/A
Down WS: N/A
Side
---
Side: 9% (Foot)
Side SS: 10% (Angled, Foot)
Side WS: 8-9% (Leg)
Other Attacks
Grabs
Pummel: 1.3%
Up: 4% | 5%
Down: 6%
Forward: 3.5% | 4%
Back: 3.5% | 4%
Air Grab
Air Grab: N/A
Air Grab SS: N/A
Air Grab WS: N/A
Dash Attack
Dash: 10%
Dash SS: N/A
Dash WS: 6%
Floor & Edge
Floor Forward: 7%
Floor Back: 6%
Floor Trip: 5%
Edge: 10%
Move Breakdown
Neutral
---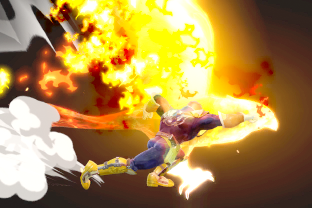 Falcon Punch
Powers up for a moment then strikes with a flaming punch. Can change direction while charging.
Changing direction increases power and startup lag, while using it in the air decreases power. Due to its slow startup time, this move requires good reads to be effective.
Side
---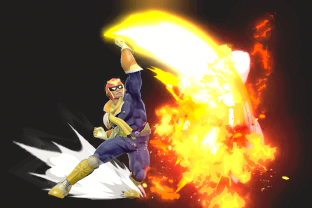 Raptor Boost
Charges forward and hits foes with an uppercut. Can be used in midair to meteor foes downward.
On the ground, super armour is granted directly before the hit. Good option for starting aerial combos.
Up
---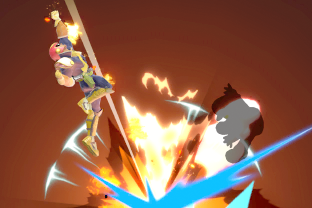 Falcon Dive
Jumps up to grab foes then explodes to send them flying.
The main recovery option, and if it successfully connects with an opponent it can be used again. High knock back and a good out-of-shield option.
Down
---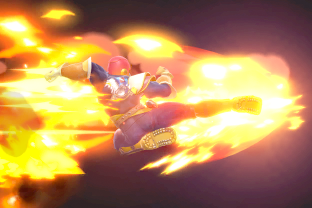 Falcon Kick
Slides forward with a flaming kick while on the ground and a diagonal kick in the air.
KO potential if it connects in close proximity, though gets weaker the further it travels. Can be used in the mix as an aerial recovery option, though could become predictable.