Lucina
Middleweight
Fire Emblem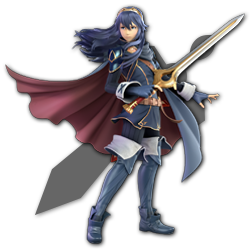 Damage Table for Lucina
Smash Attacks
Neutral
3.325% (Hit 1)
Neutral SS
4.75% (Hit 2)
Neutral WS
N/A
Up
3% (Ground)
Up SS
14.25% (Blade)
Up WS
N/A
Down
9.5% (Hit 1)
Down SS
14.275% (Hit 2)
Down WS
N/A
Side
15.275%
Side SS
N/A
Side WS
N/A
Special Attacks
Neutral
8.575% (Uncharged)
Neutral SS
23% (Full Charge)
Neutral WS
N/A
Up
7% (Late, Blade)
Up SS
11%
Up WS
6% (Late, Body)
Down
1.2x Reflection
Down SS
(Minimum 8%)
Down WS
N/A
Side
Varies
Side SS
(See Below)
Side WS
N/A
Air Attacks
Neutral
4.275% (Hit 1)
Neutral SS
8.55% (Hit 2)
Neutral WS
N/A
Up
11.4%
Up SS
N/A
Up WS
N/A
Down
12.35%
Down SS
14.25% (Meteor)
Down WS
N/A
Forward
10.5%
Forward SS
N/A
Forward WS
N/A
Back
11.875%
Back SS
N/A
Back WS
N/A
Tilt Attacks
Up
7.6% (Early)
Up SS
8.075% (Late)
Up WS
N/A
Down
8.5%
Down SS
N/A
Down WS
N/A
Side
11%
Side SS
N/A
Side WS
N/A
Other
Pummel
1.3%
Up Throw
5%
Down Throw
4%
Forward Throw
4%
Back Throw
4%
Floor Forward
7%
Floor Back
7%
Floor Trip
5%
Edge
9%
Dash
10.925%
Dash SS
N/A
Dash WS
N/A
Air Grab
N/A
Air Grab SS
N/A
Air Grab WS
N/A
Special Move Breakdowns
Shield Breaker
Stabs with such precision that her fully charged attack can destroy a shield.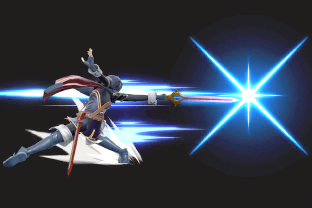 Dancing Blade
Slashes opponents up to four times, with repeated button presses. Tilting up or down can change each attack.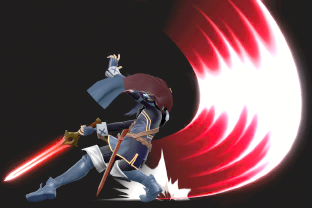 Dolphin Slash
Strikes upward as she rises into the air. Deals the most damage at the start.