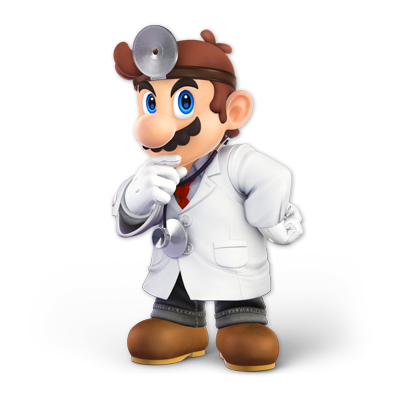 Dr. Mario
Middleweight
Super Mario
Damage Table for Dr. Mario
Smash Attacks
Neutral
---
Neutral: 2.9375% (Hit 1)
Neutral SS: 1.7625% (Hit 2)
Neutral WS: 4.7% (Hit 3)
Up
---
Up: 16.45%
Up SS: N/A
Up WS: N/A
Down
---
Down: 11.75% (Front)
Down SS: 14.1% (Back)
Down WS: N/A
Side
---
Side: 17.2725% (Electricity)
Side SS: 20.915% (Arm)
Side WS: N/A
Special Attacks
Neutral
---
Neutral: 5.875% (Close)
Neutral SS: N/A
Neutral WS: 4.7% (Far)
Up
---
Up: 14.1%
Up SS: N/A
Up WS: 7.05%
Down
---
Down: 1.88% (Hits 1-6)
Down SS: 3.525% (Last)
Down WS: N/A
Side
---
Side: 8.225%
Side SS: 1.6x Reflection
Side WS: N/A
Air Attacks
Neutral
---
Neutral: 5.875%
Neutral SS: 9.4% (Late)
Neutral WS: N/A
Up
---
Up: 10.2225%
Up SS: N/A
Up WS: N/A
Down
---
Down: 14.1%
Down SS: N/A
Down WS: N/A
Forward
---
Forward: 11.75%
Forward SS: 17.625%
Forward WS: 10.575%
Back
---
Back: 14.1%
Back SS: N/A
Back WS: 8.225%
Tilt Attacks
Up
---
Up: 7.4025%
Up SS: N/A
Up WS: N/A
Down
---
Down: 5.875% (Foot)
Down SS: 8.225% (Leg)
Down WS: N/A
Side
---
Side: 8.225%
Side SS: N/A
Side WS: N/A
Other Attacks
Grabs
Pummel: 1.5275%
Up: 8.225%
Down: 5.875%
Forward: 9.4%
Back: 12.925%
Air Grab
Air Grab: N/A
Air Grab SS: N/A
Air Grab WS: N/A
Dash Attack
Dash: 11.515%
Dash SS: N/A
Dash WS: 7.05%
Floor & Edge
Floor Forward: 7%
Floor Back: 7%
Floor Trip: 5%
Edge: 10%
Move Breakdown
Neutral
---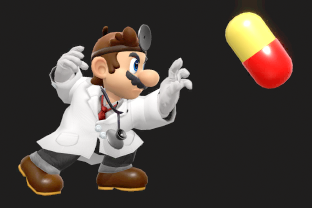 Megavitamins
Throws a vitamin capsule that bounces off the ground.
Side
---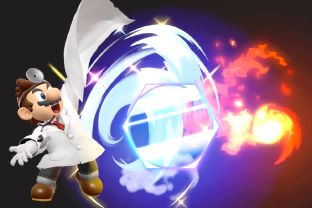 Super Sheet
Reflects projectiles with a sheet. Has a shorter reach but a wider vertical range than Mario's.
Up
---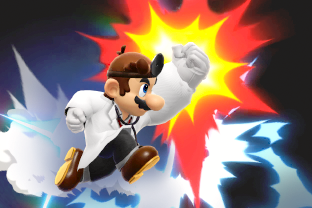 Super Jump Punch
Hits repeatedly with a rising punch that, while lacking coins, is extra powerful at the start of the jump.
Down
---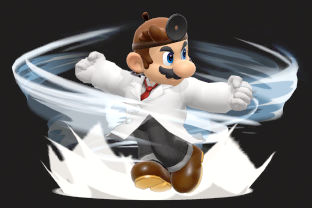 Dr. Tornado
Spins rapidly. He can moves sideways while spinning and even rise, with repeated button presses!