---
Damage Table for Dr. Mario
Smash Attacks
Neutral
Neutral SS
Neutral WS
2.9375% (Hit 1)
1.7625% (Hit 2)
4.7% (Hit 3)
11.75% (Front)
14.1% (Back)
N/A
17.2725% (Electricity)
20.915% (Arm)
N/A
Special Attacks
Neutral
Neutral SS
Neutral WS
5.875% (Close)
N/A
4.7% (Far)
1.88% (Hits 1-6)
3.525% (Last)
N/A
8.225%
1.6x Reflection
N/A
Air Attacks
Neutral
Neutral SS
Neutral WS
Forward
Forward SS
Forward WS
Tilt Attacks
5.875% (Foot)
8.225% (Leg)
N/A
Other
Pummel
Up Throw
Down Throw
Forward Throw
Back Throw
1.5275%
8.225%
5.875%
9.4%
12.925%
Air Grab
Air Grab SS
Air Grab WS
Floor Forward
Floor Back
Floor Trip
Edge
Special Move Breakdowns
---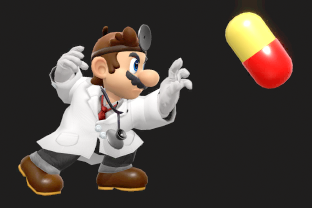 Megavitamins
Throws a vitamin capsule that bounces off the ground.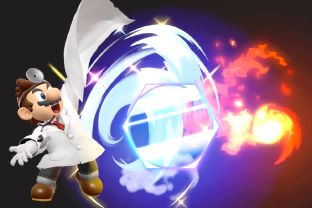 Super Sheet
Reflects projectiles with a sheet. Has a shorter reach but a wider vertical range than Mario's.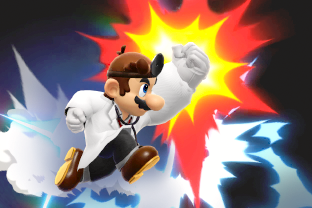 Super Jump Punch
Hits repeatedly with a rising punch that, while lacking coins, is extra powerful at the start of the jump.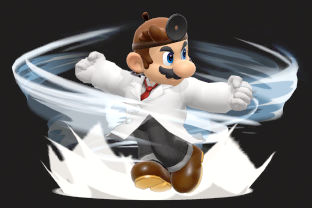 Dr. Tornado
Spins rapidly. He can moves sideways while spinning and even rise, with repeated button presses!