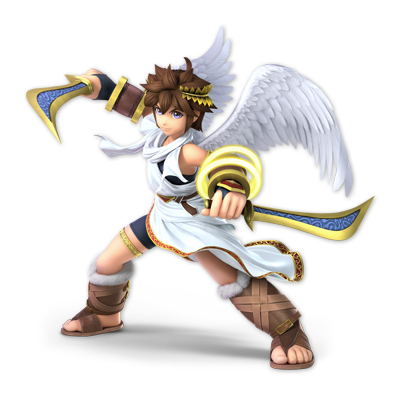 Pit
Middleweight
Kid Icarus
Damage Table for Pit
Smash Attacks
Neutral
---
Neutral: 2%|2% (Hits 1-2)
Neutral SS: 4% (Hit 3)
Neutral WS: 0.5%|2% (Loop|Last)
Up
---
Up: 3% (Hit 1)
Up SS: 2% (Hit 2)
Up WS: 8% (Hit 3)
Down
---
Down: 10% (Tip)
Down SS: 12% (Base)
Down WS: N/A
Side
---
Side: 5% (Hit 1)
Side SS: 10% (Hit 2)
Side WS: N/A
Special Attacks
Neutral
---
Neutral: 3.27% (Uncharged)
Neutral SS: 8.6% (Full Charge)
Neutral WS: N/A
Up
---
Up: 0%
Up SS: N/A
Up WS: N/A
Down
---
Down: 1.5x Reflection
Down SS: N/A
Down WS: N/A
Side
---
Side: 9% (Air)
Side SS: 11% (Ground)
Side WS: 1x Reflection
Air Attacks
Neutral
---
Neutral: 0.7% (Hits 1-7)
Neutral SS: 4.5% (Hit 8)
Neutral WS: N/A
Up
---
Up: 1.5% (Hits 1-4)
Up SS: 5% (Hit 5)
Up WS: N/A
Down
---
Down: 10%
Down SS: N/A
Down WS: N/A
Forward
---
Forward: 2.5% (Hits 1-2)
Forward SS: 6% (Hit 3)
Forward WS: N/A
Back
---
Back: 8% (Base)
Back SS: 12% (Tip)
Back WS: N/A
Tilt Attacks
Up
---
Up: 4% (Hit 1)
Up SS: 5% (Hit 2)
Up WS: N/A
Down
---
Down: 6%
Down SS: N/A
Down WS: N/A
Side
---
Side: 7% (Base)
Side SS: 10% (Tip)
Side WS: N/A
Other Attacks
Grabs
Pummel: 1.3%
Up: 4% | 7%
Down: 2% | 4%
Forward: 6% | 4%
Back: 8%
Air Grab
Air Grab: N/A
Air Grab SS: N/A
Air Grab WS: N/A
Dash Attack
Dash: 11%
Dash SS: N/A
Dash WS: N/A
Floor & Edge
Floor Forward: 7%
Floor Back: 7%
Floor Trip: 5%
Edge: 9%
Move Breakdown
Neutral
---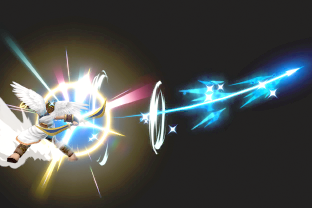 Palutena Bow
Fires a guidable arrow. While charging, the bow can be aimed straight up.
Side
---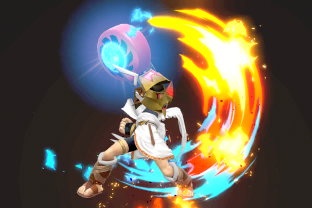 Upperdash Arm
Dashes forward and uppercuts opponents. Can deflect projectiles.
Up
---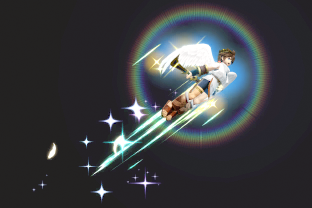 Power of Flight
Flies high through the air. The flight angle can be changed while charging.
Down
---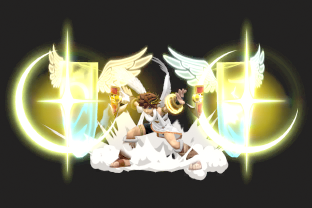 Guardian Orbitars
Shields his front and back and reflects projectiles, but he's vulnerable from above.