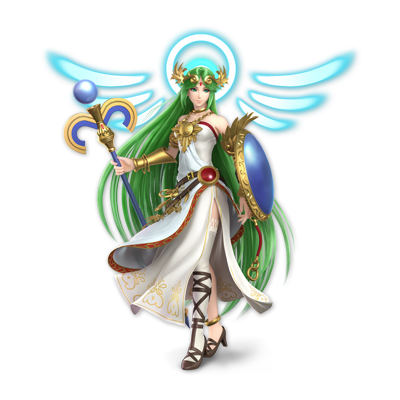 Palutena
Middleweight
Kid Icarus
Damage Table for Palutena
Smash Attacks
Neutral
---
Neutral: 3% (Hit 1)
Neutral SS: 0.6% (Loop)
Neutral WS: 3.5% (Last)
Up
---
Up: 12% (Mid)
Up SS: 16% (Base)
Up WS: 7%|9% (Tip: Late|Early)
Down
---
Down: 13% (Tip)
Down SS: 15% (Mid)
Down WS: N/A
Side
---
Side: 13% (Tip)
Side SS: 16% (Mid)
Side WS: N/A
Special Attacks
Neutral
---
Neutral: 3.5% (Per Shot)
Neutral SS: N/A
Neutral WS: N/A
Up
---
Up: (See Below)
Up SS: N/A
Up WS: N/A
Down
---
Down: 1.3x Counter
Down SS: 1.4x Reflection
Down WS: N/A
Side
---
Side: 1.5% (Hits 1-6)
Side SS: 5.5% (Hit 7)
Side WS: N/A
Air Attacks
Neutral
---
Neutral: 1.3% (Hits 1-6)
Neutral SS: 5% (Hit 7)
Neutral WS: N/A
Up
---
Up: 1% (Hits 1-5)
Up SS: 5% (Hits 6)
Up WS: N/A
Down
---
Down: 11%
Down SS: N/A
Down WS: N/A
Forward
---
Forward: 10%
Forward SS: N/A
Forward WS: N/A
Back
---
Back: 12%
Back SS: N/A
Back WS: N/A
Tilt Attacks
Up
---
Up: 1.3% (Hits 1-5)
Up SS: 2.5% (Hit 6)
Up WS: N/A
Down
---
Down: 8.5%
Down SS: N/A
Down WS: 5%
Side
---
Side: 6% (Hit 1)
Side SS: 7% (Hit 2)
Side WS: N/A
Other Attacks
Grabs
Pummel: 1.3%
Up: 8%
Down: 5%
Forward: 9%
Back: 10%
Air Grab
Air Grab: N/A
Air Grab SS: N/A
Air Grab WS: N/A
Dash Attack
Dash: 11%
Dash SS: N/A
Dash WS: N/A
Floor & Edge
Floor Forward: 7%
Floor Back: 7%
Floor Trip: 5%
Edge: 9%
Move Breakdown
Neutral
---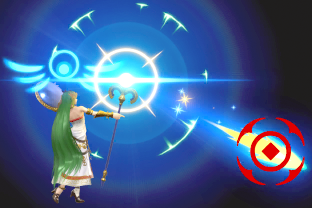 Autoreticle
Fires energy blasts from her staff directly at opponents in front of her.
Side
---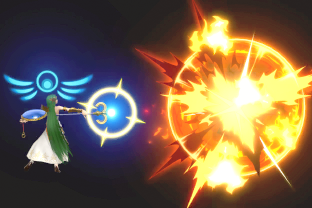 Explosive Flame
Sets off an explosion a distance away. The stick can be flicked to make it go even further.
Up
---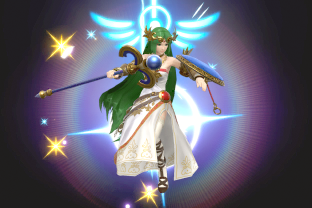 Warp
Teleports in any direction. Can't attack or be attacked while warping.
Down
---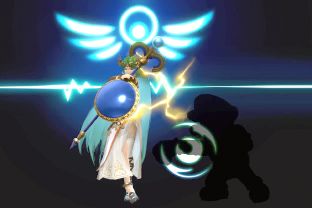 Counter/Reflect Barrier
Counters physical attacks and reflects projectiles.