Mii Brawler
Middleweight
Super Smash Bros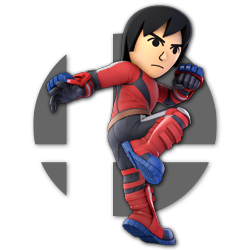 Damage Table for Mii Brawler
Smash Attacks
Neutral
1.8% (Hit 1)
Neutral SS
1% (Hit 2)
Neutral WS
0.5%|2% (Loop|Last)
Up
14%
Up SS
N/A
Up WS
10%
Down
13%
Down SS
N/A
Down WS
N/A
Side
18%
Side SS
N/A
Side WS
N/A
Special Attacks
Neutral
Varies by Move
Neutral SS
(See Below)
Neutral WS
N/A
Up
Varies by Move
Up SS
(See Below)
Up WS
N/A
Down
Varies by Move
Down SS
(See Below)
Down WS
N/A
Side
Varies by Move
Side SS
(See Below)
Side WS
N/A
Air Attacks
Neutral
10%
Neutral SS
N/A
Neutral WS
5%
Up
9%
Up SS
N/A
Up WS
N/A
Down
13%
Down SS
N/A
Down WS
12%
Forward
5% (Hit 1)
Forward SS
6% (Hit 2)
Forward WS
N/A
Back
12%
Back SS
N/A
Back WS
N/A
Tilt Attacks
Up
6%
Up SS
N/A
Up WS
N/A
Down
8%
Down SS
N/A
Down WS
N/A
Side
8.3% (Down)
Side SS
8.5% (Up)
Side WS
8%
Other
Pummel
1.3%
Up Throw
11%
Down Throw
2% | 4%
Forward Throw
9%
Back Throw
4% | 5%
Floor Forward
7%
Floor Back
7%
Floor Trip
5%
Edge
9%
Dash
11%
Dash SS
N/A
Dash WS
6%
Air Grab
N/A
Air Grab SS
N/A
Air Grab WS
N/A
Special Move Breakdowns
Shot Put
Tosses an iron ball that makes an impact but doesn't go very far.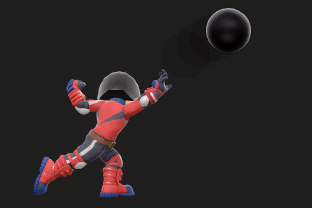 Onslaught
Rushes forward with a flurry of kicks, sending foes upward. Does more damage the more damage is taken.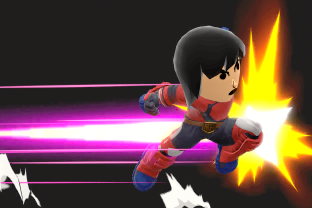 Soaring Axe Kick
Flips upward and hits foes. Pressing the button again at the top of the jump performs a downward axe kick.