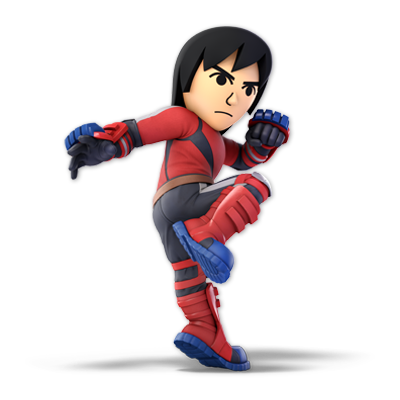 Mii Brawler
Middleweight
Super Smash Bros
Damage Table for Mii Brawler
Smash Attacks
Neutral
---
Neutral: 1.8% (Hit 1)
Neutral SS: 1% (Hit 2)
Neutral WS: 0.5%|2% (Loop|Last)
Up
---
Up: 14%
Up SS: N/A
Up WS: 10%
Down
---
Down: 13%
Down SS: N/A
Down WS: N/A
Side
---
Side: 18%
Side SS: N/A
Side WS: N/A
Special Attacks
Neutral
---
Neutral: Varies by Move
Neutral SS: (See Below)
Neutral WS: N/A
Up
---
Up: Varies by Move
Up SS: (See Below)
Up WS: N/A
Down
---
Down: Varies by Move
Down SS: (See Below)
Down WS: N/A
Side
---
Side: Varies by Move
Side SS: (See Below)
Side WS: N/A
Air Attacks
Neutral
---
Neutral: 10%
Neutral SS: N/A
Neutral WS: 5%
Up
---
Up: 9%
Up SS: N/A
Up WS: N/A
Down
---
Down: 13%
Down SS: N/A
Down WS: 12%
Forward
---
Forward: 5% (Hit 1)
Forward SS: 6% (Hit 2)
Forward WS: N/A
Back
---
Back: 12%
Back SS: N/A
Back WS: N/A
Tilt Attacks
Up
---
Up: 6%
Up SS: N/A
Up WS: N/A
Down
---
Down: 8%
Down SS: N/A
Down WS: N/A
Side
---
Side: 8.3% (Down)
Side SS: 8.5% (Up)
Side WS: 8%
Other Attacks
Grabs
Pummel: 1.3%
Up: 11%
Down: 2% | 4%
Forward: 9%
Back: 4% | 5%
Air Grab
Air Grab: N/A
Air Grab SS: N/A
Air Grab WS: N/A
Dash Attack
Dash: 11%
Dash SS: N/A
Dash WS: 6%
Floor & Edge
Floor Forward: 7%
Floor Back: 7%
Floor Trip: 5%
Edge: 9%
Move Breakdown
Neutral
---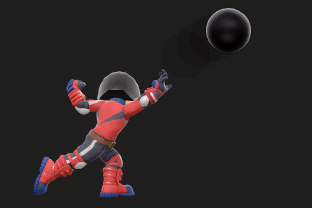 Shot Put
Tosses an iron ball that makes an impact but doesn't go very far.
Side
---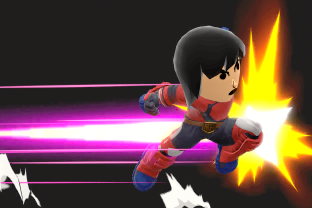 Onslaught
Rushes forward with a flurry of kicks, sending foes upward. Does more damage the more damage is taken.
Up
---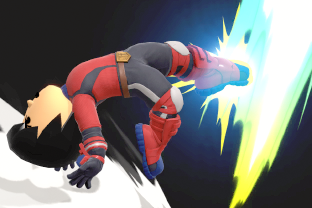 Soaring Axe Kick
Flips upward and hits foes. Pressing the button again at the top of the jump performs a downward axe kick.
Down
---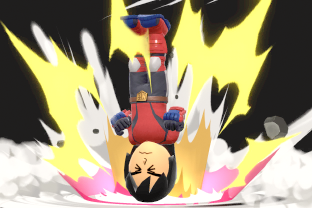 Head-On Assault
Jumps up using both feet, then falls down headfirst. Opponents in the air are launched downward.