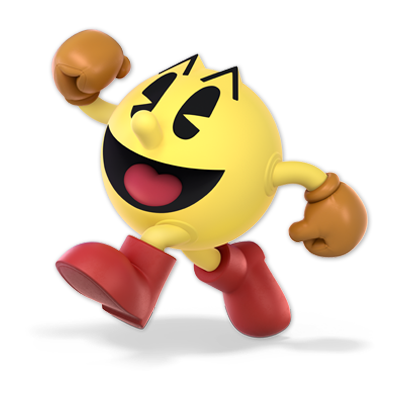 Pac-Man
Middleweight
Pac-Man
Damage Table for Pac-Man
Smash Attacks
Neutral
---
Neutral: 2% (Hit 1)
Neutral SS: 2% (Hit 2)
Neutral WS: 4% (Hit 3)
Up
---
Up: 3% (Launcher)
Up SS: 14% (Inky)
Up WS: 7% (Late)
Down
---
Down: 13%
Down SS: N/A
Down WS: 6%
Side
---
Side: 15%
Side SS: 16%
Side WS: 8%
Special Attacks
Neutral
---
Neutral: (See Below)
Neutral SS: N/A
Neutral WS: N/A
Up
---
Up: 6-8.41666% (Mid)
Up SS: 7-10% (Late)
Up WS: 5-7% (Early)
Down
---
Down: 9% (Falling)
Down SS: 13% (Tumbling)
Down WS: N/A
Side
---
Side: 3% (Start)
Side SS: 4% (Uncharged)
Side WS: 12% (Full Charge)
Air Attacks
Neutral
---
Neutral: 10%
Neutral SS: N/A
Neutral WS: 6%
Up
---
Up: 10%
Up SS: N/A
Up WS: N/A
Down
---
Down: 2% (Hits 1-3)
Down SS: 7% (Hit 4)
Down WS: N/A
Forward
---
Forward: 7.65%
Forward SS: N/A
Forward WS: N/A
Back
---
Back: 11.8%
Back SS: N/A
Back WS: 7%
Tilt Attacks
Up
---
Up: 6.5%
Up SS: N/A
Up WS: N/A
Down
---
Down: 6%
Down SS: N/A
Down WS: N/A
Side
---
Side: 8%
Side SS: N/A
Side WS: N/A
Other Attacks
Grabs
Pummel: 1.3%
Up: 5%
Down: 4.5% | 6%
Forward: 8%
Back: 11%
Air Grab
Air Grab: N/A
Air Grab SS: N/A
Air Grab WS: N/A
Dash Attack
Dash: 2% (Hits 1-3)
Dash SS: 4% (Hit 4)
Dash WS: N/A
Floor & Edge
Floor Forward: 7%
Floor Back: 7%
Floor Trip: 5%
Edge: 9%
Move Breakdown
Neutral
---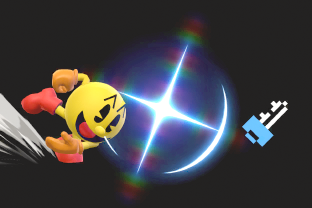 Bonus Fruit
Summons a variety of fruit to throw at his foes. Some of it seems a little less edible, though...
Side
---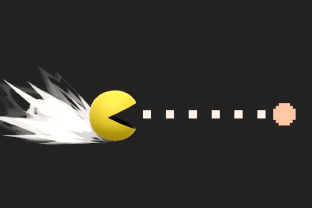 Power Pellet
Summons a row of Pac-Dots ending in a Power Pellet, and sends himself on a retro dash.
Up
---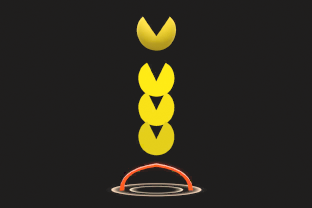 Pac-Jump
Bounces high into the air with a trampoline that sticks around for a little while.
Down
---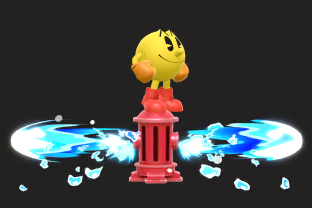 Fire Hydrant
Summons a fire hydrant that shoots powerful jets of water, pushing nearby fighters.