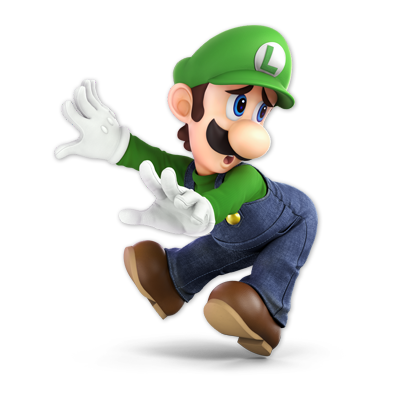 Luigi
Middleweight
Super Mario
Damage Table for Luigi
Smash Attacks
Neutral
---
Neutral: 2% (Hit 1)
Neutral SS: 2% (Hit 2)
Neutral WS: 4% (Hit 3)
Up
---
Up: 14%
Up SS: N/A
Up WS: 12%
Down
---
Down: 15% (Body)
Down SS: N/A
Down WS: 14% (Legs)
Side
---
Side: 15%
Side SS: N/A
Side WS: N/A
Special Attacks
Neutral
---
Neutral: 6%
Neutral SS: N/A
Neutral WS: 5%
Up
---
Up: 20% (Air SS)
Up SS: 25% (Ground SS)
Up WS: 1%
Down
---
Down: 2% (Hits 1-4)
Down SS: 4% (Hit 5)
Down WS: N/A
Side
---
Side: ~6.16% (Uncharged)
Side SS: ~21% (Full Charge)
Side WS: ~25% (Misfire)
Air Attacks
Neutral
---
Neutral: 12%
Neutral SS: N/A
Neutral WS: 6%
Up
---
Up: 11%
Up SS: N/A
Up WS: 7%
Down
---
Down: 10%
Down SS: N/A
Down WS: 8%
Forward
---
Forward: 8%
Forward SS: N/A
Forward WS: N/A
Back
---
Back: 8% (Legs)
Back SS: 14% (Feet)
Back WS: 8% (Late)
Tilt Attacks
Up
---
Up: 6%
Up SS: N/A
Up WS: N/A
Down
---
Down: 5%
Down SS: N/A
Down WS: N/A
Side
---
Side: 9%
Side SS: N/A
Side WS: N/A
Other Attacks
Grabs
Pummel: 1.3%
Up: 8% (6% Collateral)
Down: 3%|3%
Forward: 9%
Back: 10%
Air Grab
Air Grab: 5%
Air Grab SS: N/A
Air Grab WS: N/A
Dash Attack
Dash: 2% (Hits 1-4)
Dash SS: 4% (Hit 5)
Dash WS: N/A
Floor & Edge
Floor Forward: 7%
Floor Back: 7%
Floor Trip: 5%
Edge: 9%
Move Breakdown
Neutral
---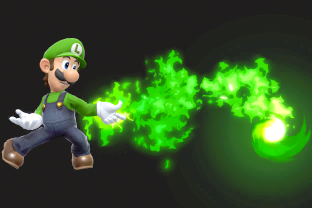 Fireball
Throws a fireball straight ahead that bounces if it hits a wall or the ground.
An average projectile, can pressure far opponents or stop an approach. The lack of gravity make it less effective for edge guarding than Mario's.
Side
---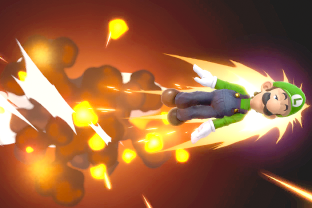 Green Missile
Charges up a diving attack that can explode with unexpected power.
Full charged version has considerable KO potential, and has 10% chance to misfire, making it even stronger. The end lag makes it punishable, so this move should be used with caution.
Up
---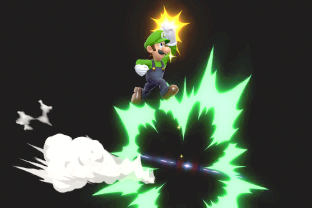 Super Jump Punch
Punches up into the air with the strongest blows at the start of the attack.
If the sweet spot connects, especially while grounded, this move has insane KO potential. However, the low damage output from the weak spot and end lag make it fairly punishable.
Down
---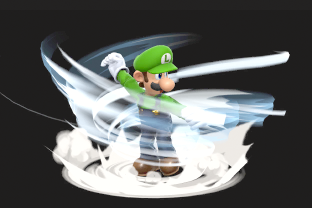 Luigi Cyclone
Spins at high speed, catching opponents in the attack. Repeated presses cause him to float and move a bit.
Grants Luigi invincibility on startup, and had wind boxes around Luigi to pull opponents into the attack. This can be used as a combo breaker.