---
Damage Table for Mega Man
Smash Attacks
Neutral
Neutral SS
Neutral WS
2% (Shot)
1% (Buster)
N/A
2% (Hit 1)
1.5% (Hits 2-6)
6% (Hit 7)
Special Attacks
Neutral
Neutral SS
Neutral WS
5% (Spawn)
3% (Throw)
N/A
1.5% (Circle)
3.8% (Thrown)
N/A
1% (Hits 1-4)
4% (Hit 5)
N/A
Air Attacks
Neutral
Neutral SS
Neutral WS
2% (Shot)
2% (Buster)
N/A
3% (Hits 1-3)
2% (Hits 4-6)
1%|2% (Hits: 7-11|12)
Forward
Forward SS
Forward WS
3% (Hit 1)
4% (Hit 2)
5% (Hit 3)
Other
Pummel
Up Throw
Down Throw
Forward Throw
Back Throw
Air Grab
Air Grab SS
Air Grab WS
1.2% (Hits 1-7)
4% (Hit 8)
N/A
Floor Forward
Floor Back
Floor Trip
Edge
Special Move Breakdowns
---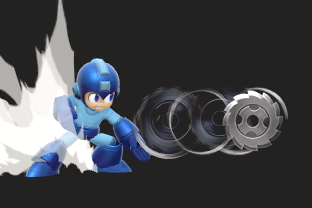 Metal Blade
Throws Metal Man's spinning saw, which goes through foes. The direction it travels can be chosen.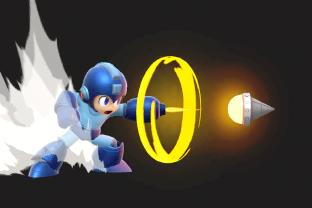 Crash Bomber
Fires Crash Man's bomb, which attaches to any opponent in its path and explodes.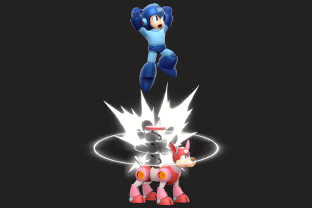 Rush Coil
Summons his faithful dog, Rush, to propel him to new heights.
Leaf Shield
Fires Wood Man's leaves, which can be used to protect himself if the button is held.