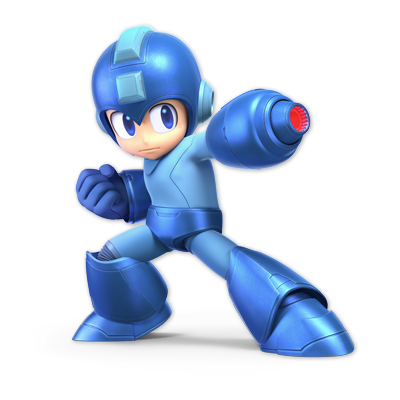 Mega Man
Heavyweight
Mega Man
Damage Table for Mega Man
Smash Attacks
Neutral
---
Neutral: 2% (Shot)
Neutral SS: 1% (Buster)
Neutral WS: N/A
Up
---
Up: 2% (Hit 1)
Up SS: 1.5% (Hits 2-6)
Up WS: 6% (Hit 7)
Down
---
Down: 14%
Down SS: 17%
Down WS: 9%
Side
---
Side: 11.5-14.95%
Side SS: N/A
Side WS: N/A
Special Attacks
Neutral
---
Neutral: 5% (Spawn)
Neutral SS: 3% (Throw)
Neutral WS: N/A
Up
---
Up: N/A
Up SS: N/A
Up WS: N/A
Down
---
Down: 1.5% (Circle)
Down SS: 3.8% (Thrown)
Down WS: N/A
Side
---
Side: 1% (Hits 1-4)
Side SS: 4% (Hit 5)
Side WS: N/A
Air Attacks
Neutral
---
Neutral: 2% (Shot)
Neutral SS: 2% (Buster)
Neutral WS: N/A
Up
---
Up: 3% (Hits 1-3)
Up SS: 2% (Hits 4-6)
Up WS: 1%|2% (Hits: 7-11|12)
Down
---
Down: 14%
Down SS: N/A
Down WS: 12%
Forward
---
Forward: 8%
Forward SS: 8.5% (Tip)
Forward WS: 5%
Back
---
Back: 3% (Hit 1)
Back SS: 4% (Hit 2)
Back WS: 5% (Hit 3)
Tilt Attacks
Up
---
Up: 12%
Up SS: 17%
Up WS: 8%
Down
---
Down: 8%
Down SS: N/A
Down WS: 5%
Side
---
Side: 2%
Side SS: N/A
Side WS: N/A
Other Attacks
Grabs
Pummel: 1.3%
Up: 7%
Down: 4.5%
Forward: 8%
Back: 11%
Air Grab
Air Grab: N/A
Air Grab SS: N/A
Air Grab WS: N/A
Dash Attack
Dash: 1.2% (Hits 1-7)
Dash SS: 4% (Hit 8)
Dash WS: N/A
Floor & Edge
Floor Forward: 7%
Floor Back: 7%
Floor Trip: 5%
Edge: 9%
Move Breakdown
Neutral
---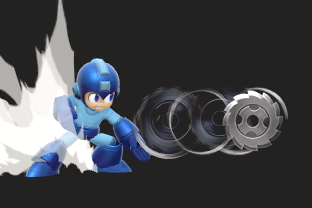 Metal Blade
Throws Metal Man's spinning saw, which goes through foes. The direction it travels can be chosen.
Side
---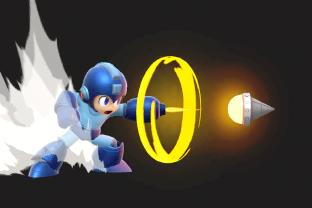 Crash Bomber
Fires Crash Man's bomb, which attaches to any opponent in its path and explodes.
Up
---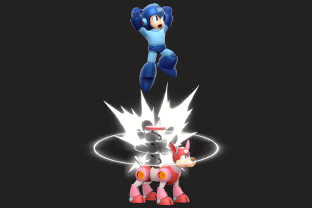 Rush Coil
Summons his faithful dog, Rush, to propel him to new heights.
Down
---
Leaf Shield
Fires Wood Man's leaves, which can be used to protect himself if the button is held.