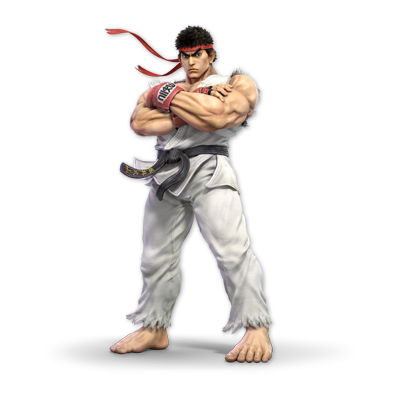 Ryu
Heavyweight
Street Fighter
Damage Table for Ryu
Smash Attacks
Neutral
---
Neutral: 1.5% (Hits 1-2)
Neutral SS: 5% (Hit 3)
Neutral WS: 10%|12% (Held: Far|Close)
Up
---
Up: 17%
Up SS: N/A
Up WS: 13.5%
Down
---
Down: 16%
Down SS: N/A
Down WS: N/A
Side
---
Side: 16% (Leg)
Side SS: 17.5% (Foot)
Side WS: N/A
Special Attacks
Neutral
---
Neutral: 7-8.5% (Standard)
Neutral SS: 8.7-10% (Held)
Neutral WS: 1.1%|7.3% (Shakunetsu: 1-4|5)
Up
---
Up: (See Below)
Up SS: N/A
Up WS: N/A
Down
---
Down: 12% (Level 1)
Down SS: 17% (level 3)
Down WS: 10% (Level 2)
Side
---
Side: 9-11% (Standard)
Side SS: 10.4-12.4% (Held)
Side WS: N/A
Air Attacks
Neutral
---
Neutral: 8%
Neutral SS: N/A
Neutral WS: 4.5%
Up
---
Up: 5% (Hit 1)
Up SS: 6% (Hit 2)
Up WS: N/A
Down
---
Down: 12% (Ground)
Down SS: 15% (Air: SS)
Down WS: 11% (Air :WS)
Forward
---
Forward: 9% (WS: Clean)
Forward SS: 15% (SS: Clean)
Forward WS: 8%|13% (Late: WS|SS)
Back
---
Back: 13% (Leg)
Back SS: 16% (Foot)
Back WS: N/A
Tilt Attacks
Up
---
Up: 2% (Tapped)
Up SS: 12% (Held)
Up WS: N/A
Down
---
Down: 1.6% (Tapped)
Down SS: 7% (Held: Leg)
Down WS: 5.5% (Held: Foot)
Side
---
Side: 6.8%|6% (Tapped: Far|Close)
Side SS: 3% (Held: Hit 1)
Side WS: 6% (Held: Hit 2)
Other Attacks
Grabs
Pummel: 1.3%
Up: 8% | 15%
Down: 5% | 4%
Forward: 9%
Back: 12%
Air Grab
Air Grab: N/A
Air Grab SS: N/A
Air Grab WS: N/A
Dash Attack
Dash: 12%
Dash SS: N/A
Dash WS: 8%
Floor & Edge
Floor Forward: 7%
Floor Back: 7%
Floor Trip: 5%
Edge: 7%
Move Breakdown
Neutral
---
Hadoken
Fires an energy wave from his palms. Holding down the button increases its speed and power.
Side
---
Tatsumaki Senpukyaku
Whirls with powerful kicks that move him forward for as long as the button is held.
Up
---
Shoryuken
Jumps up with a powerful uppercut, which is strongest at the start. Power and speed increases if held.
Down
---
Focus Attack
Focuses, allowing himself to soak up one attack. The longer the charge, the longer the enemy is stunned.