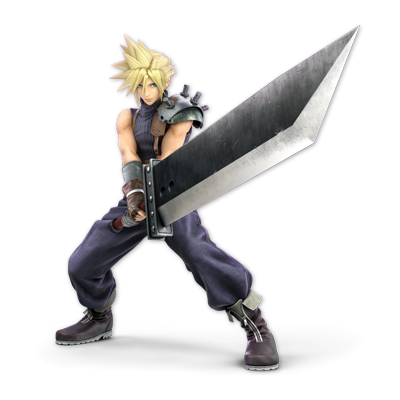 Cloud
Middleweight
Final Fantasy
Damage Table for Cloud
Smash Attacks
Neutral
---
Neutral: 2.5% (Hit 1)
Neutral SS: 2% (Hit 2)
Neutral WS: 3.5% (Hit 3)
Up
---
Up: 12% (Hilt)
Up SS: 13% (Early/Tip)
Up WS: 8% (Late)
Down
---
Down: 3% (Hit 1)
Down SS: 11% (Hit 2)
Down WS: N/A
Side
---
Side: 3% (Hit 1)
Side SS: 2-4% (Hit 2)
Side WS: 12-13% (Hit 3)
Special Attacks
Neutral
---
Neutral: 6-8% (Ground)
Neutral SS: 6%|2%|3% (Limit: 1|2-6|7)
Neutral WS: 4.8-6% (Air)
Up
---
Up: 3%|4% (Hits: 1|2-3)
Up SS: 3.5% (Landing)
Up WS: 6%|7% (Limit: 1|2)
Down
---
Down: 1% (Finishing Touch)
Down SS: (See Below)
Down WS: N/A
Side
---
Side: 4%|3% (Hits: 1|2-4)
Side SS: 5% (Hit 5)
Side WS: 5%|3%|10% (Limit: 1|2-4|5)
Air Attacks
Neutral
---
Neutral: 8%
Neutral SS: N/A
Neutral WS: N/A
Up
---
Up: 11%
Up SS: N/A
Up WS: 8%
Down
---
Down: 13% (Air WS/Ground)
Down SS: 15% (Air)
Down WS: 8%
Forward
---
Forward: 13%
Forward SS: 14%
Forward WS: 11%
Back
---
Back: 13%
Back SS: N/A
Back WS: N/A
Tilt Attacks
Up
---
Up: 8%
Up SS: N/A
Up WS: N/A
Down
---
Down: 6% (Knee)
Down SS: 7% (Leg)
Down WS: N/A
Side
---
Side: 11%
Side SS: N/A
Side WS: N/A
Other Attacks
Grabs
Pummel: 1.3%
Up: 2%|2.5%|4%
Down: 7%
Forward: 4% | 3%
Back: 3% | 3%
Air Grab
Air Grab: N/A
Air Grab SS: N/A
Air Grab WS: N/A
Dash Attack
Dash: 11%
Dash SS: N/A
Dash WS: 8%
Floor & Edge
Floor Forward: 7%
Floor Back: 7%
Floor Trip: 5%
Edge: 10%
Move Breakdown
Neutral
---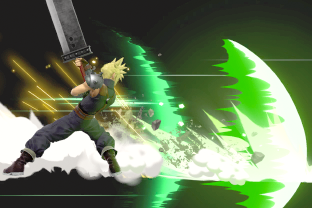 Blade Beam
Slashes the air to send out a shock wave. During Limit Break, the wave can hit multiple enemies.
Side
---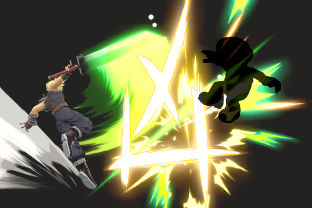 Cross Slash
Executes an attack that can be expanded into the full combo with two follow-up button presses.
Up
---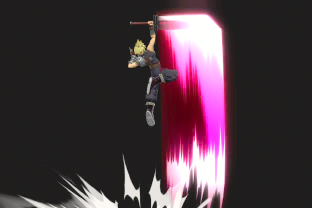 Climhazzard
Thrusts his sword and then jumps high into the air. Plunges with a high-speed cut if pressed again.
Down
---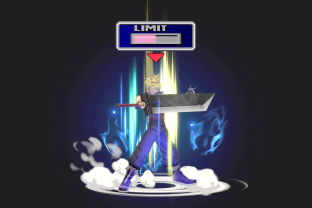 Limit Charge / Finishing Touch
Charges up the Limit Gauge. The Limit Break version launches opponents upward.