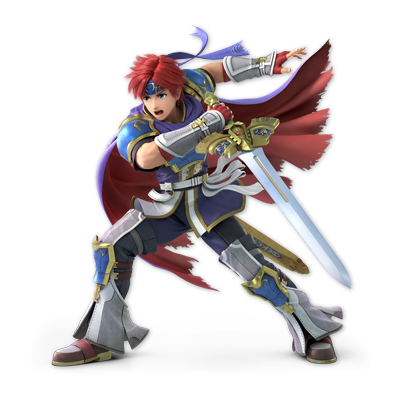 Roy
Middleweight
Fire Emblem
Damage Table for Roy
Smash Attacks
Neutral
---
Neutral: 4.8%
Neutral SS: 7.5%
Neutral WS: N/A
Up
---
Up: 1-2% (Hit 1)
Up SS: 2% (Hits 2-4)
Up WS: 10% (Hit 5)
Down
---
Down: 10%|11% (Front|Back)
Down SS: 15%|17% (Front|Back)
Down WS: N/A
Side
---
Side: 17%
Side SS: 20%
Side WS: 12%
Special Attacks
Neutral
---
Neutral: 6-35%
Neutral SS: 36-50% (Full Charge)
Neutral WS: 10% (Recoil, Full Charge)
Up
---
Up: 4-5.5% (Ground 1) | 1.1% (Ground 2-4)
Up SS: 4.5% (Air 1) | 1% (Air 2-4)
Up WS: 7-8% (Ground 5) | 6% (Air 5)
Down
---
Down: 1.35x Reflection
Down SS: (Minimum 9%)
Down WS: N/A
Side
---
Side: Varies
Side SS: (See Below)
Side WS: N/A
Air Attacks
Neutral
---
Neutral: 4%|5% (Hit 1|Hit 2)
Neutral SS: 6%|8.5% (Hit 1|Hit 2)
Neutral WS: N/A
Up
---
Up: 6%
Up SS: 9%
Up WS: N/A
Down
---
Down: 10%
Down SS: 15%
Down WS: N/A
Forward
---
Forward: 7%
Forward SS: 11%
Forward WS: N/A
Back
---
Back: 9%
Back SS: 12%
Back WS: N/A
Tilt Attacks
Up
---
Up: 7%
Up SS: 12%
Up WS: N/A
Down
---
Down: 6.5%
Down SS: 11%
Down WS: N/A
Side
---
Side: 9%
Side SS: 12.5%
Side WS: 8%
Other Attacks
Grabs
Pummel: 2%
Up: 6%
Down: 5%
Forward: 5%
Back: 5%
Air Grab
Air Grab: N/A
Air Grab SS: N/A
Air Grab WS: N/A
Dash Attack
Dash: 9%
Dash SS: 13%
Dash WS: N/A
Floor & Edge
Floor Forward: 7%
Floor Back: 7%
Floor Trip: 5%
Edge: 8%
Move Breakdown
Neutral
---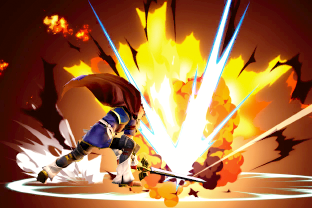 Flare Blade
Slashes downward with a flaming sword so powerfully that he can even damage himself.
Side
---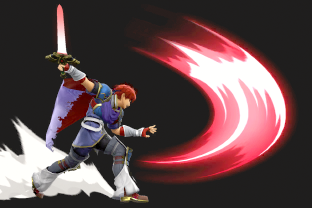 Double-Edge Dance
Slashes opponents up to four times, with repeated button presses. Tilting up or down can change each attack.
Up
---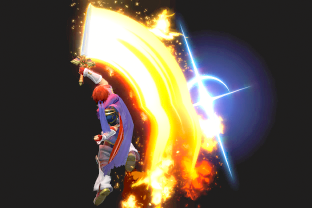 Blazer
Jumps into the air with a slash wrapped in flames. The jump angle can be altered.
Down
---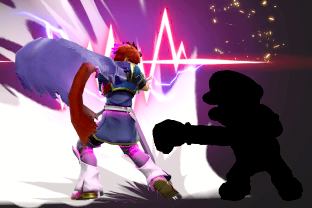 Counter
Readies himself and turns aside any attack, sending it back against his foe, with greater force.