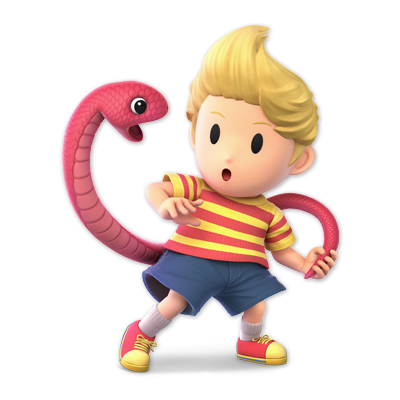 Lucas
Middleweight
Earthbound
Damage Table for Lucas
Smash Attacks
Neutral
---
Neutral: 2.5% (Hit 1)
Neutral SS: 1.5% (Hit 2)
Neutral WS: 3.5% (Hit 3)
Up
---
Up: 2% (Hit 1)
Up SS: 21% (Hit 2)
Up WS: 14% (Late, Hit 2)
Down
---
Down: 14%
Down SS: 17%
Down WS: 11%
Side
---
Side: 14% (Base)
Side SS: 15% (Tip)
Side WS: 1.5x Reflection
Special Attacks
Neutral
---
Neutral: 10-23%
Neutral SS: N/A
Neutral WS: N/A
Up
---
Up: 0.8-2.5% (Lightning)
Up SS: 8% (PKT2 Initial)|2% (PKT2 1-5)
Up WS: 1.5% (PKT2 6-10)|10% (PKT2 Last)
Down
---
Down: 8% (Ending)
Down SS: 2x Heal Absorption
Down WS: (Maximum 30%)
Side
---
Side: 3% (Lightning)
Side SS: 7% (Fire)
Side WS: N/A
Air Attacks
Neutral
---
Neutral: 2% (Hits 1-3)
Neutral SS: 4% (Hit 4)
Neutral WS: N/A
Up
---
Up: 11%
Up SS: N/A
Up WS: N/A
Down
---
Down: 3.5% (Hits 1-3)
Down SS: 5% (Hit 4)
Down WS: N/A
Forward
---
Forward: 9%
Forward SS: 12.5%
Forward WS: N/A
Back
---
Back: 9%
Back SS: 12%
Back WS: 7%
Tilt Attacks
Up
---
Up: 1.5% (Hit 1)
Up SS: 8% (Hit 2)
Up WS: 5% (Late, Hit 2)
Down
---
Down: 5%
Down SS: N/A
Down WS: N/A
Side
---
Side: 7.5%
Side SS: 11%
Side WS: N/A
Other Attacks
Grabs
Pummel: 1.3%
Up: 10%
Down: 11%
Forward: 10%
Back: 10%
Air Grab
Air Grab: 5%
Air Grab SS: N/A
Air Grab WS: 3%
Dash Attack
Dash: 9%
Dash SS: 13%
Dash WS: N/A
Floor & Edge
Floor Forward: 7%
Floor Back: 7%
Floor Trip: 5%
Edge: 9%
Move Breakdown
Neutral
---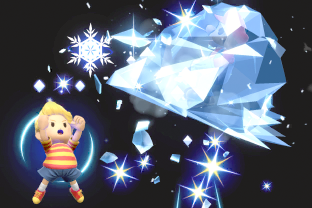 PK Freeze
Launches a projectile that freezes enemies. The projectile's path can be controlled.
Side
---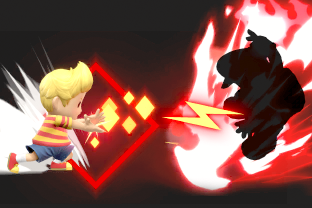 PK Fire
Fires light that explodes when it hits, erupting into a column of flame that launches enemies.
Up
---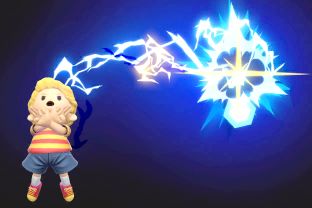 PK Thunder
Fires a steerable ball of lightning. Sends Lucas flying if he hits himself.
Down
---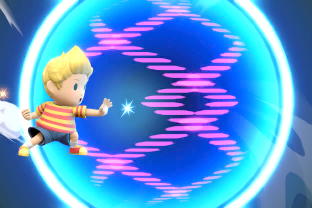 PSI Magnet
Absorbs energy-based projectiles and weak explosions. Activates faster and heals more than Ness's.