Duck Hunt
Middleweight
Duck Hunt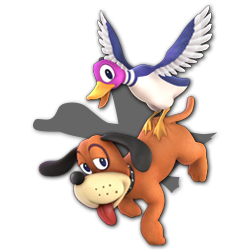 Damage Table for Duck Hunt
Smash Attacks
Neutral
1.5% (Hits 1-2)
Neutral SS
5% (Hit 3)
Neutral WS
0.4%|3% (Loop|Last)
Up
2.5% (Hit 1)
Up SS
2.5% (Hit 2)
Up WS
10% (Hit 3)
Down
5% (Hit 1)
Down SS
5% (Hit 2)
Down WS
6% (Hit 3)
Side
4% (Hit 1)
Side SS
4% (Hit 2)
Side WS
9% (Hit 3)
Special Attacks
Neutral
10% (Explosion)
Neutral SS
1.8% (Shots)
Neutral WS
1.8-4.4% (Contact)
Up
(See Below)
Up SS
N/A
Up WS
N/A
Down
8-11%
Down SS
(See Below)
Down WS
N/A
Side
2% (Pigeon)
Side SS
1.8% (Shot 1)
Side WS
2.5%|3% (Shots: 2-4|5)
Air Attacks
Neutral
11%
Neutral SS
N/A
Neutral WS
5%
Up
3% (Hit 1)
Up SS
3% (Hit 2)
Up WS
6% (Hit 3)
Down
5% (Hit 1)
Down SS
10% (Hit 2)
Down WS
N/A
Forward
7.5% (Beak: Late)
Forward SS
10% (Beak: Clean)
Forward WS
6.5% (Duck)
Back
10% (Duck)
Back SS
12.5% (Beak)
Back WS
N/A
Tilt Attacks
Up
7%
Up SS
N/A
Up WS
N/A
Down
8%
Down SS
N/A
Down WS
N/A
Side
8%
Side SS
N/A
Side WS
N/A
Other
Pummel
1.2%
Up Throw
6%
Down Throw
5%
Forward Throw
8%
Back Throw
9%
Floor Forward
7%
Floor Back
7%
Floor Trip
5%
Edge
9%
Dash
10%
Dash SS
N/A
Dash WS
7%
Air Grab
N/A
Air Grab SS
N/A
Air Grab WS
N/A
Special Move Breakdowns
Trick Shot
Kicks an explosive can. Additional buttons presses shoot it, bouncing it forward and boosting its power.
Clay Shooting
Tosses a clay pigeon, which breaks apart into damaging shards when shot. A second button press shoots.
Duck Jump
Flies into the air with a nostalgic flapping sound. Can attack or dodge after a short time.