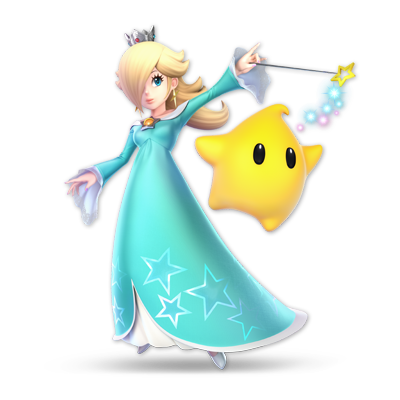 Rosalina & Luma
Featherweight
Super Mario
Damage Table for Rosalina & Luma
Smash Attacks
Neutral
---
Neutral: 2%|1% (Hit 1-2: R|L)
Neutral SS: 3%|2% (Hit 3: R|L)
Neutral WS: 2.5%|1.5% (Last: R|L)
Up
---
Up: 12% (R)
Up SS: 6% (L)
Up WS: 5% (L: Late)
Down
---
Down: 7% (R: Front)
Down SS: 9% (R: Back)
Down WS: 4%|5% (L: Back|Front)
Side
---
Side: 12% (R)
Side SS: 7% (L: Fist)
Side WS: 5% (L: Body)
Special Attacks
Neutral
---
Neutral: 5% (Uncharged)
Neutral SS: 16% (Full Charge)
Neutral WS: N/A
Up
---
Up: (See Below)
Up SS: N/A
Up WS: N/A
Down
---
Down: (See Below)
Down SS: N/A
Down WS: N/A
Side
---
Side: 3% (Per Star)
Side SS: N/A
Side WS: N/A
Air Attacks
Neutral
---
Neutral: 8%|4% (Back: R|L)
Neutral SS: 10%|3% (Front: R|L)
Neutral WS: 7% (R: Late)
Up
---
Up: 5%|2% (R: Mid|Late)
Up SS: 10% (R: Clean)
Up WS: 4% (L)
Down
---
Down: 7%|6% (Ring: Clean|Late)
Down SS: 8% (R: Legs)
Down WS: 5% (L)
Forward
---
Forward: 1% (R: Hits 1-4)
Forward SS: 4% (R: Hit 5)
Forward WS: 3% (L)
Back
---
Back: 11% (R)
Back SS: 4% (L)
Back WS: N/A
Tilt Attacks
Up
---
Up: 10% (R)
Up SS: 8% (L)
Up WS: N/A
Down
---
Down: 5.5% (R)
Down SS: 3.5% (L)
Down WS: N/A
Side
---
Side: 7.5% (R)
Side SS: 4.5% (L)
Side WS: N/A
Other Attacks
Grabs
Pummel: 1.2%
Up: 7%
Down: 9%
Forward: 9%
Back: 11%
Air Grab
Air Grab: N/A
Air Grab SS: N/A
Air Grab WS: N/A
Dash Attack
Dash: 3% (R1)
Dash SS: 4% (R2)
Dash WS: 3% (L)
Floor & Edge
Floor Forward: 7%
Floor Back: 7%
Floor Trip: 5%
Edge: 9%
Move Breakdown
Neutral
---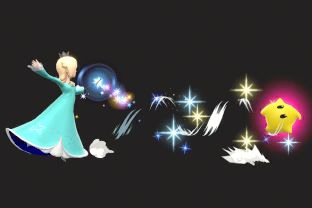 Luma Shot
Flings Luma forward. A second button press calls Luma back. Can be charged.
Side
---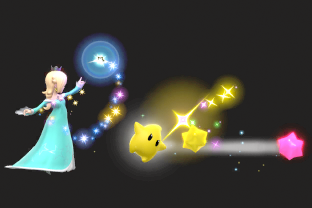 Star Bits
Commands Luma to fire three Star Bits forward. Works at any range.
Up
---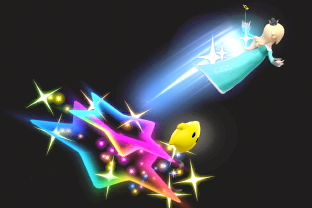 Launch Star
Flies into the air at an angle. The angle can be adjusted with left and right directional input.
Down
---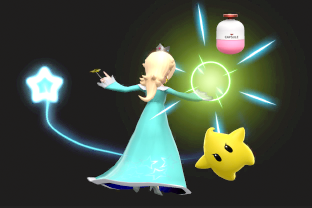 Gravitational Pull
Draws items and projectiles safely toward her. While being drawn in, they can damage foes.