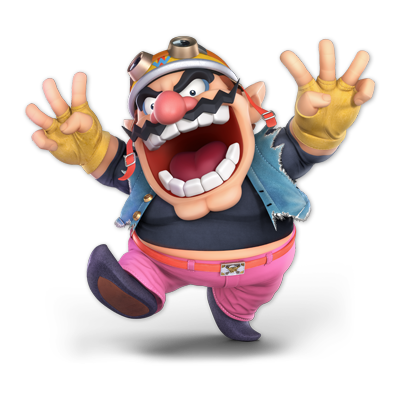 Wario
Heavyweight
Super Mario
Damage Table for Wario
Smash Attacks
Neutral
---
Neutral: 4% (Hit 1)
Neutral SS: 5% (Hit 2)
Neutral WS: N/A
Up
---
Up: 17%
Up SS: N/A
Up WS: 13%
Down
---
Down: 13%
Down SS: N/A
Down WS: 10%
Side
---
Side: 20%
Side SS: N/A
Side WS: N/A
Special Attacks
Neutral
---
Neutral: 2.4% (Each Bite)
Neutral SS: 5% (Throw)
Neutral WS: 13% (Eat Explosive)
Up
---
Up: 5% (Hit 1)
Up SS: 1-1.5% (Hits 2-5)
Up WS: 4% (Last)
Down
---
Down: 12-27%
Down SS: 29% (Full Charge)
Down WS: 0% (No Charge)
Side
---
Side: Varies
Side SS: (See Below)
Side WS: N/A
Air Attacks
Neutral
---
Neutral: 3-6% (Hit 1)
Neutral SS: 4-5% (Hit 2)
Neutral WS: N/A
Up
---
Up: 13%
Up SS: N/A
Up WS: N/A
Down
---
Down: 1.3% (Hits 1-6)
Down SS: 4% (Hit 7)
Down WS: N/A
Forward
---
Forward: 7%
Forward SS: N/A
Forward WS: 4.5%
Back
---
Back: 12%
Back SS: N/A
Back WS: N/A
Tilt Attacks
Up
---
Up: 6%
Up SS: N/A
Up WS: 5%
Down
---
Down: 4%
Down SS: N/A
Down WS: N/A
Side
---
Side: 13%
Side SS: N/A
Side WS: N/A
Other Attacks
Grabs
Pummel: 1.6%
Up: 4%|4% (Throw|Collateral)
Down: 7%|4% (Throw|Collateral)
Forward: 4%|8% (Throw|Collateral)
Back: 7%|8% (Throw|Collateral)
Air Grab
Air Grab: N/A
Air Grab SS: N/A
Air Grab WS: N/A
Dash Attack
Dash: 11%
Dash SS: N/A
Dash WS: 5%
Floor & Edge
Floor Forward: 7%
Floor Back: 7%
Floor Trip: 5%
Edge: 10%
Move Breakdown
Neutral
---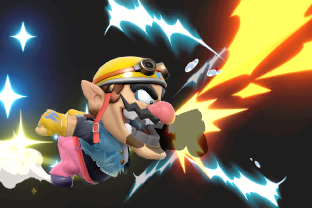 Chomp
Eats enemies, projectiles, and items with a big, toothy bite.
Side
---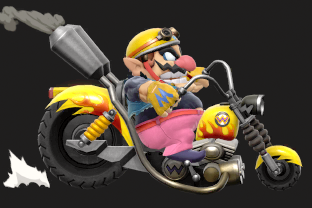 Wario Bike
Rides around on a bike and crashes into enemies. Takes some time to recharge.
Up
---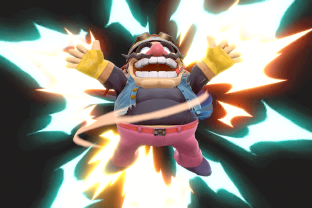 Corkscrew
Jumps while spinning, hitting opponents multiple times.
Down
---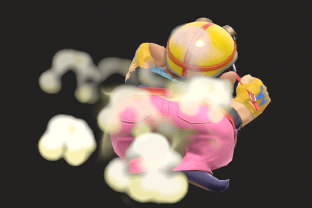 Wario Waft
Releases noxious gas from his rear end. It, uh... "charges" automatically.