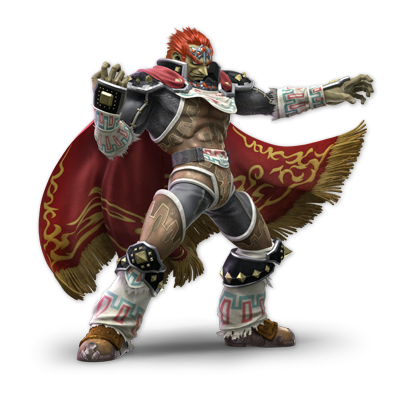 Ganondorf
Super Heavyweight
Legend of Zelda
Damage Table for Ganondorf
Smash Attacks
Neutral
---
Neutral: 11%
Neutral SS: N/A
Neutral WS: N/A
Up
---
Up: 21% (Arm)
Up SS: 24% (Sword)
Up WS: N/A
Down
---
Down: 5% (Hit 1)
Down SS: 15% (Hit 2)
Down WS: N/A
Side
---
Side: 24%
Side SS: N/A
Side WS: N/A
Special Attacks
Neutral
---
Neutral: 30%|37% (Ground|Reverse)
Neutral SS: 38%|40% (Air|Reverse)
Neutral WS: N/A
Up
---
Up: 1.9% (Hits 1-4)
Up SS: 9%|7% (Throw|Uppercut)
Up WS: 6% (Release)
Down
---
Down: 14%|16% (Ground)(Leg|Foot)
Down SS: 15%/14% (Air)(Clean|Late)
Down WS: 8% (Landing)
Side
---
Side: 12% (Ground)
Side SS: 15% (Air)
Side WS: 4% (Release)
Air Attacks
Neutral
---
Neutral: 7%|12% (Hits 1-2)
Neutral SS: N/A
Neutral WS: 5.25%|9% (Hits 1-2)
Up
---
Up: 12% | 10%
Up SS: 13% | 12%
Up WS: 8% | 6%
Down
---
Down: 17% (Body)
Down SS: 19% (Legs)
Down WS: N/A
Forward
---
Forward: 17% (Arm)
Forward SS: 18% (Fist)
Forward WS: N/A
Back
---
Back: 17% (Arm)
Back SS: 18.5% (Fist)
Back WS: N/A
Tilt Attacks
Up
---
Up: 24% (Leg, Explosion)
Up SS: 13% (Explosion Apex)
Up WS: N/A
Down
---
Down: 14%
Down SS: N/A
Down WS: N/A
Side
---
Side: 13% (Leg)
Side SS: 14% (Foot)
Side WS: N/A
Other Attacks
Grabs
Pummel: 1.6%
Up: 10% | 3%
Down: 7%
Forward: 5% | 8%
Back: 5% | 5%
Air Grab
Air Grab: N/A
Air Grab SS: N/A
Air Grab WS: N/A
Dash Attack
Dash: 15%
Dash SS: N/A
Dash WS: 11%
Floor & Edge
Floor Forward: 7%
Floor Back: 7%
Floor Trip: 5%
Edge: 10%
Move Breakdown
Neutral
---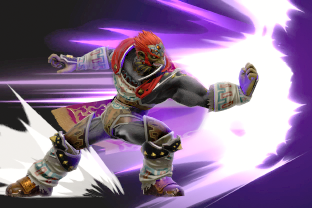 Warlock Punch
Channels dark energy into a devastating punch. Difficult to interrupt.
Side
---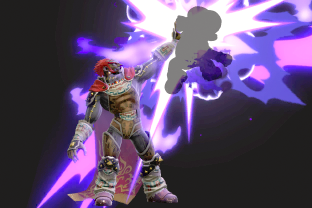 Flame Choke
Rushes forward to grab an enemy. Grabbed enemies are thrown straight down.
Up
---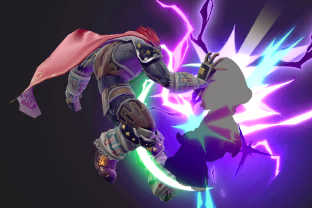 Dark Dive
Leaps upward and grabs opponents, electrocuting and launching them. It can't be blocked by a shield.
Down
---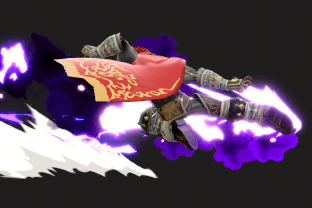 Wizard's Foot
Propels forward with a kick charged by dark power. In the air, he plunges diagonally downward.