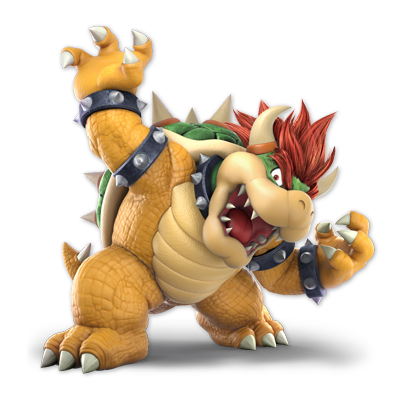 Bowser
Super Heavyweight
Super Mario
Damage Table for Bowser
Smash Attacks
Neutral
---
Neutral: 4% (Hit 1)
Neutral SS: 7% (Hit 2)
Neutral WS: N/A
Up
---
Up: 16% (Sides)
Up SS: 22% (Spikes)
Up WS: 12% (Landing)
Down
---
Down: 16% (Hit 1)
Down SS: 15% (Hit 2)
Down WS: N/A
Side
---
Side: 17-20%
Side SS: 23% (Clean Feet)
Side WS: 14% (Late Body)
Special Attacks
Neutral
---
Neutral: 1.8%xN
Neutral SS: N/A
Neutral WS: N/A
Up
---
Up: 1% (Ground 1-7, Air 2-11)
Up SS: 4%|7% (Ground 8, Air 1)
Up WS: 2% (Air 12)
Down
---
Down: 4% (Headbutt)
Down SS: 20% (Ground Pound)
Down WS: 11% (Landing)
Side
---
Side: 18% (Throw)
Side SS: 15% (Collateral)
Side WS: N/A
Air Attacks
Neutral
---
Neutral: 6% (Hits 1-4)
Neutral SS: N/A
Neutral WS: N/A
Up
---
Up: 15%
Up SS: N/A
Up WS: N/A
Down
---
Down: 16% (Spikes)
Down SS: 2% (Shock wave)
Down WS: N/A
Forward
---
Forward: 12% (Arm)
Forward SS: 13% (Hand)
Forward WS: 11% (Body)
Back
---
Back: 19%
Back SS: N/A
Back WS: N/A
Tilt Attacks
Up
---
Up: 11%
Up SS: N/A
Up WS: N/A
Down
---
Down: 7% (Hit 1)
Down SS: 8% (Hit 2)
Down WS: N/A
Side
---
Side: 13%
Side SS: N/A
Side WS: N/A
Other Attacks
Grabs
Pummel: 1.6%
Up: 3.5%|2%|4%|2%
Down: 10% | 4%
Forward: 12%
Back: 12%
Air Grab
Air Grab: N/A
Air Grab SS: N/A
Air Grab WS: N/A
Dash Attack
Dash: 12%
Dash SS: N/A
Dash WS: 10%
Floor & Edge
Floor Forward: 7%
Floor Back: 7%
Floor Trip: 5%
Edge: 10%
Move Breakdown
Neutral
---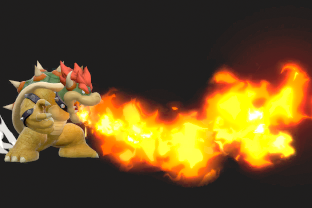 Fire Breath
Breathes fire. The range decreases if used too much. The angle can be controlled a little bit.
Side
---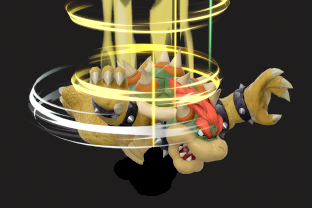 Flying Slam
Grabs an opponent, jumps into the air, and them slams them to the ground.
Up
---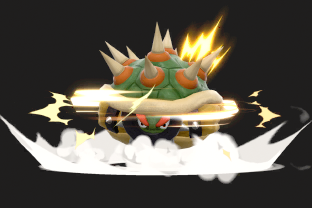 Whirling Fortress
Ducks insides his shell and spins. Can be moved sideways while spinning.
Down
---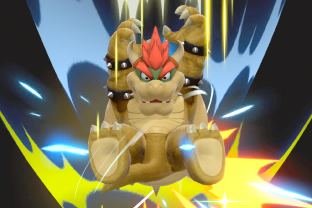 Bowser Bomb
Butt-stomps enemies. On the ground, he can lift opponents with his horns.