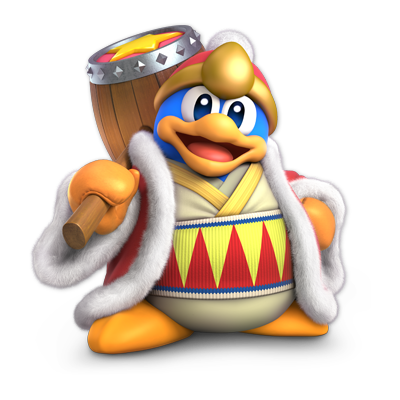 King Dedede
Super Heavyweight
Kirby
Damage Table for King Dedede
Smash Attacks
Neutral
---
Neutral: 2.2% (Hit 1)
Neutral SS: 1.7% (Hit 2)
Neutral WS: 0.5%|3% (Loop|Last)
Up
---
Up: 16% (Hammer)
Up SS: N/A
Up WS: 10% (Body)
Down
---
Down: 13%
Down SS: N/A
Down WS: N/A
Side
---
Side: 16% (Hammer, Early)
Side SS: 25% (Hammer, Late)
Side WS: 18.5% (Handle)|11% (Shock wave)
Special Attacks
Neutral
---
Neutral: 12% (Spit)
Neutral SS: N/A
Neutral WS: N/A
Up
---
Up: 15% (Drop)
Up SS: 12% (Landing)
Up WS: 5% (Stars)
Down
---
Down: 11-12% (Uncharged)
Down SS: 40% (Full Charge, Ground)
Down WS: 32% (Full Charge, Air)
Side
---
Side: 10% (Hammer)
Side SS: 9.5-14% (Gordo)
Side WS: N/A
Air Attacks
Neutral
---
Neutral: 12%
Neutral SS: N/A
Neutral WS: 7%
Up
---
Up: 1% (Hits 1-7)
Up SS: 5% (Hit 8)
Up WS: N/A
Down
---
Down: 15% (Middle, Head)
Down SS: 8% (Edge, Head)
Down WS: N/A
Forward
---
Forward: 12%
Forward SS: N/A
Forward WS: N/A
Back
---
Back: 16%
Back SS: N/A
Back WS: N/A
Tilt Attacks
Up
---
Up: 10% (Head/Neck)
Up SS: 8% (Tip of Head)
Up WS: N/A
Down
---
Down: 10%
Down SS: N/A
Down WS: 6%
Side
---
Side: 2% (Hits 1-4)
Side SS: 3% (Hit 5)
Side WS: N/A
Other Attacks
Grabs
Pummel: 1.6%
Up: 4% | 5%
Down: 6%
Forward: 4% | 6%
Back: 4% | 9%
Air Grab
Air Grab: N/A
Air Grab SS: N/A
Air Grab WS: N/A
Dash Attack
Dash: 16%
Dash SS: N/A
Dash WS: 13%
Floor & Edge
Floor Forward: 7%
Floor Back: 7%
Floor Trip: 5%
Edge: 10%
Move Breakdown
Neutral
---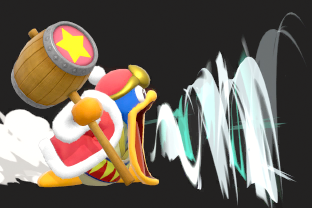 Inhale
Inhales opponents and spits them out as stars.
Side
---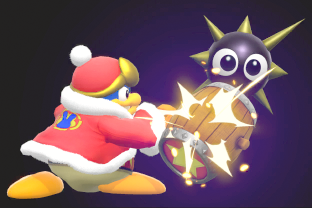 Gordo Throw
Throws a Gordo. The Gordo can be hit back if attacked by an opponent with the right timing.
Up
---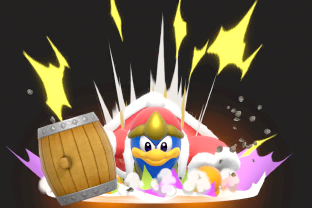 Super Dedede Jump
Jumps up high and then crashes downward. Can be canceled by tilting up.
Down
---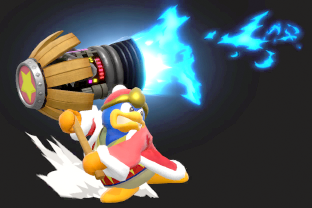 Jet Hammer
Charges up his hammer for a might blow. Can move while charging but takes damage if charged too long.