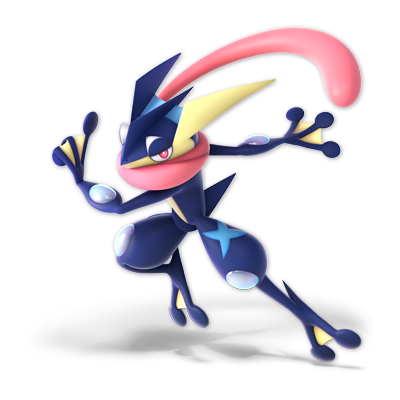 Greninja
Middleweight
Pokémon
Damage Table for Greninja
Smash Attacks
Neutral
---
Neutral: 2% (Hits 1-2)
Neutral SS: 3% (Hit 3)
Neutral WS: 0.5%|2% (Loop, Last)
Up
---
Up: 5% (Hit 1)
Up SS: 11%|14% (Hit 2: Side|Mid)
Up WS: 10% (Hit 2: Late)
Down
---
Down: 13% (Kunai)
Down SS: N/A
Down WS: 11% (Arms)
Side
---
Side: 14%
Side SS: N/A
Side WS: N/A
Special Attacks
Neutral
---
Neutral: 3-10.8% (Uncharged)
Neutral SS: 1% (Full Charge: Loop)
Neutral WS: 9% (Full Charge: Last)
Up
---
Up: 2% (Per Shot)
Up SS: N/A
Up WS: N/A
Down
---
Down: 11% (Left/Right)
Down SS: 14% (Up/Down)
Down WS: N/A
Side
---
Side: 10%
Side SS: 12% (Reverse)
Side WS: N/A
Air Attacks
Neutral
---
Neutral: 11%
Neutral SS: N/A
Neutral WS: 6%
Up
---
Up: 1.3% (Hits 1-5)
Up SS: 3% (Hit 6)
Up WS: N/A
Down
---
Down: 8%
Down SS: N/A
Down WS: N/A
Forward
---
Forward: 14%
Forward SS: N/A
Forward WS: N/A
Back
---
Back: 3% (Hit 1)
Back SS: 2.5% (Hit 2)
Back WS: 6% (Hit 3)
Tilt Attacks
Up
---
Up: 4.5%
Up SS: N/A
Up WS: N/A
Down
---
Down: 4%
Down SS: N/A
Down WS: N/A
Side
---
Side: 7.3%
Side SS: N/A
Side WS: N/A
Other Attacks
Grabs
Pummel: 1%
Up: 11%
Down: 12%
Forward: 3.5% | 4.5%
Back: 9%
Air Grab
Air Grab: N/A
Air Grab SS: N/A
Air Grab WS: N/A
Dash Attack
Dash: 8%
Dash SS: N/A
Dash WS: N/A
Floor & Edge
Floor Forward: 8%
Floor Back: 8%
Floor Trip: 8%
Edge: 9%
Move Breakdown
Neutral
---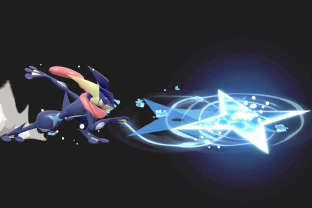 Water Shuriken
Fires a shuriken of water straight ahead. Charging it up makes the shuriken grow!
Side
---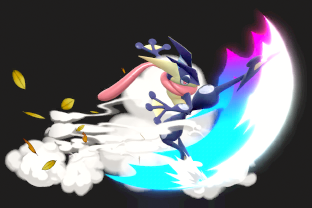 Shadow Sneak
Sends a shadow along the ground. When the button's released, it warps to that point and strikes.
Up
---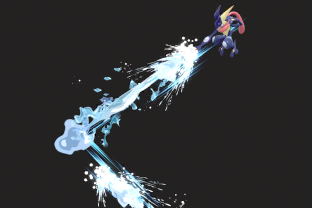 Hydro Pump
Fires a powerful water jet, propelling itself in whichever direction the stick is tilted.
Down
---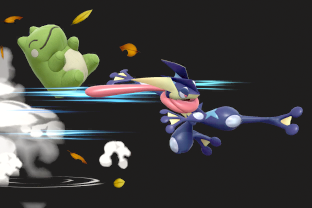 Substitute
Evades an incoming enemy attack by summoning a substitute and then counterattacking.