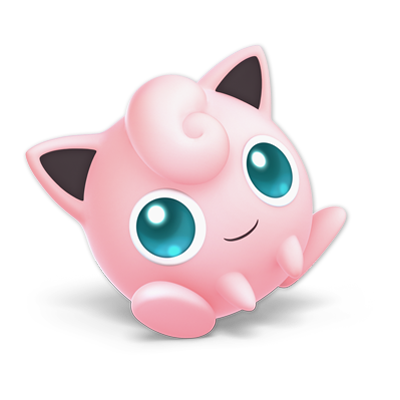 Jigglypuff
Balloonweight
Pokémon
Damage Table for Jigglypuff
Smash Attacks
Neutral
---
Neutral: 3% (Hit 1)
Neutral SS: 3% (Hit 2)
Neutral WS: N/A
Up
---
Up: 15%
Up SS: N/A
Up WS: N/A
Down
---
Down: 11%
Down SS: N/A
Down WS: N/A
Side
---
Side: 16%
Side SS: N/A
Side WS: 14%
Special Attacks
Neutral
---
Neutral: 10%
Neutral SS: 20% (Full Charge)
Neutral WS: N/A
Up
---
Up: 0%
Up SS: N/A
Up WS: N/A
Down
---
Down: 20%
Down SS: 1% (Flower Loop)
Down WS: N/A
Side
---
Side: 11%
Side SS: N/A
Side WS: N/A
Air Attacks
Neutral
---
Neutral: 11%
Neutral SS: N/A
Neutral WS: 6%
Up
---
Up: 9%
Up SS: N/A
Up WS: N/A
Down
---
Down: 1.5% (Hits 1-8)
Down SS: 2% (Hit 9)
Down WS: N/A
Forward
---
Forward: 9%
Forward SS: N/A
Forward WS: 6%
Back
---
Back: 13%
Back SS: N/A
Back WS: N/A
Tilt Attacks
Up
---
Up: 9%
Up SS: N/A
Up WS: 8%
Down
---
Down: 10%
Down SS: N/A
Down WS: N/A
Side
---
Side: 10%
Side SS: N/A
Side WS: N/A
Other Attacks
Grabs
Pummel: 1.3%
Up: 8%
Down: 6% | 6%
Forward: 5% | 5%
Back: 10%
Air Grab
Air Grab: N/A
Air Grab SS: N/A
Air Grab WS: N/A
Dash Attack
Dash: 12%
Dash SS: N/A
Dash WS: 8%
Floor & Edge
Floor Forward: 7%
Floor Back: 7%
Floor Trip: 5%
Edge: 8%
Move Breakdown
Neutral
---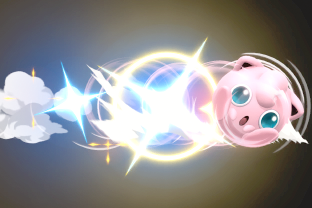 Rollout
Charges up a rolling attack that can reach incredible speeds. Can change direction while rolling.
Does considerable shield damage, but leaves Jigglypuff extremely vulnerable in many situations. The rebound off a player after a hit can result in bad positions, especially in the air, and is vulnerable to perfect shields.
Side
---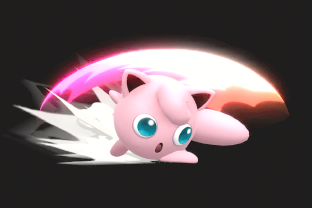 Pound
Steps forward and slaps opponents so hard they fly straight into the air.
Has a long-lasting hit box that doesn't lose power, making it fairly effective. Does considerable shield damage and hit stun, and can be used in the air for sideways momentum as a recovery option.
Up
---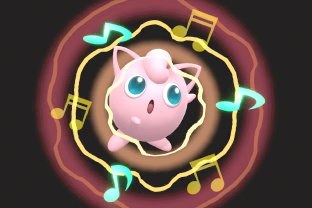 Sing
sings a soothing song that makes nearby opponents extremely drowsy.
Causes opponents to sleep longer the more damage they have, which can combo into Rest. Can be used near the edge to setup combos on opponents. Its short range and three pauses will leave Jigglypuff vulnerable, so use with caution.
Down
---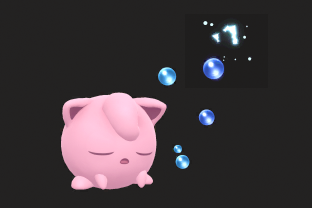 Rest
Takes a well-earned nap that unleashes hidden power when touching a foe.
Very powerful if it connects, this move has high vertical knock back and will put a flower on an opponents head if they survive for some extra damage over time. If the hit connects Jigglypuff will open its eyes right away.