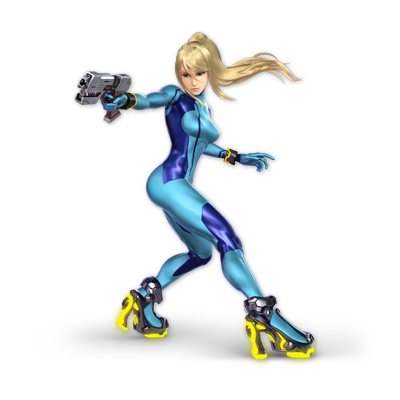 Zero Suit Samus
Featherweight
Metroid
Damage Table for Zero Suit Samus
Smash Attacks
Neutral
---
Neutral: 1.5% (Hit 1)
Neutral SS: 1.5% (Hit 2)
Neutral WS: 3% (Hit 3)
Up
---
Up: 4% (Hit 1)
Up SS: 0.8% (Hits 2-6)
Up WS: 3% (Hit 7)
Down
---
Down: 8%
Down SS: N/A
Down WS: 6%
Side
---
Side: 5% (Hit 1)
Side SS: 11% (Hit 2)
Side WS: N/A
Special Attacks
Neutral
---
Neutral: 4-6%
Neutral SS: N/A
Neutral WS: N/A
Up
---
Up: 5% (Hit 1)
Up SS: 1.2% (Hits 2-6)
Up WS: 4% (Hit 7)
Down
---
Down: 8% (Stomp)
Down SS: 14% (Kick)
Down WS: N/A
Side
---
Side: 2-4% (Arm)(Whip Base|Held Tip)
Side SS: 8% (Whip, Pressed Tip)
Side WS: 1.2% (Whip, Mid)
Air Attacks
Neutral
---
Neutral: 8%
Neutral SS: N/A
Neutral WS: N/A
Up
---
Up: 6.5%
Up SS: N/A
Up WS: N/A
Down
---
Down: 6%
Down SS: 5.5% (Landing)
Down WS: N/A
Forward
---
Forward: 5% (Hit 1)
Forward SS: 7% (Hit 2)
Forward WS: N/A
Back
---
Back: 10% (Leg)
Back SS: 12% (Foot)
Back WS: N/A
Tilt Attacks
Up
---
Up: 5% (Hit 1)
Up SS: 7% (Hit 2)
Up WS: N/A
Down
---
Down: 6% (Foot)
Down SS: 8% (Leg)
Down WS: N/A
Side
---
Side: 6-6.5% (Body)
Side SS: 7-8% (Leg)
Side WS: N/A
Other Attacks
Grabs
Pummel: 1.3%
Up: 2% | 8%
Down: 4% | 4%
Forward: 5% | 4%
Back: 2% | 6%
Air Grab
Air Grab: 5%
Air Grab SS: N/A
Air Grab WS: N/A
Dash Attack
Dash: 8%
Dash SS: N/A
Dash WS: 5%
Floor & Edge
Floor Forward: 7%
Floor Back: 7%
Floor Trip: 5%
Edge: 9%
Move Breakdown
Neutral
---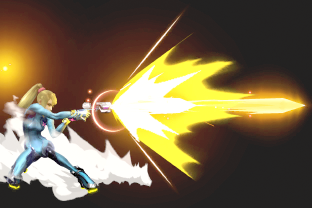 Paralyzer
Fires an energy blast that stuns enemies. A max charge increases range, power, and stun duration.
Side
---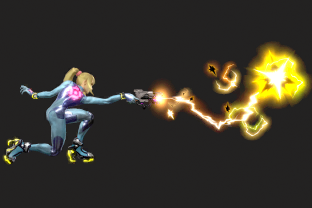 Plasma Whip
Attacks foes with an energy whip. Can also be used to grab onto ledges.
Up
---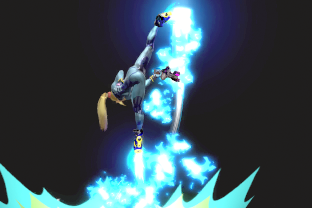 Boost Kick
Rises into the air, striking multiple times, and then finishes with a spinning kick.
Down
---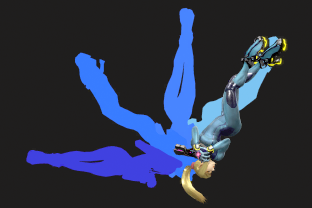 Flip Jump
Flips through the air and buries opponents into the ground if she lands on them.