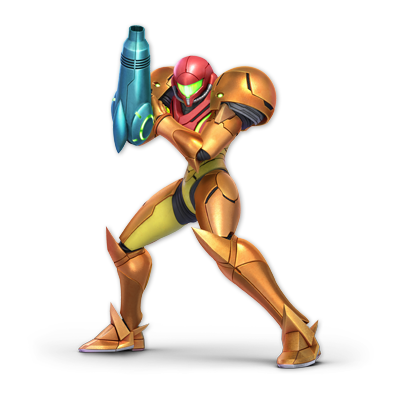 Samus
Heavyweight
Metroid
Damage Table for Samus
Smash Attacks
Neutral
---
Neutral: 3% (Hit 1)
Neutral SS: 8% (Hit 2)
Neutral WS: N/A
Up
---
Up: 3% (Hits 1-4)
Up SS: 6% (Hit 5)
Up WS: N/A
Down
---
Down: 10% (Front)
Down SS: 12% (Back)
Down WS: N/A
Side
---
Side: 12-14%
Side SS: 13-15% (Up)
Side WS: 11-13.5% (Down)
Special Attacks
Neutral
---
Neutral: 5% (Uncharged)
Neutral SS: 28% (Full Charge)
Neutral WS: N/A
Up
---
Up: 3% (Hit 1)
Up SS: 1% (Hits 2-8)
Up WS: 2% (Hit 9)
Down
---
Down: 4% (Contact)
Down SS: 5% (Explosion)
Down WS: N/A
Side
---
Side: 8% (Homing)
Side SS: 12% (Super)
Side WS: N/A
Air Attacks
Neutral
---
Neutral: 10% (Hit 1)
Neutral SS: 9% (Hit 2)
Neutral WS: 8% (Hit 2, Late)
Up
---
Up: 3% (Hit 1)
Up SS: 1.3% (Hits 2-5)
Up WS: 4% (Hit 5)
Down
---
Down: 10%
Down SS: 14%
Down WS: 10%
Forward
---
Forward: 3% (Hit 1)
Forward SS: 1.6% (Hits 2-4)
Forward WS: 5% (Hit 5)
Back
---
Back: 12% (Leg)
Back SS: 14% (Foot)
Back WS: 9%
Tilt Attacks
Up
---
Up: 13% (Ground)
Up SS: N/A
Up WS: 12% (Air)
Down
---
Down: 12%
Down SS: N/A
Down WS: N/A
Side
---
Side: 8-10%
Side SS: 9-11% (Angled)
Side WS: N/A
Other Attacks
Grabs
Pummel: 1.3%
Up: 5% | 7%
Down: 8%
Forward: 10%
Back: 10%
Air Grab
Air Grab: 1.5% (Hit 1)
Air Grab SS: 3% (Hit 2)
Air Grab WS: N/A
Dash Attack
Dash: 7%
Dash SS: 10%
Dash WS: 6%
Floor & Edge
Floor Forward: 7%
Floor Back: 7%
Floor Trip: 5%
Edge: 9%
Move Breakdown
Neutral
---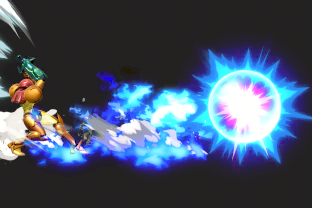 Charge Shot
Charges up a projectile while on the ground or in midair. Can keep the charge after dodging or shielding.
Excellent kill option when fully charged, and can be deadly to shields when combined with a missile or another attack. Forward tilt combos very well.
Side
---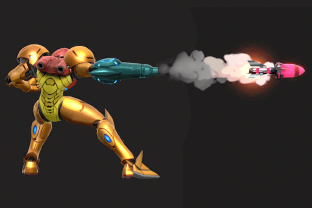 Missile
Launches a homing missile. Flicking rather than tilting the control stick launches a Super Missile.
The homing missile can be great for catching recoveries or forcing air dodges, while the Super Missile deals more damage and knock back and generally combos better.
Up
---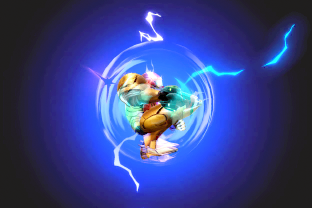 Screw Attack
Hits opponents several times while spinning up into the air.
A quick startup makes it a good out-of-shield option. The aerial version gains distance slower, but is a good kill option near the upper blast line.
Down
---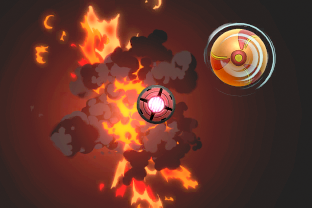 Bomb
Drops a bomb in Morph Ball form. Flies upward if hit by the explosion.
Can be used to force an opponent to shield, for spacing, to edge guard, for recovery, or to break shields when combined with a full Charge Shot.