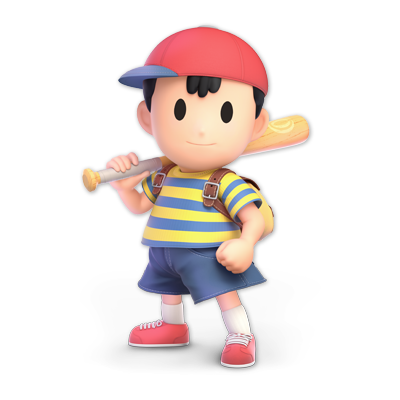 Ness
Middleweight
Earthbound
Damage Table for Ness
Smash Attacks
Neutral
---
Neutral: 2% (Hit 1)
Neutral SS: 1.5% (Hit 2)
Neutral WS: 4% (Hit 3)
Up
---
Up: 1% (Charge)
Up SS: 13%
Up WS: N/A
Down
---
Down: 1% (Charge)
Down SS: 10%
Down WS: N/A
Side
---
Side: 20% (2x Reflection)
Side SS: 22% (Tip)
Side WS: 18% (Low)
Special Attacks
Neutral
---
Neutral: 11%
Neutral SS: 27% (Far)
Neutral WS: N/A
Up
---
Up: 11% (Thunder)
Up SS: 21-25% (Hit)
Up WS: 1% (Tail)
Down
---
Down: 4%
Down SS: 1.6x Heal
Down WS: 30% Max Single Heal
Side
---
Side: 6% (Bolt)
Side SS: 1% (Fire)
Side WS: N/A
Air Attacks
Neutral
---
Neutral: 11%
Neutral SS: N/A
Neutral WS: 7%
Up
---
Up: 2.5% (Hits 1-4)
Up SS: 5% (Hit 5)
Up WS: N/A
Down
---
Down: 14%
Down SS: N/A
Down WS: 12%
Forward
---
Forward: 1.5% (Hits 1-3)
Forward SS: 5.5% (Hit 4)
Forward WS: N/A
Back
---
Back: 15%
Back SS: N/A
Back WS: 8%
Tilt Attacks
Up
---
Up: 7% (Spark)
Up SS: N/A
Up WS: 5% (Body)
Down
---
Down: 4.5% (Foot)
Down SS: N/A
Down WS: 3% (Toes)
Side
---
Side: 10%
Side SS: N/A
Side WS: N/A
Other Attacks
Grabs
Pummel: 1.3%
Up: 10%
Down: 1.5%|1.5%|4%
Forward: 11%
Back: 11%
Air Grab
Air Grab: N/A
Air Grab SS: N/A
Air Grab WS: N/A
Dash Attack
Dash: 4|7% (Hit 1)
Dash SS: 2% (Hit 2)
Dash WS: 4% (Hit 3)
Floor & Edge
Floor Forward: 7%
Floor Back: 7%
Floor Trip: 5%
Edge: 9%
Move Breakdown
Neutral
---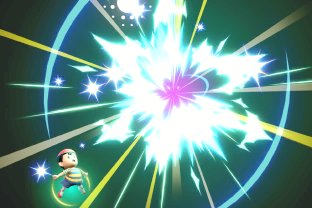 PK Flash
Blasts opponents with electrical energy after reaching full charge. Can be used before full charge for a weaker attack.
An extremely strong attack with a slow travel speed. Can be used in the air to increase distance and speed. Can be used to edge guard or punish a shield break.
Side
---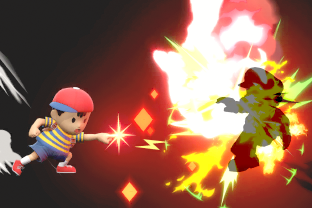 PK Fire
Shoots light out straight ahead or diagonally while airborne. Bursts into a pillar of flame if it hits someone.
Very effective combo starter, setting Ness up for some insane bursts of damage. When used in the air travels diagonally downwards, and can be used to edge guard and gimp recoveries, or to assist with Ness' recovery.
Up
---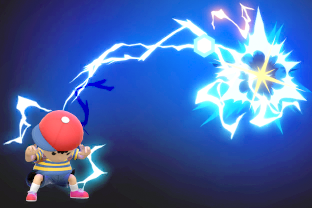 PK Thunder
Fires a steerable ball of lightning. Sends Ness flying if he hits himself.
When Ness hits himself he becomes a projectile with intangibility frames and massive KO potential. The tail of the bolt can be used to gimp recoveries, or the bolt can kill opponents near the top of the map.
Down
---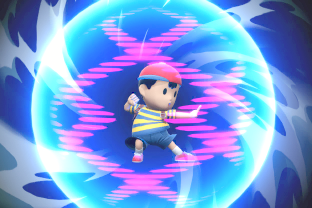 PSI Magnet
Absorbs energy-based projectiles and weak explosions to heal damage.
Absorbs projectiles and heals, up to 30% from a single projectile. On startup, has a hit box and pushes opponents away. Can stall vertical momentum in the air to assist with recovery.