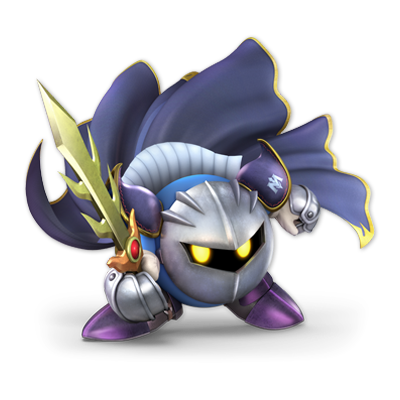 Meta Knight
Featherweight
Kirby
Damage Table for Meta Knight
Smash Attacks
Neutral
---
Neutral: 1% (Loop)
Neutral SS: 2% (Last)
Neutral WS: N/A
Up
---
Up: 4% (Hit 1)
Up SS: 3% (Hit 2)
Up WS: 5% (Hit 3)
Down
---
Down: 10% (Front)
Down SS: 13% (Back)
Down WS: N/A
Side
---
Side: 16%
Side SS: N/A
Side WS: N/A
Special Attacks
Neutral
---
Neutral: 12%
Neutral SS: N/A
Neutral WS: 8%
Up
---
Up: 9% (Ground, Hit 1)
Up SS: 6% (Ground 1, Late)(Ground 2)
Up WS: 6% (Air Hits 1-2)
Down
---
Down: 16% (Advancing|Stationary)
Down SS: 14% (Air, Retreating)
Down WS: 13% (Ground, Retreating)
Side
---
Side: 1.1% (Hits 1-11)
Side SS: 3% (Hit 12)
Side WS: N/A
Air Attacks
Neutral
---
Neutral: 10%
Neutral SS: N/A
Neutral WS: 7.5%
Up
---
Up: 4%
Up SS: N/A
Up WS: N/A
Down
---
Down: 6%
Down SS: N/A
Down WS: N/A
Forward
---
Forward: 1.5% (Hits 1-2)
Forward SS: 3% (Hit 3)
Forward WS: N/A
Back
---
Back: 1.5% (Hits 1-2)
Back SS: 4% (Hit 3)
Back WS: N/A
Tilt Attacks
Up
---
Up: 6%
Up SS: 7%
Up WS: 5%
Down
---
Down: 5%
Down SS: N/A
Down WS: N/A
Side
---
Side: 2%
Side SS: 4% (Down)
Side WS: N/A
Other Attacks
Grabs
Pummel: 1%
Up: 10% | 7%
Down: 4.5%|1%|2%
Forward: 6% | 3%
Back: 7% | 3%
Air Grab
Air Grab: N/A
Air Grab SS: N/A
Air Grab WS: N/A
Dash Attack
Dash: 6% (Foot)
Dash SS: 7% (Leg)
Dash WS: N/A
Floor & Edge
Floor Forward: 7%
Floor Back: 7%
Floor Trip: 5%
Edge: 9%
Move Breakdown
Neutral
---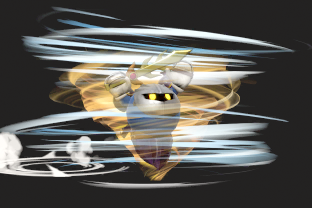 Mach Tornado
Twirls and hits enemies to launch them. Repeated button presses can change the direction or cause him to float.
Side
---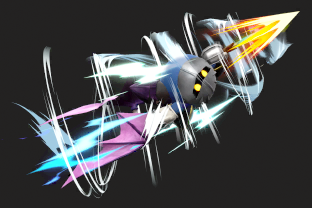 Drill Rush
Spins into opponents with his sword. The angle can be changed a bit.
Up
---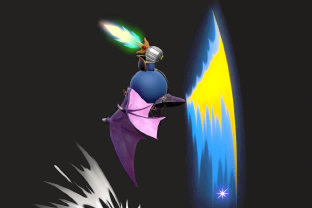 Shuttle Loop
Flies into the air, strikes, then strikes again after a loop. Enemies hit by this move are launched upward.
Down
---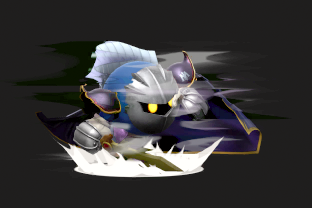 Dimensional Cape
Vanishes, teleports in any direction, and then attacks when reappearing.