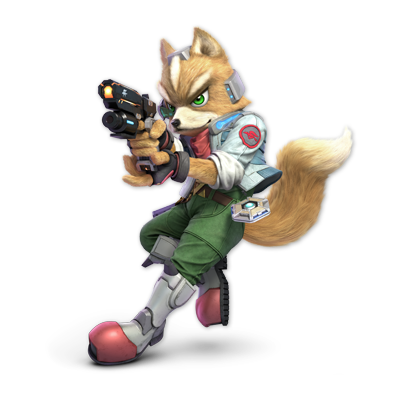 Fox
Featherweight
Star Fox
Damage Table for Fox
Smash Attacks
Neutral
---
Neutral: 1.7% (Hit 1)
Neutral SS: 1% (Hit 2)
Neutral WS: 0.6%, 2% (Loop, Last)
Up
---
Up: 16%
Up SS: N/A
Up WS: 11%
Down
---
Down: 14%
Down SS: N/A
Down WS: 12%
Side
---
Side: 14.7%
Side SS: N/A
Side WS: 11%
Special Attacks
Neutral
---
Neutral: 2%
Neutral SS: 3% (Close)
Neutral WS: 1.3%
Up
---
Up: 1.8% (Charge)
Up SS: 16%
Up WS: 10% (Late)
Down
---
Down: 2% (Trigger)
Down SS: 1.4x (Reflection)
Down WS: N/A
Side
---
Side: 8%
Side SS: N/A
Side WS: 5% (Air)
Air Attacks
Neutral
---
Neutral: 9%
Neutral SS: N/A
Neutral WS: 6%
Up
---
Up: 5% (Hit 1)
Up SS: 10% (Hit 2)
Up WS: N/A
Down
---
Down: 1.3% (Hits 1-6)
Down SS: 3% (Hit 7)
Down WS: 1% (Landing)
Forward
---
Forward: 1.7%|1.2% (Hits 1-2)
Forward SS: 1.7%|2.7% (Hits 3-4)
Forward WS: 4.6%|2% (Hit 5, Landing)
Back
---
Back: 13%
Back SS: N/A
Back WS: N/A
Tilt Attacks
Up
---
Up: 6-7%
Up SS: 8% (Ground, Foot)
Up WS: 5% (Air, Foot)
Down
---
Down: 8%
Down SS: N/A
Down WS: 7%
Side
---
Side: 6%
Side SS: 7% (Angled)
Side WS: N/A
Other Attacks
Grabs
Pummel: 1%
Up: 2%|2%
Down: 2%|1%
Forward: 4%|3%
Back: 2%|2%
Air Grab
Air Grab: N/A
Air Grab SS: N/A
Air Grab WS: N/A
Dash Attack
Dash: 6%
Dash SS: N/A
Dash WS: 4%
Floor & Edge
Floor Forward: 7%
Floor Back: 7%
Floor Trip: 5%
Edge: 9%
Move Breakdown
Neutral
---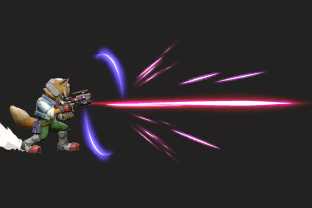 Blaster
Fires lasers that deal damage but don't knock opponents back. Pressing repeatedly fires rapidly.
Little end lag, can be used to force opponents to approach. Loses strength as they travel further. Excellent for camping, and for punishing shield breaks because of the lack of hit stun.
Side
---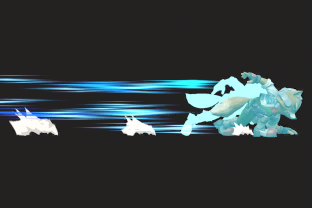 Fox Illusion
Dashes at high speed through opponents. Vulnerable to opponents shielding against the attack.
Can be used as a recovery option, however, it can be stopped by an opponents shield and punished. Can be used to setup KO options at higher percentages.
Up
---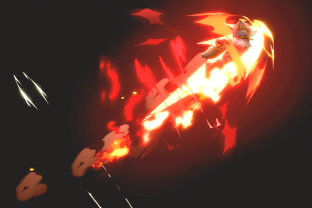 Fire Fox
Rockets skyward while engulfed in flames. Can change the direction while charging.
Useful recovery option, and the fire can detonate items like bombs. Can stage spike opponents trying to recover. Considerable end lag renders Fox helpless if not used properly.
Down
---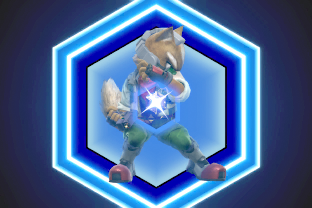 Reflector
Shields and reflects projectiles, upping their speed and power.
Damages opponents on activation with a weak semi-spike angle. Quick startup, intangibility frames, and a low knock back make this move effective for combos, edge guarding, escaping combos, and more.