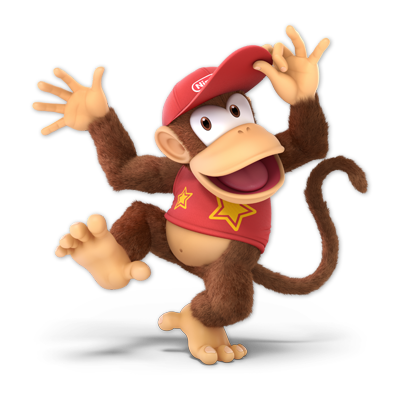 Diddy Kong
Middleweight
Donkey Kong
Damage Table for Diddy Kong
Smash Attacks
Neutral
---
Neutral: 2.5% (Hit 1)
Neutral SS: 1.5% (Hit 2)
Neutral WS: 4% (Hit 3)
Up
---
Up: 2.5% (Hit 1)
Up SS: 2.5% (Hit 2)
Up WS: 6% (Hit 3)
Down
---
Down: 12% (Hit 1)
Down SS: 15% (Hit 2)
Down WS: N/A
Side
---
Side: 5% (Hit 1)
Side SS: 11% (Hit 2)
Side WS: N/A
Special Attacks
Neutral
---
Neutral: 2-14.9% (Peanuts)
Neutral SS: 23% (Explosion)
Neutral WS: N/A
Up
---
Up: 10% (Launch Explosion)|6-8% (Collision)
Up SS: 3.75-4.33% (Barrel)|18% (Explosion)
Up WS: 5% (Crash Recoil)
Down
---
Down: 3.8-5.3%
Down SS: N/A
Down WS: N/A
Side
---
Side: 10-14% (Kick)
Side SS: Grab: 1% (Loop)|3% (Hit 1)|7% (Hit 2)
Side WS: 3% (Jump Hit 1), 8% (Jump Hit 2)
Air Attacks
Neutral
---
Neutral: 7%
Neutral SS: N/A
Neutral WS: N/A
Up
---
Up: 7%
Up SS: N/A
Up WS: N/A
Down
---
Down: 10% (Arms)
Down SS: 13% (Fists)
Down WS: N/A
Forward
---
Forward: 10%
Forward SS: N/A
Forward WS: 8%
Back
---
Back: 9%
Back SS: N/A
Back WS: N/A
Tilt Attacks
Up
---
Up: 6%
Up SS: N/A
Up WS: N/A
Down
---
Down: 5.5%
Down SS: N/A
Down WS: N/A
Side
---
Side: 10%
Side SS: N/A
Side WS: 7%
Other Attacks
Grabs
Pummel: 1%
Up: 1% | 4%
Down: 7%
Forward: 9%
Back: 12%
Air Grab
Air Grab: N/A
Air Grab SS: N/A
Air Grab WS: N/A
Dash Attack
Dash: 2% (Hit 1)
Dash SS: 2% (Hit 2)
Dash WS: 3% (Hit 3)
Floor & Edge
Floor Forward: 7%
Floor Back: 7%
Floor Trip: 5%
Edge: 9%
Move Breakdown
Neutral
---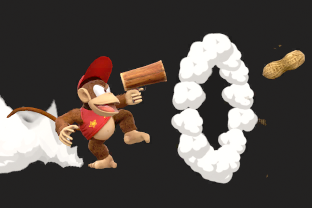 Peanut Popgun
Fires peanuts, shell and all. If charged for too long, it'll blow up in his face!
Side
---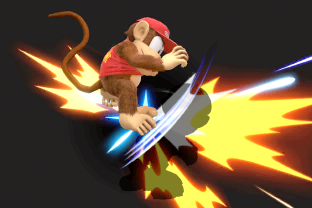 Monkey Flip
Leaps forward and grabs whomever he contacts. A second button press causes him to kick.
Up
---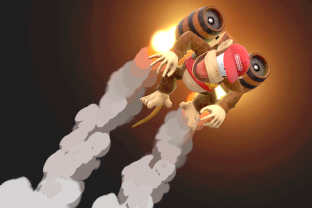 Rocketbarrel Boost
Rockets through the air and tackles opponents. Can be charged for extra distance.
Down
---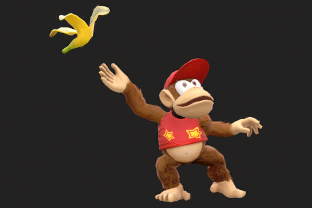 Banana Peel
Throws a banana peel behind himself to trip foes. Only one peel can exist at a time.