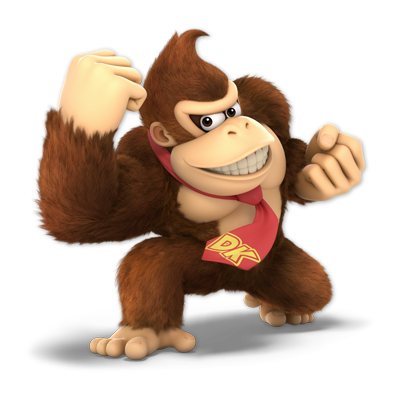 Donkey Kong
Super Heavyweight
Donkey Kong
Damage Table for Donkey Kong
Smash Attacks
Neutral
---
Neutral: 4% (Hit 1)
Neutral SS: 6% (Hit 2)
Neutral WS: N/A
Up
---
Up: 19%
Up SS: N/A
Up WS: N/A
Down
---
Down: 17% (Fists: Early)
Down SS: 18% (Fists: Late)
Down WS: 14% (Arms)
Side
---
Side: 21% (Arms)
Side SS: 22% (Hands)
Side WS: N/A
Special Attacks
Neutral
---
Neutral: 10% (Uncharged)
Neutral SS: 28% (Full Charge: Ground)
Neutral WS: 25% (Full Charge: Air)
Up
---
Up: 5% (Hit 1)
Up SS: 4%|2% (Last: Ground|Air)
Up WS: 1.4%|1% (Mid: Ground|Air)
Down
---
Down: 14% (Ground)
Down SS: 5% (Air: Hit 1)
Down WS: 6% (Air: Hit 2)
Side
---
Side: 10% (Ground)
Side SS: 10% (Air: SS)
Side WS: 8% (Air: WS)
Air Attacks
Neutral
---
Neutral: 11%
Neutral SS: N/A
Neutral WS: 8%
Up
---
Up: 13%
Up SS: N/A
Up WS: N/A
Down
---
Down: 13% (Leg)
Down SS: 16% (Foot)
Down WS: N/A
Forward
---
Forward: 15% (Late: Hands)
Forward SS: 16%
Forward WS: 13% (Late: Arms)
Back
---
Back: 13%
Back SS: N/A
Back WS: 8%
Tilt Attacks
Up
---
Up: 9% (Arm)
Up SS: 10% (Hand)
Up WS: 8% (Elbow)
Down
---
Down: 6%
Down SS: N/A
Down WS: N/A
Side
---
Side: 8%
Side SS: 9% (Angled)
Side WS: N/A
Other Attacks
Grabs
Pummel: 1.6%
Up: 9%
Down: 7%
Forward: 11-13%
Back: 11%
Air Grab
Air Grab: N/A
Air Grab SS: N/A
Air Grab WS: N/A
Dash Attack
Dash: 12%
Dash SS: N/A
Dash WS: 9%
Floor & Edge
Floor Forward: 7%
Floor Back: 7%
Floor Trip: 5%
Edge: 10%
Move Breakdown
Neutral
---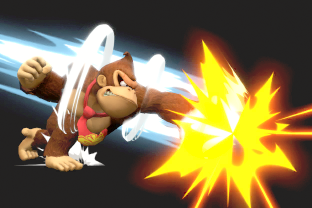 Giant Punch
Charges up a punch that can keep charging after dodging or shielding.
Deals massive damage, gains super armour, and is faster when fully charged. DK loses his mid-air jump if used while airborne. Can be canceled and stored.
Side
---
Headbutt
Buries opponents when they're hit on the ground. Can't be interrupted by weaker attacks.
Bury lasts longer on opponents with higher percent. The sweet-spot of aerial version will meteor. Super armour during startup til hit-box. Long range and high shield damage make it great for breaking
Up
---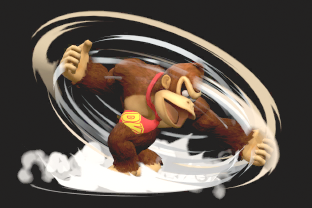 Spinning Kong
Spins with a whirlwind of punches. Can shift left or right while airborne and forward while grounded.
Excellent horizontal distance but very little vertical. Can trap opponents causing decent damage.
Down
---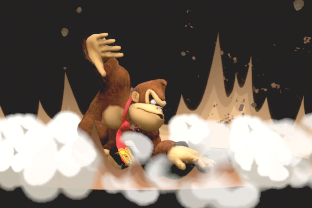 Hand Slap
Sends out shock waves by slapping the ground, sending foes into the air. Has a meteor effect while airborne.
Can be used for spacing on the ground, but is not a great kill option. The aerial version has a meteor effect and combos with the first hit making it much more useful.