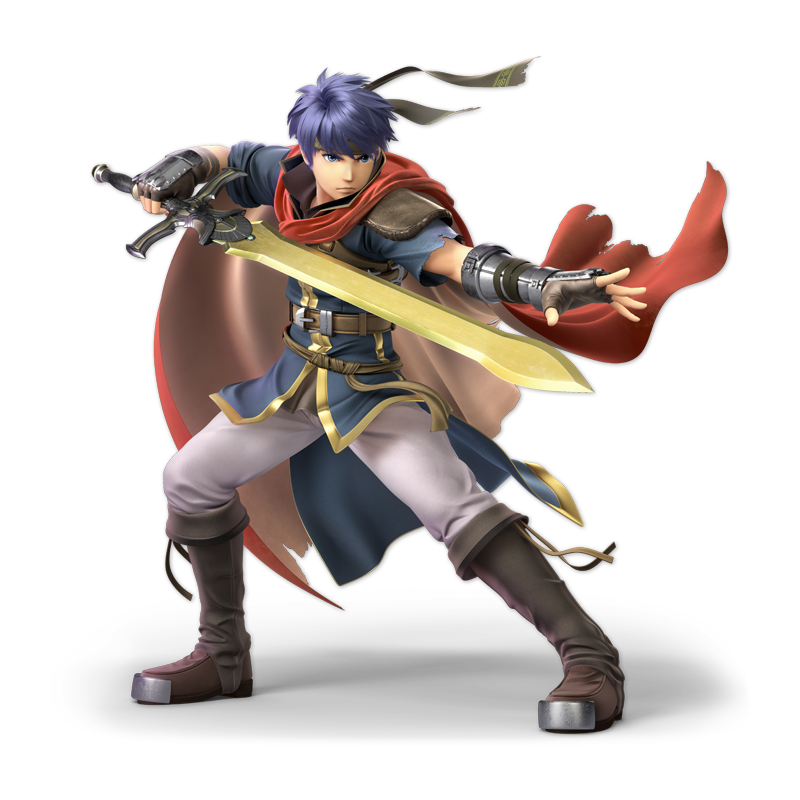 Ike
Heavyweight
Fire Emblem
Damage Table for Ike
Smash Attacks
Neutral
---
Neutral: 2.5% (Hit 1)
Neutral SS: 2.5% (Hit 2)
Neutral WS: 5% (Hit 3)
Up
---
Up: 17%
Up SS: N/A
Up WS: 10%
Down
---
Down: 16% (Hit 1)
Down SS: 19% (Hit 2)
Down WS: 9% (Hit 2, Late)
Side
---
Side: 19% (Tip)
Side SS: 22% (Blade)
Side WS: 19% (Early)
Special Attacks
Neutral
---
Neutral: 10% (Uncharged)
Neutral SS: 26-35% (Full Charge, First Pillar)
Neutral WS: 25-31%|22-27% (Second|Third, Pillar)
Up
---
Up: 4%|6% (Hit 1 Late|Clean)
Up SS: 2%|1% (Hit 2|Hits 3-5)
Up WS: 3%|6% (Descent|Landing)
Down
---
Down: 1.2x Reflection
Down SS: (Minimum 10%)
Down WS: N/A
Side
---
Side: 6% (Uncharged)
Side SS: 13% (Full Charge)
Side WS: N/A
Air Attacks
Neutral
---
Neutral: 7.5%
Neutral SS: N/A
Neutral WS: 6%
Up
---
Up: 11%
Up SS: N/A
Up WS: N/A
Down
---
Down: 15%
Down SS: N/A
Down WS: N/A
Forward
---
Forward: 11.5%
Forward SS: N/A
Forward WS: N/A
Back
---
Back: 14%
Back SS: N/A
Back WS: N/A
Tilt Attacks
Up
---
Up: 12%
Up SS: N/A
Up WS: 8%
Down
---
Down: 8%
Down SS: N/A
Down WS: N/A
Side
---
Side: 13.5%
Side SS: N/A
Side WS: N/A
Other Attacks
Grabs
Pummel: 1.6%
Up: 3.5% | 4%
Down: 3% | 4%
Forward: 3.5% | 4%
Back: 3% | 4%
Air Grab
Air Grab: N/A
Air Grab SS: N/A
Air Grab WS: N/A
Dash Attack
Dash: 11% (Blade)
Dash SS: 14% (Body)
Dash WS: 9%
Floor & Edge
Floor Forward: 7%
Floor Back: 7%
Floor Trip: 5%
Edge: 10%
Move Breakdown
Neutral
---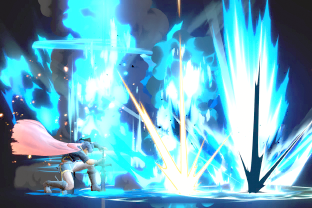 Eruption
Plunges his sword into the ground, triggering a fiery burst. Suffers damage by his own hand when fully charged.
Side
---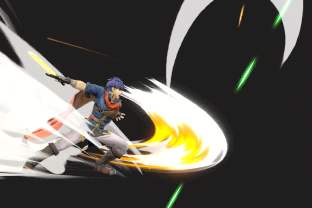 Quick Draw
Lunges forward and slashes at any foe in his path. Can be charged.
Up
---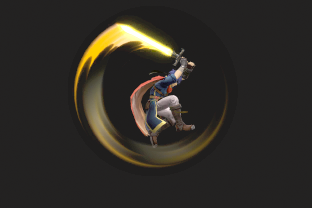 Aether
Throws his sword upward, jumps to grab it, and then swings it on the way down.
Down
---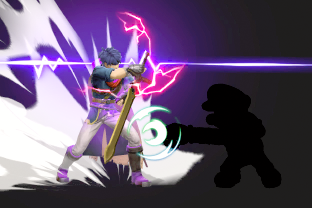 Counter
Blocks and counters an attack. The strength of the opponent's strike decides the strength of the counter.