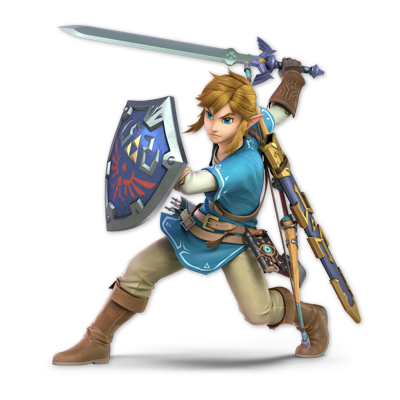 Link
Heavyweight
Legend of Zelda
Damage Table for Link
Smash Attacks
Neutral
---
Neutral: 3% (Hit 1)
Neutral SS: 3% (Hit 2)
Neutral WS: 4% (Hit 3)
Up
---
Up: 4% (Hit 1)
Up SS: 3% (Hit 2)
Up WS: 9-11% (Hit 3)
Down
---
Down: 16% | 11%
Down SS: 17% | 12%
Down WS: 14% | 10%
Side
---
Side: 7% | 13% (Blade)
Side SS: 14% | 13% (Tip)
Side WS: 5-13% (Beam)
Special Attacks
Neutral
---
Neutral: 4%-6% (Uncharged)
Neutral SS: 12-18% (Full Charge)
Neutral WS: 2.1-3.9% (Thrown)
Up
---
Up: 11.2%|9.6%|7.2%|5.6% (Tip)
Up SS: 14%|12%|9%|7% (Blade)
Up WS: 4%|2%|2%|2%|4% (Air)
Down
---
Down: 1% (Throw)
Down SS: 7% (Explosion)
Down WS: N/A
Side
---
Side: 8-9.6%
Side SS: 3% (Return)
Side WS: 6-7.2%
Air Attacks
Neutral
---
Neutral: 9% (Leg)
Neutral SS: 11% (Foot)
Neutral WS: 6%
Up
---
Up: 15%
Up SS: N/A
Up WS: 13%
Down
---
Down: 18%
Down SS: 11% (Bounce)
Down WS: 15%
Forward
---
Forward: 8% (Hit 1)
Forward SS: 10% (Hit 2)
Forward WS: N/A
Back
---
Back: 5% (Hit 1)
Back SS: 7% (Hit 2)
Back WS: N/A
Tilt Attacks
Up
---
Up: 11%
Up SS: N/A
Up WS: N/A
Down
---
Down: 9%
Down SS: N/A
Down WS: N/A
Side
---
Side: 13%
Side SS: N/A
Side WS: N/A
Other Attacks
Grabs
Pummel: 1.3%
Up: 5% | 2%
Down: 3% | 3%
Forward: 3% | 2.5%
Back: 3% | 2.5%
Air Grab
Air Grab: N/A
Air Grab SS: N/A
Air Grab WS: N/A
Dash Attack
Dash: 13% (Blade)
Dash SS: 14% (Tip)
Dash WS: 12% (Body)
Floor & Edge
Floor Forward: 7%
Floor Back: 7%
Floor Trip: 5%
Edge: 9%
Move Breakdown
Neutral
---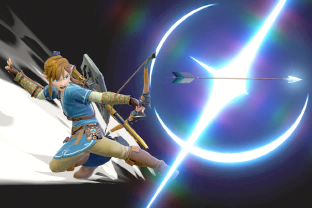 Bow and Arrows
Shoots an arrow (two at once if one is picked up off the ground). Can be charged by holding the button.
Charging increases damage, distance, and speed. Can be used to gimp opponents recoveries, to stop an opponent's approach, for zoning, or to pressure opponents from afar.
Side
---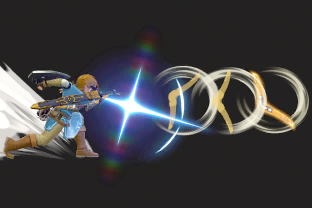 Boomerang
Throws a boomerang diagonally. The control stick can be flicked for extra power and distance.
Launches opponents vertically while moving forward, and towards Link on the return with a weaker knock back. Can be used for combos, or defensively to cover risky options.
Up
---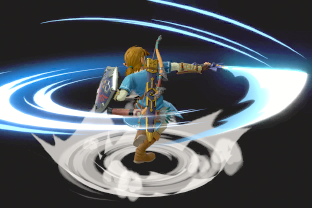 Spin Attack
Strikes opponents while spinning. Acts as a jump if used in midair.
A powerful attack on the ground when charged, or a reliable out-of-shield option that can KO at higher percentages. The aerial version can kill near the edges, and is a reliable vertical recovery, tho
Down
---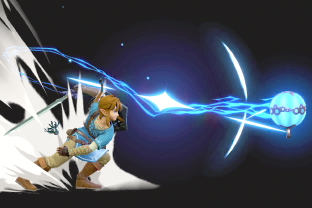 Remote Bomb
Creates a remote bomb with the Sheikah Slate. Down special again detonates it.
The bomb can be picked up, thrown back, and knocked around making it unpredictable at times. With practice it becomes an incredible combo tool, and can also be used to edge guard, for spacing, to gimp