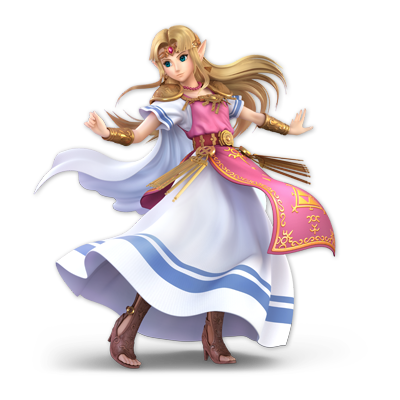 Zelda
Lightweight
Legend of Zelda
Damage Table for Zelda
Smash Attacks
Neutral
---
Neutral: 2.5% (Hits 1-2)
Neutral SS: 0.2% (Loop)
Neutral WS: 3% (Last)
Up
---
Up: 2% (Hits 1-4)
Up SS: 0.8% (Hits 5-6)
Up WS: 5% (Hit 7)
Down
---
Down: 12% (Front)
Down SS: 10% (Back)
Down WS: N/A
Side
---
Side: 1% (Hits 1-4)
Side SS: 13% (Hit 5)
Side WS: N/A
Special Attacks
Neutral
---
Neutral: 2% (Hits 1-3)
Neutral SS: 4-5% (Hit 4)
Neutral WS: 1.25x Reflection
Up
---
Up: 6% (Hit 1)
Up SS: 8-12% (Air, Hit 2)
Up WS: 7-10% (Ground, Hit 2)
Down
---
Down: 4.7-6.6% (Lvls 1-2)
Down SS: 8.5-12.2% (Lvls 3-4)
Down WS: 14.1% (Level 5)
Side
---
Side: 7%
Side SS: 14% (Full Charge)
Side WS: 3.5-7%
Air Attacks
Neutral
---
Neutral: 2.5% (Hits 1-4, Front)
Neutral SS: 1.5% (Hits 1-4, Back)
Neutral WS: 5% (Last)
Up
---
Up: 17%
Up SS: N/A
Up WS: N/A
Down
---
Down: 5% (Leg)
Down SS: 16%
Down WS: 4% (Foot)
Forward
---
Forward: 4% (Leg)
Forward SS: 20% (Foot)
Forward WS: 4%
Back
---
Back: 4% (Leg)
Back SS: 20% (Foot)
Back WS: 4%
Tilt Attacks
Up
---
Up: 7.2%
Up SS: N/A
Up WS: N/A
Down
---
Down: 5.5%
Down SS: N/A
Down WS: N/A
Side
---
Side: 12% (Blade)
Side SS: N/A
Side WS: 10% (Arm)
Other Attacks
Grabs
Pummel: 1.3%
Up: 11%
Down: 6% | 2%
Forward: 10%
Back: 12%
Air Grab
Air Grab: N/A
Air Grab SS: N/A
Air Grab WS: N/A
Dash Attack
Dash: 9%
Dash SS: 12%
Dash WS: 6%
Floor & Edge
Floor Forward: 7%
Floor Back: 7%
Floor Trip: 5%
Edge: 9%
Move Breakdown
Neutral
---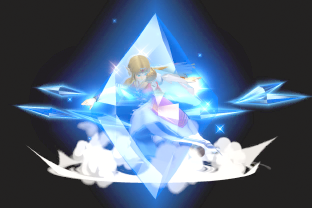 Naryu's Love
Envelops herself in a crystal that deals damage and reflects projectiles.
Side
---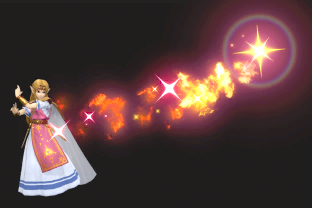 Din's Fire
Fires magic that explodes after a time or when the button is released.
Up
---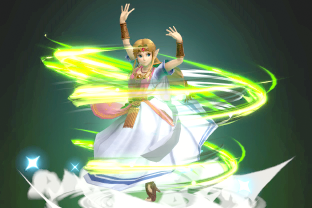 Farore's Wind
Teleports herself in any direction. Deals damage when disappearing and reappearing.
Down
---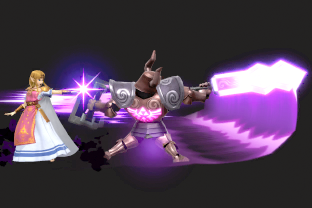 Phantom Slash
Assembles a phantom, then sends it charging forward. The timing of the button press determines its attack.