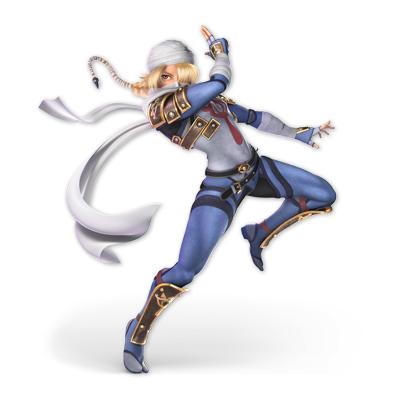 Sheik
Featherweight
Legend of Zelda
Damage Table for Sheik
Smash Attacks
Neutral
---
Neutral: 2% (Hit 1)
Neutral SS: 1.6% (Hit 2)
Neutral WS: 0.3%|2% (Loop, Last)
Up
---
Up: 15% (Hit 1)
Up SS: 11% (Hit 2)
Up WS: N/A
Down
---
Down: 4% (Hit 1)
Down SS: 6% (Hit 2)
Down WS: N/A
Side
---
Side: 5% (Hit 1)
Side SS: 8% (Hit 2)
Side WS: N/A
Special Attacks
Neutral
---
Neutral: 1.5% (Each)
Neutral SS: N/A
Neutral WS: 0.8% (Far)
Up
---
Up: 12% (Vanish)
Up SS: 5% (Appear)
Up WS: N/A
Down
---
Down: 11% (Hit 1)
Down SS: 13% (Per Extra Hit)
Down WS: N/A
Side
---
Side: 1% (Grenade)
Side SS: 1% (Vortex)
Side WS: 12.6% (Explosion)
Air Attacks
Neutral
---
Neutral: 4-5%
Neutral SS: 6%
Neutral WS: 3%
Up
---
Up: 1% (Hits 1-3)
Up SS: 4% (Hit 4)
Up WS: N/A
Down
---
Down: 10% (Descent)
Down SS: 2% (Landing)
Down WS: N/A
Forward
---
Forward: 4.5% (Arm)
Forward SS: N/A
Forward WS: 3.8% (Leg)
Back
---
Back: 7.5%
Back SS: 9.5%
Back WS: 6%
Tilt Attacks
Up
---
Up: 3% (Hit 1)
Up SS: 4% (Hit 2)
Up WS: N/A
Down
---
Down: 4.5%
Down SS: N/A
Down WS: N/A
Side
---
Side: 3%
Side SS: N/A
Side WS: N/A
Other Attacks
Grabs
Pummel: 1%
Up: 3% | 3%
Down: 3% | 3%
Forward: 5% | 2%
Back: 5% | 2%
Air Grab
Air Grab: N/A
Air Grab SS: N/A
Air Grab WS: N/A
Dash Attack
Dash: 7%
Dash SS: N/A
Dash WS: 5%
Floor & Edge
Floor Forward: 7%
Floor Back: 7%
Floor Trip: 5%
Edge: 9%
Move Breakdown
Neutral
---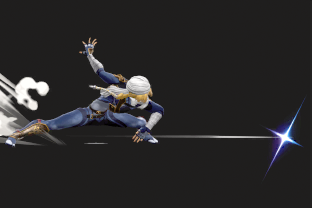 Needle Storm
Throws needles forward on the ground or diagonally downward in the air. Throws more needles if charged longer.
Side
---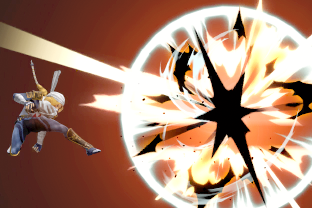 Burst Grenade
Throws a stealthy grenade that pulls opponents in before exploding.
Up
---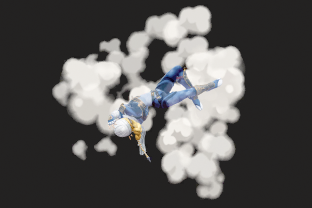 Vanish
Throws a bomb to the ground and warps in any direction. Deals some damage.
Down
---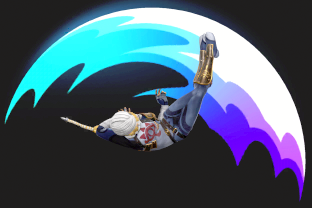 Bouncing Fish
Flips through the air and strikes foes with her heel. If the kick lands, she bounces back.