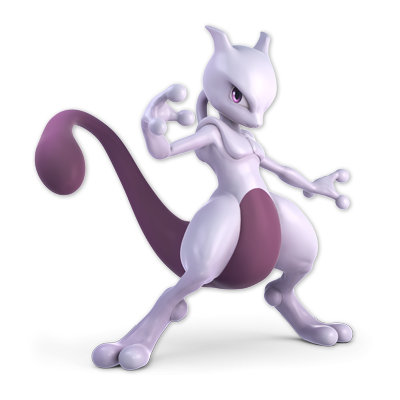 Mewtwo
Featherweight
Pokémon
Damage Table for Mewtwo
Smash Attacks
Neutral
---
Neutral: 4% (Hit 1)
Neutral SS: 1% (Loop)
Neutral WS: 2% (Last)
Up
---
Up: 2% (Hits 1-3)
Up SS: 10% (Hit 4)
Up WS: N/A
Down
---
Down: 16%
Down SS: N/A
Down WS: N/A
Side
---
Side: 16% (Arms)
Side SS: 20% (Blast)
Side WS: N/A
Special Attacks
Neutral
---
Neutral: 2.5% (Uncharged)
Neutral SS: 25% (Full Charge)
Neutral WS: N/A
Up
---
Up: 0%
Up SS: N/A
Up WS: N/A
Down
---
Down: 1%
Down SS: N/A
Down WS: N/A
Side
---
Side: 1.15% (Hits 1-7)
Side SS: 1% (Throw)
Side WS: 1.4x Reflection
Air Attacks
Neutral
---
Neutral: 1.6% (Hits 1-5)
Neutral SS: 4% (Hit 6)
Neutral WS: N/A
Up
---
Up: 11%
Up SS: 12%
Up WS: 10%
Down
---
Down: 14%
Down SS: 15%
Down WS: N/A
Forward
---
Forward: 13%
Forward SS: N/A
Forward WS: N/A
Back
---
Back: 11%
Back SS: 13%
Back WS: 9%
Tilt Attacks
Up
---
Up: 5-6%
Up SS: 7%
Up WS: 4%
Down
---
Down: 4.5%
Down SS: 5%
Down WS: 4%
Side
---
Side: 10%
Side SS: 11%
Side WS: 9%
Other Attacks
Grabs
Pummel: 2%
Up: 12%
Down: 4% | 5%
Forward: 3% | 2%
Back: 11%
Air Grab
Air Grab: N/A
Air Grab SS: N/A
Air Grab WS: N/A
Dash Attack
Dash: 9%
Dash SS: 12%
Dash WS: 4-6%
Floor & Edge
Floor Forward: 7%
Floor Back: 7%
Floor Trip: 5%
Edge: 7%
Move Breakdown
Neutral
---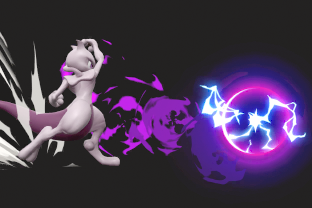 Shadow Ball
Fires an energy projectile. Charging it for longer increases its damage and launch power.
Side
---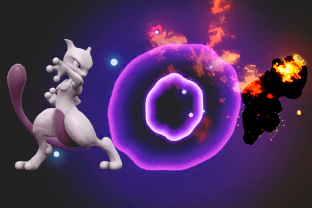 Confusion
Uses psychic energy to topple an opponent in front. It can also reflect projectiles.
Up
---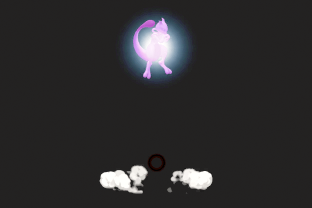 Teleport
Warps instantly to another location. Directional input determines the destination.
Down
---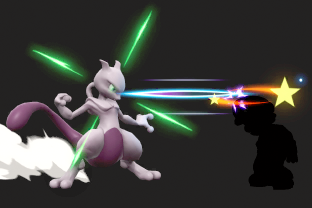 Disable
Makes eye contact with an enemy to stun them. Ineffective when airborne or not facing an opponent.