---
Damage Table for Olimar
Smash Attacks
Neutral
Neutral SS
Neutral WS
3% (Hit 1-2: Arm)
4% (Hit 1-2: Fist)
N/A
Varies by Pikmin
(See Below)
N/A
Varies by Pikmin
(See Below)
N/A
Varies by Pikmin
(See Below)
N/A
Special Attacks
Neutral
Neutral SS
Neutral WS
Varies by Pikmin
(See Below)
N/A
Air Attacks
Neutral
Neutral SS
Neutral WS
1.5% (Hits 1-4)
2% (Hit 5)
N/A
Varies by Pikmin
(See Below)
N/A
Varies by Pikmin
(See Below)
N/A
Forward
Forward SS
Forward WS
Varies by Pikmin
(See Below)
N/A
Varies by Pikmin
(See Below)
N/A
Tilt Attacks
0.6% (Hits 1-5)
4% (Hit 6)
N/A
Other
Pummel
Up Throw
Down Throw
Forward Throw
Back Throw
1%
(See Below)
(See Below)
(See Below)
(See Below)
Air Grab
Air Grab SS
Air Grab WS
7% (Hit 1)
4% (Hit 2)
N/A
Floor Forward
Floor Back
Floor Trip
Edge
Special Move Breakdowns
---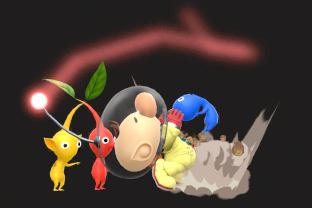 Pikmin Pluck
Plucks a maximum of three Pikmin in this order: red, yellow, blue, white, purple.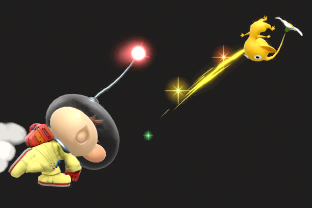 Pikmin Throw
Throws Pikmin. Most Pikmin stick to opponents, but Purple Pikmin slam them.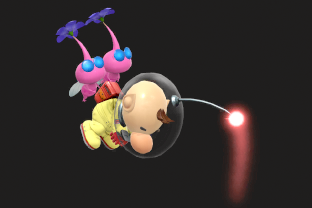 Winged Pikmin
Summons Winged Pikmin to fly him around. Less effective if laden with Pikmin.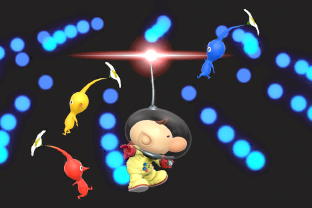 Pikmin Order
Blows his whistle to recall his Pikmin and change their order.