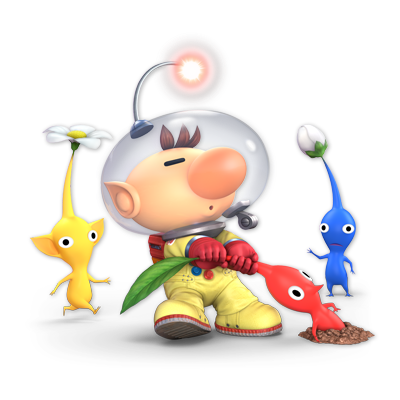 Olimar
Featherweight
Pikmin
Damage Table for Olimar
Smash Attacks
Neutral
---
Neutral: 3% (Hit 1-2: Arm)
Neutral SS: 4% (Hit 1-2: Fist)
Neutral WS: N/A
Up
---
Up: Varies by Pikmin
Up SS: (See Below)
Up WS: N/A
Down
---
Down: Varies by Pikmin
Down SS: (See Below)
Down WS: N/A
Side
---
Side: Varies by Pikmin
Side SS: (See Below)
Side WS: N/A
Special Attacks
Neutral
---
Neutral: 0%
Neutral SS: (See Below)
Neutral WS: N/A
Up
---
Up: 0%
Up SS: (See Below)
Up WS: N/A
Down
---
Down: 0%
Down SS: (See Below)
Down WS: N/A
Side
---
Side: Varies by Pikmin
Side SS: (See Below)
Side WS: N/A
Air Attacks
Neutral
---
Neutral: 1.5% (Hits 1-4)
Neutral SS: 2% (Hit 5)
Neutral WS: N/A
Up
---
Up: Varies by Pikmin
Up SS: (See Below)
Up WS: N/A
Down
---
Down: Varies by Pikmin
Down SS: (See Below)
Down WS: N/A
Forward
---
Forward: Varies by Pikmin
Forward SS: (See Below)
Forward WS: N/A
Back
---
Back: Varies by Pikmin
Back SS: (See Below)
Back WS: N/A
Tilt Attacks
Up
---
Up: 0.6% (Hits 1-5)
Up SS: 4% (Hit 6)
Up WS: N/A
Down
---
Down: 6%
Down SS: N/A
Down WS: N/A
Side
---
Side: 11%
Side SS: N/A
Side WS: N/A
Other Attacks
Grabs
Pummel: 1%
Up: (See Below)
Down: (See Below)
Forward: (See Below)
Back: (See Below)
Air Grab
Air Grab: N/A
Air Grab SS: N/A
Air Grab WS: N/A
Dash Attack
Dash: 7% (Hit 1)
Dash SS: 4% (Hit 2)
Dash WS: N/A
Floor & Edge
Floor Forward: 7%
Floor Back: 7%
Floor Trip: 7%
Edge: 9%
Move Breakdown
Neutral
---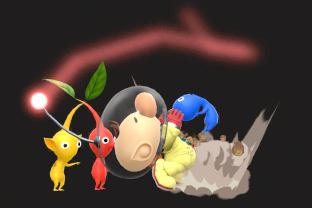 Pikmin Pluck
Plucks a maximum of three Pikmin in this order: red, yellow, blue, white, purple.
Side
---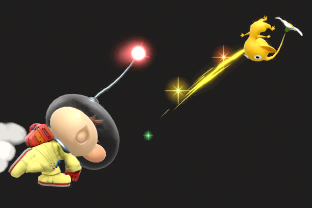 Pikmin Throw
Throws Pikmin. Most Pikmin stick to opponents, but Purple Pikmin slam them.
Up
---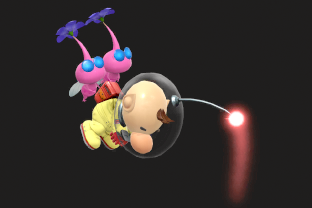 Winged Pikmin
Summons Winged Pikmin to fly him around. Less effective if laden with Pikmin.
Down
---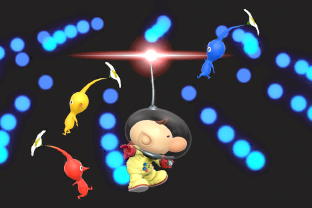 Pikmin Order
Blows his whistle to recall his Pikmin and change their order.