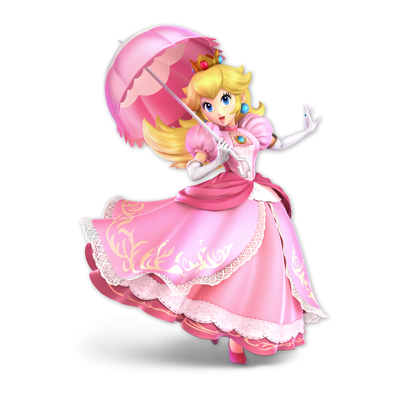 Peach
Middleweight
Super Mario
Damage Table for Peach
Smash Attacks
Neutral
---
Neutral: 2% (Hit 1)
Neutral SS: 3% (Hit 2)
Neutral WS: N/A
Up
---
Up: 12% (Ribbon)
Up SS: 17% (Heart)
Up WS: N/A
Down
---
Down: 2% (Hits 1-6)
Down SS: 3% (Hit 7)
Down WS: N/A
Side
---
Side: 15% (Golf Club)
Side SS: 18% (Frying Pan)
Side WS: 13.5% (Racket)
Special Attacks
Neutral
---
Neutral: 3.5% (Per Hit)
Neutral SS: N/A
Neutral WS: N/A
Up
---
Up: 3% (Hit 1)
Up SS: 1% (Hits 2-5)
Up WS: 2%|2% (Last, Open)
Down
---
Down: Varies By Expression
Down SS: Stitch, Bob-omb
Down WS: Generic
Side
---
Side: 12%
Side SS: N/A
Side WS: N/A
Air Attacks
Neutral
---
Neutral: 6% (Late Arms)
Neutral SS: 13%
Neutral WS: 5% (Late Body)
Up
---
Up: 4% (Hit 1)
Up SS: 6% (Hit 2)
Up WS: N/A
Down
---
Down: 2% (Hits 1-3)
Down SS: 5% (Hit 4)
Down WS: N/A
Forward
---
Forward: 15% (Crown)
Forward SS: N/A
Forward WS: 14% (Arm)
Back
---
Back: 10.2%
Back SS: 12%
Back WS: 7%
Tilt Attacks
Up
---
Up: 10% (Blast)
Up SS: N/A
Up WS: 8% (Arm)
Down
---
Down: 7%
Down SS: N/A
Down WS: N/A
Side
---
Side: 7% (Leg)
Side SS: 8% (Foot)
Side WS: N/A
Other Attacks
Grabs
Pummel: 1.3%
Up: 2% | 6%
Down: 1% | 7%
Forward: 2% | 8%
Back: 2% | 9%
Air Grab
Air Grab: N/A
Air Grab SS: N/A
Air Grab WS: N/A
Dash Attack
Dash: 4% (Hit 1)
Dash SS: 6% (Hit 2)
Dash WS: N/A
Floor & Edge
Floor Forward: 7%
Floor Back: 7%
Floor Trip: 5%
Edge: 9%
Move Breakdown
Neutral
---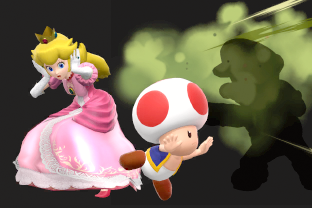 Toad
Uses Toad as a shield, spreading spores if he gets hit.
Side
---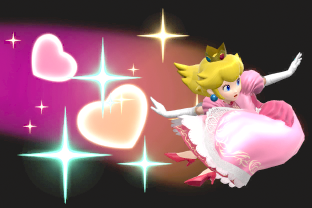 Peach Bomber
Jumps sideways and delivers a powerful hip bash.
Up
---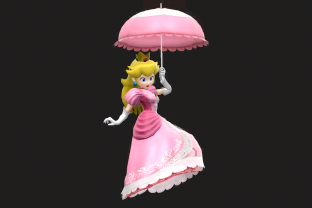 Peach Parasol
Jumps high into the air and opens her parasol. Keeping it open allows her to slowly float downward.
Down
---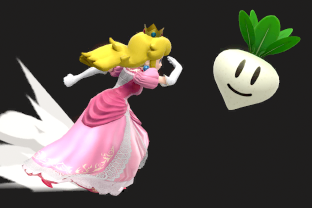 Vegetable
Plucks a veggie while on the ground. The veggie's power depends on its mood.