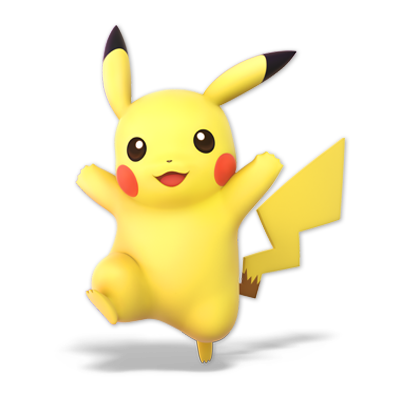 Pikachu
Featherweight
Pokémon
Damage Table for Pikachu
Smash Attacks
Neutral
---
Neutral: 1.2%
Neutral SS: 1.4%
Neutral WS: 1%
Up
---
Up: 11%
Up SS: 13-14% (Early)
Up WS: 7% (Late)
Down
---
Down: 2% (Hits 1-5)
Down SS: 3% (Hit 6)
Down WS: N/A
Side
---
Side: 15%
Side SS: 18%
Side WS: 12%
Special Attacks
Neutral
---
Neutral: 4.8-5%
Neutral SS: 6%
Neutral WS: 4%
Up
---
Up: 2% (Hit 1)
Up SS: 3% (Hit 2)
Up WS: N/A
Down
---
Down: 15% (Shock wave)
Down SS: 8% (Thunderbolt)
Down WS: 6% (Thunder Meteor)
Side
---
Side: 6.2% (Uncharged)
Side SS: 10% (Uncharged Smash)
Side WS: 21.4% (Full Charge)
Air Attacks
Neutral
---
Neutral: 1.8% (Hits 1-3)
Neutral SS: 3.5% (Hit 4)
Neutral WS: N/A
Up
---
Up: 5% (Tip)
Up SS: 6% (Tail)
Up WS: 4% (Late)
Down
---
Down: 12% (Late)
Down SS: 13% (Clean)
Down WS: 4% (Landing)
Forward
---
Forward: 1.4% (Hits 1-5)
Forward SS: 4.8% (Hit 6)
Forward WS: N/A
Back
---
Back: 1% (hits 1-5)
Back SS: 3.6% (Hit 6)
Back WS: 4% (Landing)
Tilt Attacks
Up
---
Up: 5%
Up SS: N/A
Up WS: N/A
Down
---
Down: 6%
Down SS: N/A
Down WS: N/A
Side
---
Side: 9%
Side SS: 10% (Up)
Side WS: 8% (Down)
Other Attacks
Grabs
Pummel: 1%
Up: 3%|5%
Down: 5%
Forward: 2% (Hits 1-5)
Back: 9%
Air Grab
Air Grab: N/A
Air Grab SS: N/A
Air Grab WS: N/A
Dash Attack
Dash: 11%
Dash SS: N/A
Dash WS: 6%
Floor & Edge
Floor Forward: 7%
Floor Back: 7%
Floor Trip: 5%
Edge: 9%
Move Breakdown
Neutral
---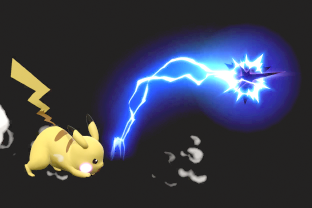 Thunder Jolt
Sends a ball of electricity bouncing along the stage.
An excellent projectile that deals decent damage, moves quickly, and can be used repeatedly. Sticks to the map or platforms, and can be used to stop an opponents approach, setup combos, gimp recoveries, and more.
Side
---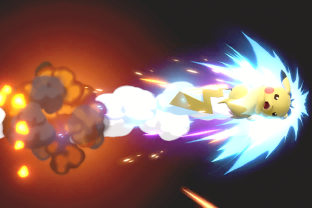 Skull Bash
Charges up a flying headbutt.
Decent recovery option, as it has a hit box protecting it, good horizontal distance, and can sweet spot the ledge. Great for punishing shield breaks, but has considerable end lag.
Up
---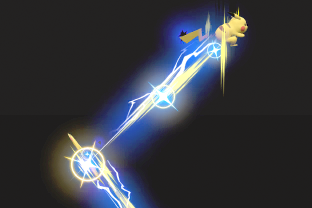 Quick Attack
Attacks quickly in any direction. Can change direction mid-move to move a second time.
Covers good distance and can be unpredictable, but renders Pikachu helpless after. Can be used to approach, but becomes predictable and punishable.
Down
---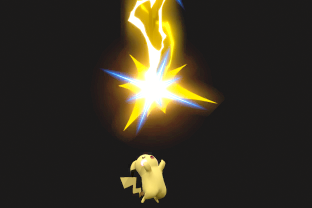 Thunder
Calls down a lightning strike that deals more damage to opponents if the bolt hits Pikachu.
If the bolt hits Pikachu, the explosion deals massive knock back damage and grants 10 frames of intangibility. Pulls an opponent down to Pikachu if hit by the top of the bolt. Quite vulnerable to counters.