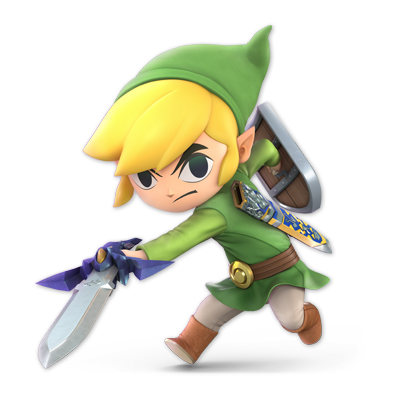 Toon Link
Middleweight
Legend of Zelda
Damage Table for Toon Link
Smash Attacks
Neutral
---
Neutral: 2% (Hit 1)
Neutral SS: 2% (Hit 2)
Neutral WS: 4% (Hit 3)
Up
---
Up: 13%
Up SS: N/A
Up WS: N/A
Down
---
Down: 12% (Front)
Down SS: 13% (Back)
Down WS: N/A
Side
---
Side: 14%
Side SS: N/A
Side WS: N/A
Special Attacks
Neutral
---
Neutral: 4% (Uncharged)
Neutral SS: 12% (Full Charge)
Neutral WS: N/A
Up
---
Up: 1-4% (Hits 1-10)
Up SS: 1.6-4% (Hit 11)
Up WS: 4%|2%|4% (Air: 1|2-4|5)
Down
---
Down: 5.4-7%
Down SS: N/A
Down WS: N/A
Side
---
Side: 8% (Near)
Side SS: 9.6% (Smash)
Side WS: 5%|3% (Far|Return)
Air Attacks
Neutral
---
Neutral: 7% (Back)
Neutral SS: 8.5% (Front)
Neutral WS: N/A
Up
---
Up: 13%
Up SS: N/A
Up WS: 11%
Down
---
Down: 15%
Down SS: N/A
Down WS: 12%
Forward
---
Forward: 13%
Forward SS: N/A
Forward WS: N/A
Back
---
Back: 8%
Back SS: N/A
Back WS: N/A
Tilt Attacks
Up
---
Up: 5%
Up SS: N/A
Up WS: N/A
Down
---
Down: 7%
Down SS: N/A
Down WS: N/A
Side
---
Side: 9%
Side SS: N/A
Side WS: N/A
Other Attacks
Grabs
Pummel: 1%
Up: 5% | 2%
Down: 3% | 4%
Forward: 3% | 4%
Back: 7%
Air Grab
Air Grab: 4%
Air Grab SS: N/A
Air Grab WS: N/A
Dash Attack
Dash: 8%
Dash SS: N/A
Dash WS: N/A
Floor & Edge
Floor Forward: 7%
Floor Back: 7%
Floor Trip: 5%
Edge: 9%
Move Breakdown
Neutral
---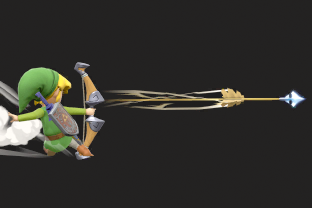 Hero's Bow
Fires an arrow from his bow. It can be charged up for more power and range.
Side
---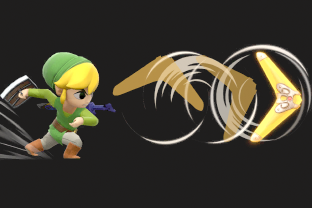 Boomerang
Deals damage on its way out and on its way back. Can be thrown diagonally.
Up
---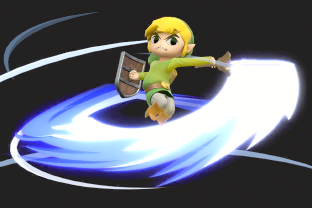 Spin Attack
Spins with his sword. Can hit opponents more than once and can be charged.
Down
---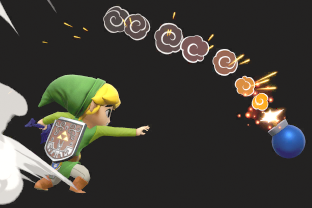 Bomb
Pulls out a throwable bomb. It'll explode after a while or when it hits something.