---
Damage Table for Toon Link
Smash Attacks
Neutral
Neutral SS
Neutral WS
2% (Hit 1)
2% (Hit 2)
4% (Hit 3)
12% (Front)
13% (Back)
N/A
Special Attacks
Neutral
Neutral SS
Neutral WS
4% (Uncharged)
12% (Full Charge)
N/A
1-4% (Hits 1-10)
1.6-4% (Hit 11)
4%|2%|4% (Air: 1|2-4|5)
8% (Near)
9.6% (Smash)
5%|3% (Far|Return)
Air Attacks
Neutral
Neutral SS
Neutral WS
7% (Back)
8.5% (Front)
N/A
Forward
Forward SS
Forward WS
Other
Pummel
Up Throw
Down Throw
Forward Throw
Back Throw
1%
5% | 2%
3% | 4%
3% | 4%
7%
Air Grab
Air Grab SS
Air Grab WS
Floor Forward
Floor Back
Floor Trip
Edge
Special Move Breakdowns
---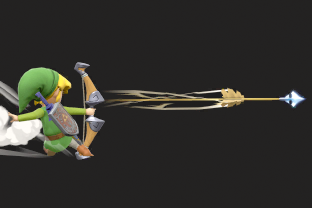 Hero's Bow
Fires an arrow from his bow. It can be charged up for more power and range.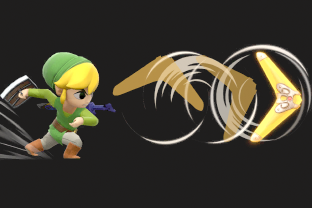 Boomerang
Deals damage on its way out and on its way back. Can be thrown diagonally.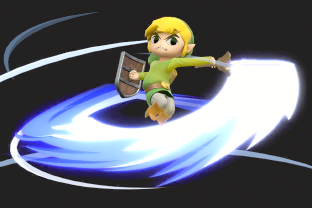 Spin Attack
Spins with his sword. Can hit opponents more than once and can be charged.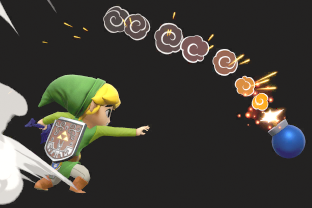 Bomb
Pulls out a throwable bomb. It'll explode after a while or when it hits something.