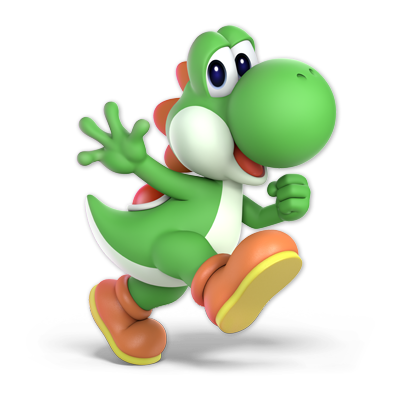 Yoshi
Heavyweight
Yoshi
Damage Table for Yoshi
Smash Attacks
Neutral
---
Neutral: 3% (Hit 1)
Neutral SS: 4% (Hit 2)
Neutral WS: N/A
Up
---
Up: 14%
Up SS: N/A
Up WS: 12%
Down
---
Down: 10% (Tip)
Down SS: 12% (Close)
Down WS: N/A
Side
---
Side: 15.5%
Side SS: N/A
Side WS: 14%
Special Attacks
Neutral
---
Neutral: 7%
Neutral SS: N/A
Neutral WS: N/A
Up
---
Up: 6%
Up SS: N/A
Up WS: N/A
Down
---
Down: 4% (Hop, Stars)
Down SS: 15% (Ground)
Down WS: 12% (Air)
Side
---
Side: 10%
Side SS: 13.8% (Fast)
Side WS: N/A
Air Attacks
Neutral
---
Neutral: 7% (Mid)
Neutral SS: 10%
Neutral WS: 5%
Up
---
Up: 12%
Up SS: N/A
Up WS: N/A
Down
---
Down: 2.3% (Hits 1-6)
Down SS: 1.9% (Hits 7-12)
Down WS: 2.8% (Last Hit)
Forward
---
Forward: 15%
Forward SS: N/A
Forward WS: 14% (Tip)
Back
---
Back: 3.5% (Hits 1-2)
Back SS: 5.5% (Hit 3)
Back WS: N/A
Tilt Attacks
Up
---
Up: 7%
Up SS: N/A
Up WS: N/A
Down
---
Down: 4.5% (Mid)
Down SS: 5% (Base)
Down WS: 4% (Tip)
Side
---
Side: 8%
Side SS: N/A
Side WS: N/A
Other Attacks
Grabs
Pummel: 1.3%
Up: 5%
Down: 4%
Forward: 9%
Back: 9%
Air Grab
Air Grab: N/A
Air Grab SS: N/A
Air Grab WS: N/A
Dash Attack
Dash: 11%
Dash SS: N/A
Dash WS: 9%
Floor & Edge
Floor Forward: 7%
Floor Back: 7%
Floor Trip: 5%
Edge: 9%
Move Breakdown
Neutral
---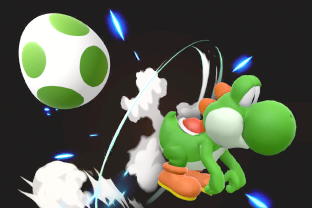 Egg Lay
Grabs the opponent with a tongue attack, swallows them, and traps them in an egg.
The opponent stays trapped longer the more damage they have. Can be used to trap opponents, forcing them to take major damage from an incoming charge attack or combo. Can also be used on the edge for a kill option.
Side
---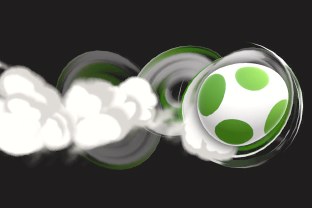 Egg Roll
Turns into an egg and rolls into enemies. Can jump once while in the egg.
A move with limited options, Yoshi's Egg Roll is predictable, slow, has considerable end lag, and bears no armour or disjoints. Should be used with caution.
Up
---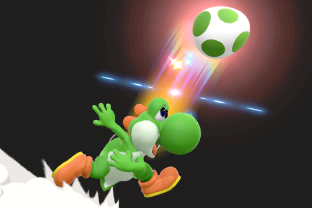 Egg Throw
Lobs an egg. Can set the angle of the throw with directional inputs.
Yoshi's Egg Throw has many uses, and the ability for the egg to bounce adds a new element. Can be used midair, and the first three throws will add vertical momentum, assisting with recovery options.
Down
---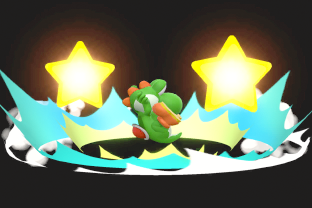 Yoshi Bomb
Jumps up quickly and slams into the ground, shooting stars out left and right.
Strong with little startup lag. Shield damage has been boosted, with the grounded version as the best option to break a shield. Can be used on the edge as a punish. Will go through soft platforms when holding down on the controller.