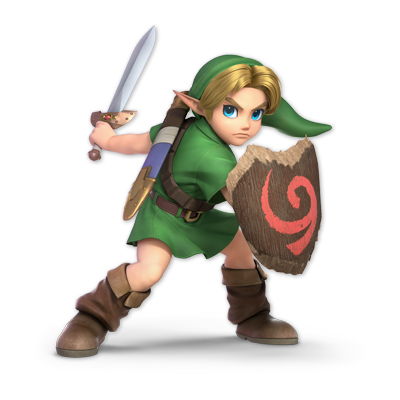 Young Link
Middleweight
Legend of Zelda
Damage Table for Young Link
Smash Attacks
Neutral
---
Neutral: 2%|1.5% (Hits 1-2)
Neutral SS: 3.5% (Stab)
Neutral WS: 0.3%|2.5% (Loop, Last)
Up
---
Up: 3% (Hits 1-2)
Up SS: 8% (Base, Hit 3)
Up WS: 7% (Tip, Hit 3)
Down
---
Down: 10%|9% (Tip)(Front, Back)
Down SS: 13%|12% (Base)(Front, Back)
Down WS: N/A
Side
---
Side: 6% (Hit 1)
Side SS: 12% (Base, Hit 2)
Side WS: 10% (Tip, Hit 2)
Special Attacks
Neutral
---
Neutral: 4% (Uncharged)
Neutral SS: 12% (Full Charge)
Neutral WS: N/A
Up
---
Up: 1%-1.6% (Ground 1-10)
Up SS: 3%-4.8% (Ground 11)
Up WS: 3% (Air 1) | 2% (Air 2-4) | 3% (Air 5)
Down
---
Down: 2%-2.4% (Hits 1-4)
Down SS: N/A
Down WS: N/A
Side
---
Side: 7% (Far)
Side SS: 11-13.2% (Close)
Side WS: 2% (Return)
Air Attacks
Neutral
---
Neutral: 5%
Neutral SS: 10%
Neutral WS: N/A
Up
---
Up: 12%
Up SS: 15%
Up WS: N/A
Down
---
Down: 15%
Down SS: 18%
Down WS: N/A
Forward
---
Forward: 6% (Hit 1)
Forward SS: 8% (Base, Hit 2)
Forward WS: 7% (Tip, Hit 2)
Back
---
Back: 5% (Hit 1)
Back SS: 7% (Hit 2)
Back WS: N/A
Tilt Attacks
Up
---
Up: 8%
Up SS: N/A
Up WS: N/A
Down
---
Down: 9% (Mid)
Down SS: 10% (Base)
Down WS: 7% (Tip)
Side
---
Side: 11% (Tip)
Side SS: 12% (Base)
Side WS: N/A
Other Attacks
Grabs
Pummel: 1%
Up: 4% | 2%
Down: 3% | 3%
Forward: 3% | 3%
Back: 3% | 3%
Air Grab
Air Grab: 4%
Air Grab SS: N/A
Air Grab WS: N/A
Dash Attack
Dash: 10% (Tip)
Dash SS: 11% (Base)
Dash WS: N/A
Floor & Edge
Floor Forward: 7%
Floor Back: 7%
Floor Trip: 5%
Edge: 9%
Move Breakdown
Neutral
---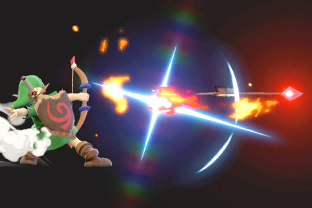 Fire Arrow
Fires an arrow. The longer the button is held, the stronger the shot.
Side
---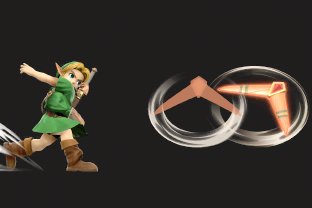 Boomerang
Throws a boomerang. He can even throw it diagonally. A flick of the stick can change the power and distance.
Up
---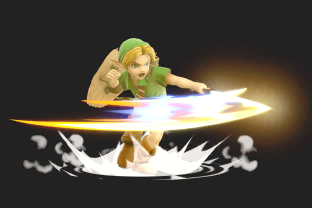 Spin Attack
Spins with his blade outstretched. Can be charged if used on the ground, and it acts as a jump if used in midair.
Down
---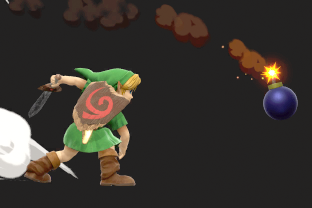 Bomb
Pulls out a throwable bomb that explodes on impact or when the fuse runs out.