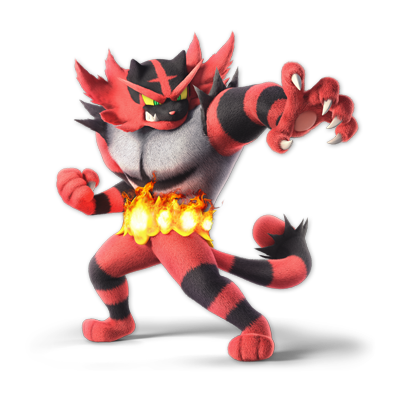 Incineroar
Super Heavyweight
Pokémon
Damage Table for Incineroar
Smash Attacks
Neutral
---
Neutral: 2.5% (Hit 1)
Neutral SS: 2.7% (Hit 2)
Neutral WS: 4.6% (Hit 3)
Up
---
Up: 17%
Up SS: N/A
Up WS: N/A
Down
---
Down: 16%
Down SS: N/A
Down WS: N/A
Side
---
Side: 16% (Leg)
Side SS: 20% (Foot)
Side WS: N/A
Special Attacks
Neutral
---
Neutral: 11-12% (Mid)
Neutral SS: 16% (Early)
Neutral WS: 8-10% (Late)
Up
---
Up: 2.5-5% (Ascent)
Up SS: 3.5%|11% (Descent|Hit)
Up WS: 5.5%|9% (Explosion: Far|Close)
Down
---
Down: 2.4%
Down SS: (See Below)
Down WS: N/A
Side
---
Side: 12% (Body Drop)
Side SS: 20% (Lariat)
Side WS: 4% (Fail Throw & Recoil)
Air Attacks
Neutral
---
Neutral: 13%
Neutral SS: N/A
Neutral WS: 7%
Up
---
Up: 8%
Up SS: N/A
Up WS: N/A
Down
---
Down: 14% (Body)
Down SS: 15% (Feet)
Down WS: 9% (Late)
Forward
---
Forward: 12% (Legs)
Forward SS: 13% (Feet)
Forward WS: N/A
Back
---
Back: 11% (Heel)
Back SS: 13% (Feet)
Back WS: N/A
Tilt Attacks
Up
---
Up: 9%
Up SS: N/A
Up WS: N/A
Down
---
Down: 9%
Down SS: N/A
Down WS: N/A
Side
---
Side: 13%
Side SS: N/A
Side WS: N/A
Other Attacks
Grabs
Pummel: 1.6%
Up: 12%
Down: 9%
Forward: 12%|4-6% (Throw|Collateral)
Back: 14% (Throw & Collateral)
Air Grab
Air Grab: N/A
Air Grab SS: N/A
Air Grab WS: N/A
Dash Attack
Dash: 13%
Dash SS: N/A
Dash WS: 9%
Floor & Edge
Floor Forward: 7%
Floor Back: 7%
Floor Trip: 5%
Edge: 10%
Move Breakdown
Neutral
---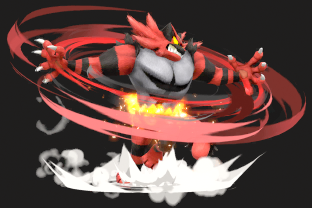 Darkest Lariat
Twirls like a tornado with arms spread wide. Tilting left or right can move the attack.
Side
---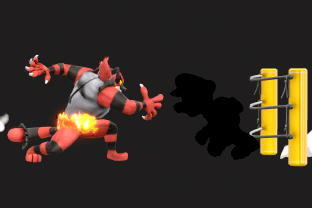 Alolan Whip
Bounces foes off the ropes. The type of follow-up attack depends on the timing of the button press.
Up
---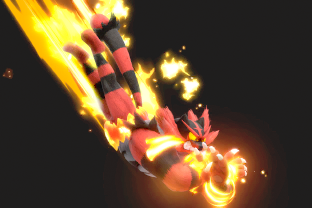 Cross Chop
Jumps into the air, then dives down diagonally. Causes an explosion when landing that hits nearby opponents.
Down
---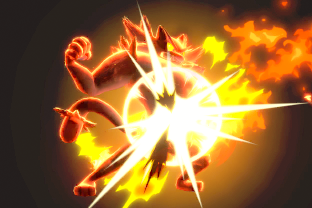 Revenge
Increases attack power by taking hits from opponents. The power is relative to the damage taken.