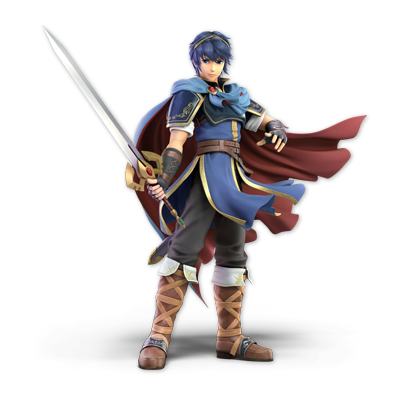 Marth
Middleweight
Fire Emblem
Damage Table for Marth
Smash Attacks
Neutral
---
Neutral: 3%|5% (Hit 1)
Neutral SS: 4%|6% (Hit 2)
Neutral WS: N/A
Up
---
Up: 13% (Blade)
Up SS: 17% (Tip)
Up WS: 3% (Ground)
Down
---
Down: 8%|12% (Hit 1)
Down SS: 12%|17% (Hit 2)
Down WS: N/A
Side
---
Side: 13%
Side SS: 18%
Side WS: N/A
Special Attacks
Neutral
---
Neutral: 8%|9% (Uncharged)
Neutral SS: 22%|24% (Full Charge)
Neutral WS: N/A
Up
---
Up: 7% (Late, Blade)
Up SS: 11%
Up WS: 6% (Late, Body)
Down
---
Down: 1.2x Reflection
Down SS: (Minimum 8%)
Down WS: N/A
Side
---
Side: Varies (See Below)
Side SS: N/A
Side WS: N/A
Air Attacks
Neutral
---
Neutral: 3.5%|5% (Hit 1)
Neutral SS: 7%|9.5% (Hit 2)
Neutral WS: N/A
Up
---
Up: 9.5%
Up SS: 13%
Up WS: N/A
Down
---
Down: 14% (Tip)
Down SS: 15% (Meteor)
Down WS: 12% (Blade)
Forward
---
Forward: 8%
Forward SS: 11.5%
Forward WS: N/A
Back
---
Back: 9%
Back SS: 12.5%
Back WS: N/A
Tilt Attacks
Up
---
Up: 6% (Blade)
Up SS: 9% (Tip)
Up WS: 5% (Body)
Down
---
Down: 7%
Down SS: 10%
Down WS: N/A
Side
---
Side: 9%
Side SS: 12%
Side WS: N/A
Other Attacks
Grabs
Pummel: 1.3%
Up: 5%
Down: 4%
Forward: 4%
Back: 4%
Air Grab
Air Grab: N/A
Air Grab SS: N/A
Air Grab WS: N/A
Dash Attack
Dash: 10% (Blade)
Dash SS: 12% (Tip)
Dash WS: 9% (Body)
Floor & Edge
Floor Forward: 7%
Floor Back: 7%
Floor Trip: 5%
Edge: 9%
Move Breakdown
Neutral
---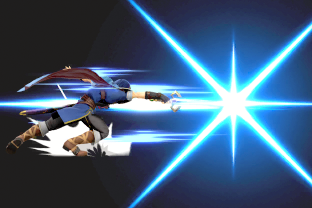 Shield Breaker
Stabs with such powerful force that at max charge, he can destroy a shield in one hit!
Side
---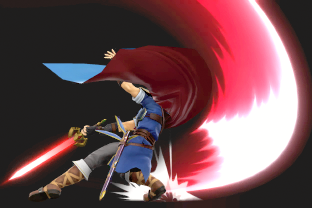 Dancing Blade
Slashes opponents up to four times, with repeated button presses. Tilting up or down can change each attack.
Up
---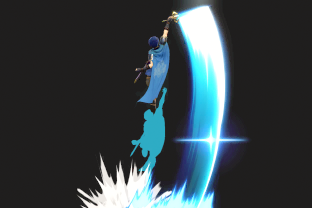 Dolphin Slash
Strikes upward as he rises into the air. Deals the most damage at the start.
Down
---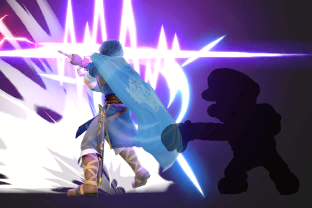 Counter
Prepares for an attack and strikes back if hit. The power depends on the enemy's attack.