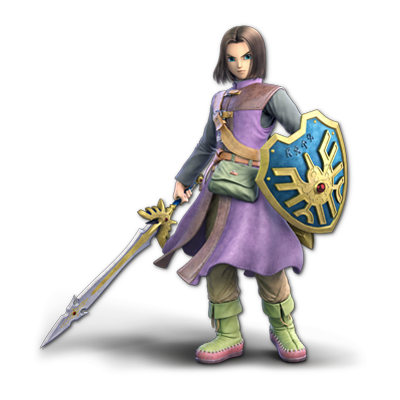 Hero
Heavyweight
Dragon Quest
Damage Table for Hero
Smash Attacks
Neutral
---
Neutral: 3% (Hit 1)
Neutral SS: 3% (Hit 2)
Neutral WS: 4% (Hit 3)
Up
---
Up: 14% (Body)
Up SS: 16% (Blade)
Up WS: N/A
Down
---
Down: 11% (Body)
Down SS: 13% (Blade)
Down WS: N/A
Side
---
Side: 16% (Body)
Side SS: 18% (Blade)
Side WS: N/A
Special Attacks
Neutral
---
Neutral: 9%|9% (Frizzle: 1|2)
Neutral SS: 19%|3% (Kafrizz: 1|2-5)
Neutral WS: 6%|9% (Frizz: Late|Clean)
Up
---
Up: 3% (Swoosh: 1-4)
Up SS: 3%|4% (Kaswoosh: 1-5|6)
Up WS: 7% (Woosh)
Down
---
Down: (See Below)
Down SS: N/A
Down WS: N/A
Side
---
Side: 6%|14% (Zapple: 1|2)
Side SS: 4%|6%|12%|16% (Kazap: 1|2|3|4)
Side WS: 12% (Zap)
Air Attacks
Neutral
---
Neutral: 9%
Neutral SS: N/A
Neutral WS: N/A
Up
---
Up: 7%
Up SS: N/A
Up WS: N/A
Down
---
Down: 16%
Down SS: N/A
Down WS: 10%
Forward
---
Forward: 10% (Body)
Forward SS: 12% (Blade)
Forward WS: N/A
Back
---
Back: 12% (Body)
Back SS: 14% (Blade)
Back WS: N/A
Tilt Attacks
Up
---
Up: 9% (Body)
Up SS: 11% (Blade)
Up WS: N/A
Down
---
Down: 7%
Down SS: N/A
Down WS: N/A
Side
---
Side: 5% (Hit 1)
Side SS: 8% (Hit 2)
Side WS: N/A
Other Attacks
Grabs
Pummel: 1.3%
Up: 7%
Down: 6%
Forward: 7%
Back: 9%
Air Grab
Air Grab: N/A
Air Grab SS: N/A
Air Grab WS: N/A
Dash Attack
Dash: 13% (Body)
Dash SS: 15% (Blade)
Dash WS: N/A
Floor & Edge
Floor Forward: 7%
Floor Back: 7%
Floor Trip: 5%
Edge: 9%
Move Breakdown
Neutral
---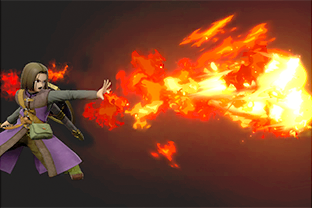 Frizz / Frizzle / Kafrizz
Unleashes fireballs that grow stronger the longer you charge them. You can store the charge by shielding while charging.
Side
---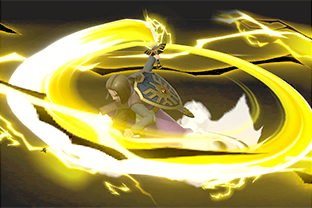 Zap / Zapple / Kazap
Unleashes lightning from your sword. It grows stronger when charged, but the charge cannot be stored.
Up
---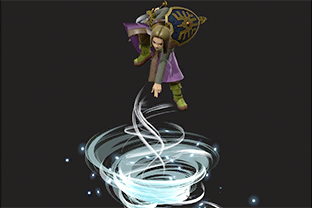 Woosh / Swoosh / Kaswoosh
Summons a tornado to lift you upward. The wind will cut through surrounding enemies. You can rise up higher when charged.
Down
---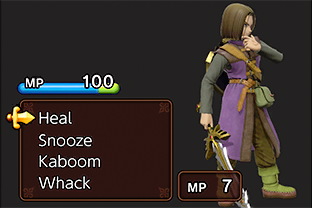 Command Selection
Opens a command window that you can choose a command from. You can cancel the window by jumping or shielding.