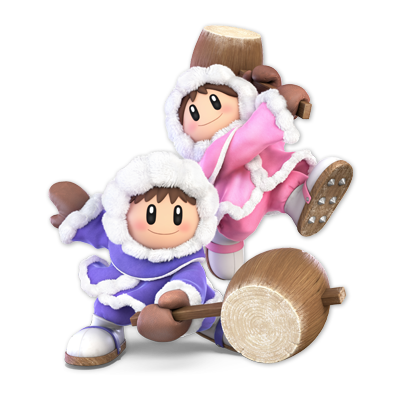 Ice Climbers
Middleweight
Ice Climber
Damage Table for Ice Climbers
Smash Attacks
Neutral
---
Neutral: Popo | Nana
Neutral SS: 2%|1.5% (Hit 1)
Neutral WS: 3.5%|2.6% (Hit 2)
Up
---
Up: 11% (Popo)
Up SS: N/A
Up WS: 8.2% (Nana)
Down
---
Down: 13% (Popo)
Down SS: N/A
Down WS: 9.7% (Nana)
Side
---
Side: 12% (Popo)
Side SS: N/A
Side WS: 9% (Nana)
Special Attacks
Neutral
---
Neutral: 3.5%~2.2% (Ice)
Neutral SS: 3.5% (Hammers)
Neutral WS: N/A
Up
---
Up: 16%
Up SS: N/A
Up WS: N/A
Down
---
Down: 1.7% (Close, Loop)
Down SS: N/A
Down WS: 1% (Far, Loop)
Side
---
Side: 2.2% (Both, Loop)
Side SS: 4% (Last)
Side WS: N/A
Air Attacks
Neutral
---
Neutral: 7% (Popo)
Neutral SS: N/A
Neutral WS: 5.2% (Nana)
Up
---
Up: 9% (Popo)
Up SS: N/A
Up WS: 6.7% (Nana)
Down
---
Down: 8% (Popo)
Down SS: N/A
Down WS: 6% (Nana)
Forward
---
Forward: 12% (Popo)
Forward SS: 12% (Nana SS)
Forward WS: 9% (Nana WS)
Back
---
Back: 10% (Popo)
Back SS: N/A
Back WS: 7.5% (Nana)
Tilt Attacks
Up
---
Up: 0.8% (Popo, Hits 1-6)
Up SS: 3-4% (Hit 7)
Up WS: 0.6% (Nana, Hits 1-6)
Down
---
Down: 6% (Popo)
Down SS: N/A
Down WS: 4.5% (Nana)
Side
---
Side: 9% (Popo)
Side SS: N/A
Side WS: 6.7% (Nana)
Other Attacks
Grabs
Pummel: 1%
Up: 3% | 5%
Down: 6%
Forward: 3% | 5%
Back: 6%
Air Grab
Air Grab: N/A
Air Grab SS: N/A
Air Grab WS: N/A
Dash Attack
Dash: 6% (Popo)
Dash SS: N/A
Dash WS: 4.5% (Nana)
Floor & Edge
Floor Forward: 7% (P) | 5.2% (N)
Floor Back: 7% (P) | 5.2% (N)
Floor Trip: 5% (P) | 3.5% (N)
Edge: 8% (P) | 6% (N)
Move Breakdown
Neutral
---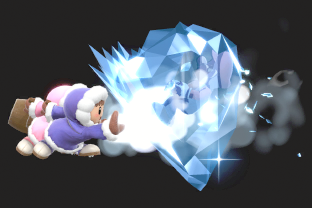 Ice Shot
Create ice chunks and hit them with their hammers. The chunks slide on the ground and bounce off walls.
Side
---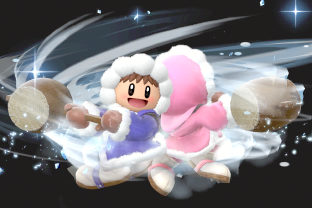 Squall Hammer
Twirl with their hammers extended. Directional input can move them left and right.
Up
---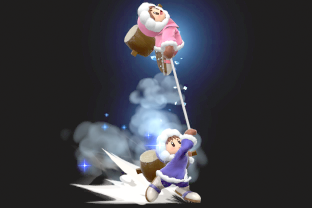 Belay
Nana pulls on the rope that Popo throws, and the two work together to jump up high.
Down
---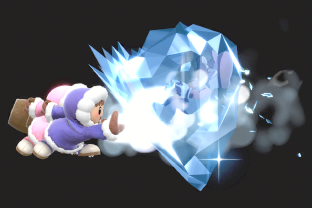 Blizzard
Unleash an icy flurry that may freeze foes. On an already frozen foe, this prolongs their freeze.