Ice Climbers
Middleweight
Ice Climber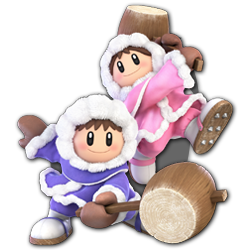 Damage Table for Ice Climbers
Smash Attacks
Neutral
Popo | Nana
Neutral SS
2%|1.5% (Hit 1)
Neutral WS
3.5%|2.6% (Hit 2)
Up
11% (Popo)
Up SS
N/A
Up WS
8.2% (Nana)
Down
13% (Popo)
Down SS
N/A
Down WS
9.7% (Nana)
Side
12% (Popo)
Side SS
N/A
Side WS
9% (Nana)
Special Attacks
Neutral
3.5%~2.2% (Ice)
Neutral SS
3.5% (Hammers)
Neutral WS
N/A
Up
16%
Up SS
N/A
Up WS
N/A
Down
1.7% (Close, Loop)
Down SS
N/A
Down WS
1% (Far, Loop)
Side
2.2% (Both, Loop)
Side SS
4% (Last)
Side WS
N/A
Air Attacks
Neutral
7% (Popo)
Neutral SS
N/A
Neutral WS
5.2% (Nana)
Up
9% (Popo)
Up SS
N/A
Up WS
6.7% (Nana)
Down
8% (Popo)
Down SS
N/A
Down WS
6% (Nana)
Forward
12% (Popo)
Forward SS
12% (Nana SS)
Forward WS
9% (Nana WS)
Back
10% (Popo)
Back SS
N/A
Back WS
7.5% (Nana)
Tilt Attacks
Up
0.8% (Popo, Hits 1-6)
Up SS
3-4% (Hit 7)
Up WS
0.6% (Nana, Hits 1-6)
Down
6% (Popo)
Down SS
N/A
Down WS
4.5% (Nana)
Side
9% (Popo)
Side SS
N/A
Side WS
6.7% (Nana)
Other
Pummel
1%
Up Throw
3% | 5%
Down Throw
6%
Forward Throw
3% | 5%
Back Throw
6%
Floor Forward
7% (P) | 5.2% (N)
Floor Back
7% (P) | 5.2% (N)
Floor Trip
5% (P) | 3.5% (N)
Edge
8% (P) | 6% (N)
Dash
6% (Popo)
Dash SS
N/A
Dash WS
4.5% (Nana)
Air Grab
N/A
Air Grab SS
N/A
Air Grab WS
N/A
Special Move Breakdowns
Ice Shot
Create ice chunks and hit them with their hammers. The chunks slide on the ground and bounce off walls.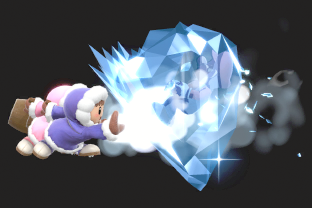 Squall Hammer
Twirl with their hammers extended. Directional input can move them left and right.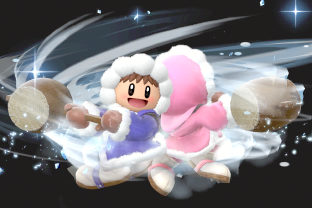 Belay
Nana pulls on the rope that Popo throws, and the two work together to jump up high.