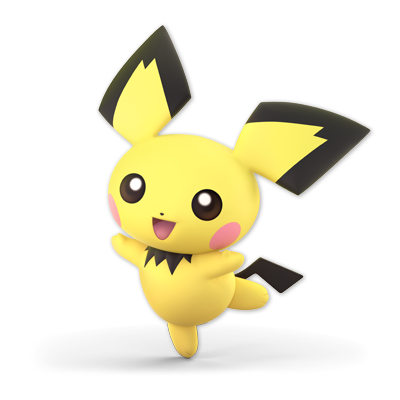 Pichu
Balloonweight
Pokémon
Damage Table for Pichu
Smash Attacks
Neutral
---
Neutral: 1.2%
Neutral SS: N/A
Neutral WS: N/A
Up
---
Up: 14%
Up SS: N/A
Up WS: N/A
Down
---
Down: 1.5% (Hits 1-4)
Down SS: 8% (Hit 6)
Down WS: 1.3% (Recoil)
Side
---
Side: 2% (Hits 1-5)
Side SS: 8% (Hit 6)
Side WS: 2% (Recoil)
Special Attacks
Neutral
---
Neutral: 5-7%
Neutral SS: 10% (Ball)
Neutral WS: 0.7% (Recoil)
Up
---
Up: 0%
Up SS: 0.9% (Recoil warp 1)
Up WS: 1.4% (Recoil warp 2)
Down
---
Down: 4-6% (Bolt)
Down SS: 14% (Shock wave)
Down WS: 3.5% (Recoil)
Side
---
Side: 4-7.8% (Uncharged)
Side SS: 33% (Full Charge)
Side WS: 1.8% (Recoil)
Air Attacks
Neutral
---
Neutral: 7%
Neutral SS: N/A
Neutral WS: 5%
Up
---
Up: 4%
Up SS: N/A
Up WS: N/A
Down
---
Down: 13%
Down SS: 4% (Landing)
Down WS: 1.5%|0.5% (Recoil)
Forward
---
Forward: 3.5% (Hits 1-4)
Forward SS: 1.5% (Recoil)
Forward WS: N/A
Back
---
Back: 2% (Hits 1-5)
Back SS: 2.5% (Hit 6)
Back WS: 1.5% (Recoil)
Tilt Attacks
Up
---
Up: 5%
Up SS: N/A
Up WS: N/A
Down
---
Down: 6%
Down SS: N/A
Down WS: N/A
Side
---
Side: 8%
Side SS: 1% (Recoil)
Side WS: N/A
Other Attacks
Grabs
Pummel: 1.4%
Up: 5% | 5%
Down: 4% | 4%
Forward: 6% | 6%
Back: 9%
Air Grab
Air Grab: N/A
Air Grab SS: N/A
Air Grab WS: N/A
Dash Attack
Dash: 8%
Dash SS: N/A
Dash WS: 6%
Floor & Edge
Floor Forward: 7%
Floor Back: 7%
Floor Trip: 5%
Edge: 9%
Move Breakdown
Neutral
---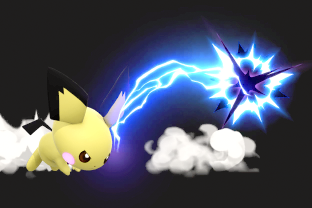 Thunder Jolt
Sends a ball of electricity bouncing across the stage. This ball is faster than Pikachu's!
Side
---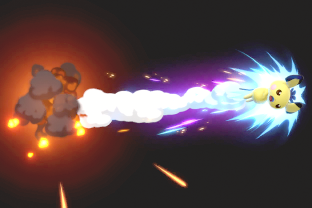 Skull Bash
Charges up a flying headbutt that when fully charged does more damage than Pikachu's.
Up
---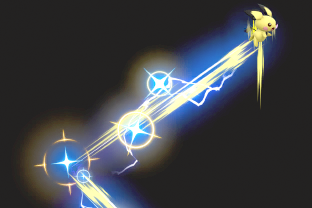 Agility
Moves at high speed! The direction can be changed once, and it travels a bit farther than Pikachu's.
Down
---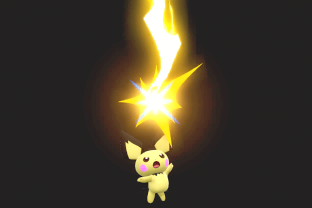 Thunder
Calls down thunder from above to hurt nearby opponents. However, Pichu also takes a small amount of damage.