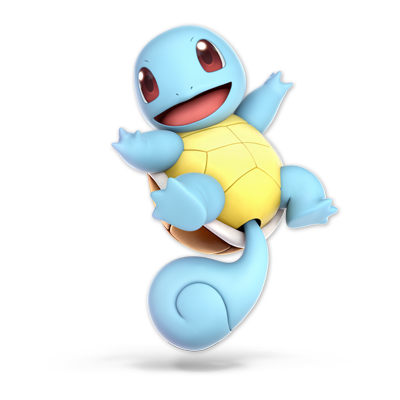 Squirtle
Featherweight
Pokémon
Damage Table for Squirtle
Smash Attacks
Neutral
---
Neutral: 2% (Hit 1)
Neutral SS: 1.5% (Hit 2)
Neutral WS: 4% (Hit 3)
Up
---
Up: 3% (Ground)
Up SS: 12%|13% (Early|Clean)
Up WS: 8-9%|10% (Late|Mid)
Down
---
Down: 13%
Down SS: N/A
Down WS: N/A
Side
---
Side: 15%
Side SS: N/A
Side WS: N/A
Special Attacks
Neutral
---
Neutral: 0%
Neutral SS: N/A
Neutral WS: N/A
Up
---
Up: 1.4% (Hits 1-7)
Up SS: 3% (Final)
Up WS: N/A
Down
---
Down: N/A
Down SS: N/A
Down WS: N/A
Side
---
Side: ~13%
Side SS: N/A
Side WS: N/A
Air Attacks
Neutral
---
Neutral: 10%
Neutral SS: N/A
Neutral WS: 7%
Up
---
Up: 7%
Up SS: N/A
Up WS: N/A
Down
---
Down: 1% (Hits 1-5)
Down SS: 4% (Final)
Down WS: N/A
Forward
---
Forward: 7%
Forward SS: N/A
Forward WS: 6%
Back
---
Back: 1% (Hits 1-5)
Back SS: 6% (Final)
Back WS: N/A
Tilt Attacks
Up
---
Up: 5%
Up SS: N/A
Up WS: N/A
Down
---
Down: 9%
Down SS: N/A
Down WS: N/A
Side
---
Side: 5%
Side SS: N/A
Side WS: N/A
Other Attacks
Grabs
Pummel: 1%
Up: 2% | 5%
Down: 2% | 5%
Forward: 2% | 6%
Back: 8%
Air Grab
Air Grab: N/A
Air Grab SS: N/A
Air Grab WS: N/A
Dash Attack
Dash: 8%
Dash SS: N/A
Dash WS: 7%
Floor & Edge
Floor Forward: 7%
Floor Back: 7%
Floor Trip: 5%
Edge: 9%
Move Breakdown
Neutral
---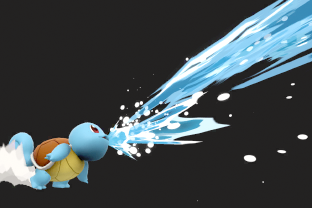 Water Gun
Spits water out at opponents. The more it has been charged, the more power it has to push opponents.
Side
---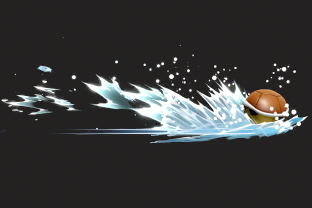 Withdraw
Hides in its shell and then tackles. Attacks can bounce this attack back, but won't hurt.
Up
---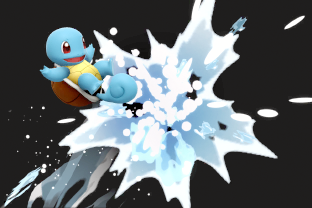 Waterfall
Rides a torrent of water, hitting opponents. Tilting left and right can adjust the rising angle.
Down
---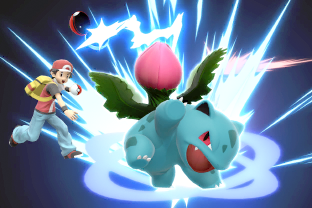 Pokemon Change
Switches to Ivysaur. Immune to damage initially, but become vulnerable if used repeatedly.