Snake
Heavyweight
Metal Gear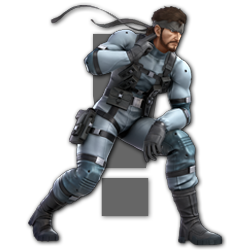 Damage Table for Snake
Smash Attacks
Neutral
2.5% (Hit 1)
Neutral SS
2.5% (Hit 2)
Neutral WS
6% (Hit 3)
Up
4% (Mortar)
Up SS
14% (Shell)
Up WS
N/A
Down
12% (Hit 1)
Down SS
14% (Hit 2)
Down WS
N/A
Side
22%
Side SS
N/A
Side WS
N/A
Special Attacks
Neutral
0.9-3.1% (Grenade)
Neutral SS
8.6-9.75% (Explosion)
Neutral WS
N/A
Up
6%
Up SS
N/A
Up WS
N/A
Down
17%
Down SS
N/A
Down WS
N/A
Side
7% (Early)
Side SS
14% (Missile)
Side WS
7% (Dropped)
Air Attacks
Neutral
3% (Hits 1-3)
Neutral SS
12% (Hit 4)
Neutral WS
N/A
Up
14%
Up SS
N/A
Up WS
10%
Down
4% (Hit 1)
Down SS
3% (Hits 2-3)
Down WS
10% (Hit 4)
Forward
14% (Leg)
Forward SS
15% (Foot)
Forward WS
N/A
Back
14% (Legs)
Back SS
16% (Feet)
Back WS
9%|10% (Late, Legs|Feet)
Tilt Attacks
Up
14.5%
Up SS
N/A
Up WS
13.5%
Down
12%
Down SS
N/A
Down WS
N/A
Side
4% (Hit 1)
Side SS
11% (Hit 2, Fists)
Side WS
9%|10% (Hit 2, Body|Arm)
Other
Pummel
1.2%
Up Throw
7% | 4%
Down Throw
9%
Forward Throw
9%
Back Throw
9%
Floor Forward
7%
Floor Back
7%
Floor Trip
5%
Edge
10%
Dash
11%
Dash SS
N/A
Dash WS
8%
Air Grab
N/A
Air Grab SS
N/A
Air Grab WS
N/A
Special Move Breakdowns
Hand Grenade
Throws a grenade that detonates after a short time. Holding the button can delay the grenade toss.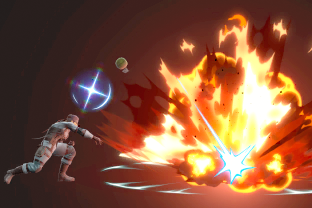 Remote Missile
Shoots a missile that flies forward. The direction can be adjusted while it flies.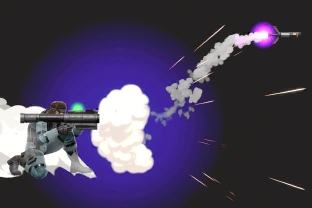 Cypher
Grabs on to a Cypher and flies up into the air to avoid attacks. Pressing down causes Snake to let go.