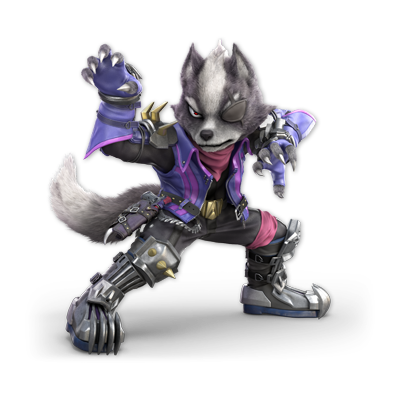 Wolf
Middleweight
Star Fox
Damage Table for Wolf
Smash Attacks
Neutral
---
Neutral: 2% (Hit 1)
Neutral SS: 2% (Hit 2)
Neutral WS: 4% (Hit 3)
Up
---
Up: 6% (Hit 1)
Up SS: 12% (Hit 2)
Up WS: N/A
Down
---
Down: 14% | 12% (Hits 1-2)
Down SS: 16% | 14% (Hits 1-2)
Down WS: N/A
Side
---
Side: 15%
Side SS: N/A
Side WS: N/A
Special Attacks
Neutral
---
Neutral: 7% (Bayonet)
Neutral SS: 7-8% (Laser)
Neutral WS: 6% (Laser, Close)
Up
---
Up: 4% (Hit 1)
Up SS: 2.5% (Hits 2-4)
Up WS: 5%|6% (Hit 5: Ground|Air)
Down
---
Down: 4% (Start Wave)
Down SS: 5% (Reflect Wave)
Down WS: 1.5x Reflection
Side
---
Side: 3% (Dash)
Side SS: 20% (Meteor)
Side WS: 15% (Semi-Spike)
Air Attacks
Neutral
---
Neutral: 12%
Neutral SS: N/A
Neutral WS: N/A
Up
---
Up: 12%
Up SS: N/A
Up WS: N/A
Down
---
Down: 13% (Body)
Down SS: 15% (Arms)
Down WS: N/A
Forward
---
Forward: 9%
Forward SS: N/A
Forward WS: N/A
Back
---
Back: 13% (Leg)
Back SS: 15% (Foot)
Back WS: 11% (Body)
Tilt Attacks
Up
---
Up: 9% (Leg)
Up SS: 10% (Foot)
Up WS: 8% (Body)
Down
---
Down: 6%
Down SS: N/A
Down WS: N/A
Side
---
Side: 5% (Hit 1)
Side SS: 6% (Hit 2)
Side WS: N/A
Other Attacks
Grabs
Pummel: 1.3%
Up: 5% | 2%
Down: 8.5%
Forward: 5% | 4%
Back: 6% | 5%
Air Grab
Air Grab: N/A
Air Grab SS: N/A
Air Grab WS: N/A
Dash Attack
Dash: 11%
Dash SS: N/A
Dash WS: 8%
Floor & Edge
Floor Forward: 7%
Floor Back: 7%
Floor Trip: 5%
Edge: 9%
Move Breakdown
Neutral
---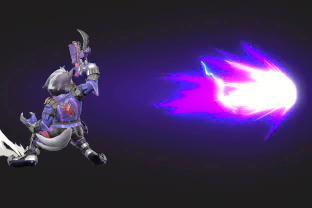 Blaster
Fires his Blaster quickly, or attacks close opponents with the claw-like blade on the Blaster.
Side
---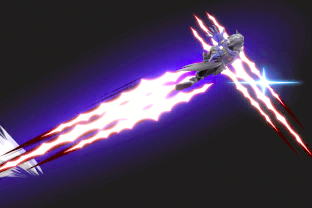 Wolf Flash
Jumps upward diagonally and attacks nearby opponents. Has a meteor effect against airborne enemies if timed right.
Up
---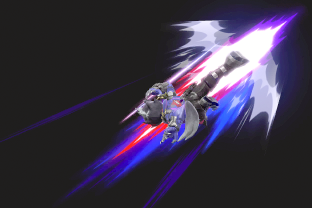 Fire Wolf
Unleashes a jump kick that hits multiple times. Directional input can change the direction of the jump.
Down
---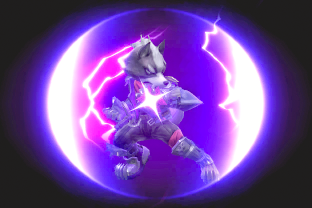 Reflector
Reflects a projectile with a shield. Takes longer than the version Fox uses, but it has greater power.